Spain gets a third 'unicorn,' as electric car charger firm Wallbox to go public in $1.5bn deal
Founding partners Enric Asunción and Eduard Castañeda, who met at a friend's wedding, opted to focus on charging points in people's homes rather than those in public places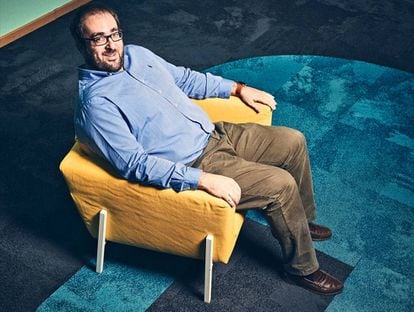 When Enric Asunción and Eduard Castañeda got to work, they had one thing very clear in their heads. There was no way that they were going to follow the path of those who would end up being their competitors. While the manufacturers of electric car chargers were focusing on public charging points, they decided that their solution would focus on the drivers' homes, with a product that was a lot smaller than a fridge and offered an intelligent solution.
That conversation, which took place around six years ago, saw the birth of Wallbox, a company that is now valued at $1.5 billion (around €1.3 billion). At least, that is the valuation of four investment funds led by Kensington Capital Partners, which have decided to raise an investment of $330 million and to accompany the Spanish company on to the New York Stock Exchange.
"Unicorns don't exist," quips Asunción, in reference to the term for a company with a valuation exceeding $1 billion. "We do." He can't avoid a discreet smile, however, as he dodges discussing what it means for a start-up to achieve such a value, as other emerging Spanish firms like Uber competitor Cabify or delivery service Glovo have managed to do.
He avoids the discussion by saying "we don't like to speculate with the value of the company, we care about its long-term value." But he is likely to be well aware of it given that he is the main shareholder of a firm that wants to shake up an activity that the aristocratic automotive family wants to keep under control.
In spite of his relatively young age of 36, this industrial engineer is a veteran in the world of electric vehicle recharging technology. He started in a working group at Applus Idiada, which was created to create technological charging standards for electric cars and in 2010 he moved to the Netherlands to take control of the home-charging system for the American electric vehicle company Tesla.
His adventure at the company created by entrepreneur Elon Musk lasted for three years, until April 3, 2015, when he met Castañeda at a friend's wedding. Castañeda was working at the cell battery laboratory at Spain's CSIC-UPC Robotics and IT Institute, as part of an internship for his final year project.
The pair clicked and they began to discuss the possibility of creating the best car charger possible. The following Monday, they both announced that they would be leaving their jobs. Their contracts prohibited them from starting their new project for a couple of months, but they ended up getting it off the ground along with Jordi Cano, Aleix Rull and Asunción's father, who had worked in sectors related to the automotive industry for years. All of them are shareholders in the company.
The gamble paid off. "Wallbox has superior products and it's a superior business," stated Justin Mirro, the CEO of Kensington, when speaking to analysts. One of the advantages of the Barcelona-based company is that the recharging points are 40% cheaper than those of the competition.
Asunción backs this claim, and puts it down to the technology and also the simplicity of the design of the connector – that makes it smaller, lighter and much simpler to produce. "Cheaper in the end," the CEO of Wallbox explains, telling the story of the time when he had to sell what was his only product to representatives of what was then a major but still only potential client. At the end of his presentation, the moment arrived to give an example of his success with the list of other clients. He was, however, faced with a blank page. "We don't have any other clients," he was forced to admit. "So you will be first, which means that we will dedicate ourselves to your company 100%, and when we have another client, 50%." He convinced them, and they remain clients.
Since then, everything has changed. Last year, they saw revenues of $24 million and they are expecting to close this year with $79 million. They have sold 8,000 street charging points (their latest creation), which they say will account for revenues of around $130 million. But the expectations for electric vehicles go much further than that and, according to their forecasts, the global market will demand 280 million charging points up to 2030 – they alone are expecting to sell 4.5 million units up to 2027. Their business plan predicts that they could reach €2.1 million of revenues by then, breaking the €1 billion barrier in 2025.
After the death of Asunción's father, he, Castañeda and Cano are the main shareholders of the company and retain control. Spanish power firm Iberdrola is the other main shareholder, as well as being a supplier and client.
The new adventure has joined this group together with Janus Henderson Investors, Luxor Capital and Kensington. This new ensemble came from a selection, because Wallbox had different options on the table for a merger with a SPAC shell company – a less onerous route for a company to list on the stock exchange.
Asunción explains that the choice of each partner was not based just on the amount of capital they brought with them, but also in the value they could bring to the firm. "Quadis brought us knowledge of sales, José María Tarragó [Ficosa] brings us knowledge of the sector, another showed us how to get publicity…," he explains. Now he is trusting in the business plan that Kensington has purchased and that is based on controlling the design of its product and manufacture.
English version by Simon Hunter.