Exploring Iran's culture through movies, television and literature
Filmmakers like Asghar Farhadi and Ali Abbasi, TV series like 'Happiness,' and writers like Sadeq Hedayat and Kamand Kojouri portray an unfamiliar society plagued by negative stereotypes
The social revolution sparked by women in Iran marches forward. In the aftermath of Mahsa Amini's tragic death following her arrest for violating veiling regulations last September, anti-regime protests resulted in the jailing of over 22,000 people and the execution of seven men. The protests then crept into Iranian homes, where older women passionately sought freedom for their daughters to choose whether or not to wear the veil. Women now courageously remove veils in public as an act of civil disobedience, while some men humorously wear them to work to spotlight the government's illegitimacy. Iranian society has evolved from division to unity, amplifying diverse voices and feminist aspirations while an entrenched old guard resists reform and clings to power.
Iran is a significant energy, geostrategic and cultural power, yet it remains relatively unknown and suffers from a negative image. Here are some ways to discover and understand one of the most sophisticated cultures in the world.
Happiness (2021) is an Iranian-French television series shot entirely in Iran. The 15 six-minute episodes were first broadcast on the arte.tv Instagram channel. Directed by Pouria Takavar, Happiness depicts the life of a 17-year-old Iranian girl consumed by the same interests as youths worldwide — drugs, tattoos, alcohol, sex, pets and rap music. In this case, it's rap by Zedbazi, an Iranian group. The series effectively challenges preconceived notions about the country and its teenagers, shedding light on their true nature and daily lives.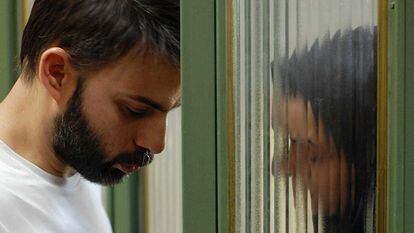 Asghar Farhadi has emerged as the foremost Iranian filmmaker following the death of Abbas Kiarostami. Few directors from Iran possess the same ability to skillfully articulate the innermost thoughts and emotions of their characters, capturing moments of hesitation, contemplation, and decisive action with unparalleled finesse. Farhadi's A Separation (2011) about Iran's justice system is still considered one of his greatest films. Farhadi often explores a prominent theme of Iranian cinema — social dynamics, with a particular focus on the middle class. As author Hamid Dabashi wrote in Masters and Masterpieces of Iranian Cinema (2023), the country's films often air its dirty laundry in front of the whole world.
But there are also road-trip movies and thrillers, a popular genre all over the world. Bandar Band (2020) directed by Manijeh Hekmat, connects the younger generation's affinity for music to their concern about the climate change crisis. In Hit the Road (2021) directed by Panah Panahi, a metaphorical road trip depicts the challenges of migration.
Law of Tehran (2019), directed by Saeed Roustaee, is a gritty crime thriller about drug abuse and trafficking in Iran. Holy Spider (2022), directed by Ali Abbasi, was filmed in Turkey and tells the story of the prostitute murders in the holy city of Mashhad, a Shiite pilgrimage site. Based on real events, the 16 murders dominated headlines and were the subject of a 2002 Iranian documentary, And Along Came a Spider (2002). Both films expose the corruption of Iran's judicial system and police forces, a taboo subject that nobody dared to talk about until recently. When it comes to films about Iranian women, notable recent releases include The Art of Living in Danger (2020) by Mina Keshavarz and Radiograph of a Family (2020) by Firouzeh Khosrovani. Both directors were arrested during the May riots.
Some notable novels to read include The Blind Owl (1934) by Sadeq Hedayat, a masterpiece of 20th-century Iranian modernity. There are also two books that delve into contemporary Iranian events and guide the reader from the family's microcosm to the broader social and political context. Suvashun (1969), by the first female Persian-language novelist, Simin Daneshvar, is set in the city of Shiraz during the Allied occupation of World War II. It narrates Zari's transformation from a traditional housewife to a defiant woman, fighting against injustice. This novel depicts a generation battling social and historical forces that eventually contributed to the 1979 Revolution.
The House of the Mosque (2005) by Kader Abdolah is a story about a merchant family living in a mansion, where various characters make economic and religious decisions. The historical backdrop includes left-wing groups opposing Westernization and Islamic extremists leading to the fall of the Shah and the return of Khomeini, events that dramatically impact family harmony.
In 2003, Farideh Lashai published The Jackal Came, an exciting autobiography that evoked the voice and intensity of Iranian poet Forugh Farrokhzad. The artist and writer reflects upon the years of left-wing militancy during the time of the shah, detailing her imprisonment for defending these ideals and subsequent exile following the 1979 Revolution.
Kamand Kojouri, an influential figure in modern literature, has written two insightful books in English exploring themes of love and compassion during critical moments. Her works shed light on the important perspectives of Iranian women, highlighting their often overlooked circumstances. Renowned artists like Azra Aghighi Bakhshayeshi and Mélodie Hojabr Sadat illustrate captivating subjects ranging from urban landscapes, avian life and the beauty of nature. These universal themes transcend borders, intriguingly disconnecting their association with Iran.
Sign up for our weekly newsletter to get more English-language news coverage from EL PAÍS USA Edition