David Beckham reveals the extent of his OCD: "When everyone is asleep, I clean used candles and make sure everything is tidy"
The ex-footballer reveals unpublished details of his life in a new documentary series that Netflix will release later this year and for which he has been paid 18 million euros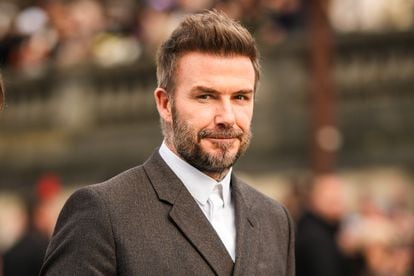 David Beckham (London, 47) had already revealed that he suffered from Obsessive Compulsive Disorder (OCD) when he was still a footballer. "Everything must be ordered in a straight line and [things] must always be even. When I put soft drinks in the fridge, they must be even numbers, if they are odd I remove one and put it in a different cabinet. If I go to a hotel, before I relax I have to put all the pamphlets and books in the room in a drawer. Everything has to be spotless," the former player explained to the British television channel ITV in 2006, seven years before his retirement. But his obsession with order and cleanliness goes far beyond that, as revealed by the first images of the documentary series that Netflix will release later this year on the former footballer's life.
In a first preview of the series, which was previewed Thursday at a Netflix event in London, Beckham admits that this pattern of behavior forces him to stay up at night while everyone is asleep to spend hours cleaning the London mansion he shares with his wife, Victoria Beckham, 49, with whom he has four children. "When everyone is in bed, I go around the house, clean the used candles, turn on the switches so they are properly aligned and make sure everything is tidy," he says.
At one point in the footage, David is even seen arguing with Victoria for leaving the salt out at one point. "I clean the kitchen really well, I don't think my wife appreciates it that much, really," he comments to the cameras. "It's so perfect," she adds, before assuring her husband that she "appreciates it." However, he jokes with the tech crew, "Don't believe that for a second. She sounds so sarcastic when she says it...". Joking aside, living with this disorder is not easy, as the British athlete confesses: "I hate coming down in the morning and there being dirty cups and plates. And it's exhausting going around each candle cleaning it. I cut the wax off the candle, I clean the glass... that's my phobia, that there's a stain around the inside of a candle. I know, it's weird."
The Beckhams live in a £25 million - more than 31 million dollars - mansion they bought in 2013 in Holland Park, an area made up of tree-lined streets and grand Victorian houses, plus many stores, hotels, restaurants and cultural attractions such as the Design Museum. It has eight bathrooms, seven bedrooms and also has a gym and spa, so it is normal that Beckham needs hours to make sure that absolutely everything is in place.
Netflix confirmed that a documentary series starring the sportsman was in the works in July last year, after he signed a £16 million - some 20 million dollars - deal with the platform. In it, Beckham will expose his humble working-class beginnings in East London and the determination that led him to become one of the most recognizable sportsmen of all time. "The series will feature unseen archive, untold stories as well as interviews with the people who have been a part of my journey," he shared in an Instagram post nine months ago.
The as-yet-untitled project is directed by Fisher Stevens, Oscar winner for best feature documentary for The Cove, who is serving as director and executive producer alongside Oscar and Emmy-winning producer John Battsek. They were reportedly inspired by Michael Jordan's documentary The Last Dance, which began streaming on the platform in 2020. It aims to portray his life after soccer and will be especially focused on the founding of his new team, Inter Miami. But it will also have personal and family content, including home videos of birthdays and Christmases, and even footage of David and Victoria's first dates.
Sign up for our weekly newsletter to get more English-language news coverage from EL PAÍS USA Edition