The turbulent years of Paul and Linda McCartney: Why the perfect marriage of pop was never so
Linda McCartney, who was married to the former Beatle for three decades, passed away 25 years ago. The photographer and pioneer of vegetarianism died of breast cancer at the age of 56. EL PAÍS reviewed the ups and downs of one of the relationships that defined entertainment culture
"You're up on your beautiful Appaloosa stallion. It's a fine spring day, we're riding through the woods. The bluebells are all out and the sky is clear blue."
These were the last words that Paul McCartney said to his wife, Linda, before his hand slipped away from hers. He pronounced them 25 years ago, on April 17, 1998, at the Arizona ranch that became their refuge when it was clear that Linda was losing her three-year-long battle with breast cancer.
The untimely death of Linda, née Eastman, at the age of 56, marked the final chapter in the story of one of pop culture's seminal couples. A passionate and complex romance – full of ups and downs, despite the narrative of stability suggested by the media – it was far from living up to the unofficial title of "the most perfect marriage in the United Kingdom."
Over the last quarter-century, the harmonious public facade that the couple built during their 29-year-long marriage has been questioned and analyzed by some of the people closest to the couple.
"There were times when Linda was deeply unhappy and depressed about her marriage. At the lowest moments, the idea of leaving Paul crossed her mind… but she rejected it immediately, because her family was the most important thing to her and she wasn't going to abandon them," said Peter Cox, an author of vegetarian cookbooks and owner of some of the recordings in which Linda shared her most private thoughts as an audio diary.
Between 1987 and 1989 – while they were preparing the recipes for a publication that would establish Linda as a pioneer of vegetarianism – Cox was a regular witness to the couple's arguments. He claims these quarrels were caused by the musician, whom he describes as "very controlling, with a dark side."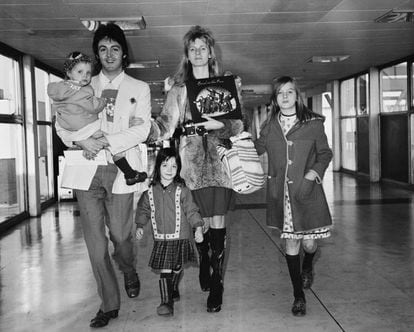 On many occasions, the photographer received Cox in tears.
"Linda would tell me to work on the book when Paul wasn't there. If he showed up, he was so in control of things that we couldn't get anything done – he was the alpha male. He had an opinion about everything. If he was present, only his judgment mattered. So, we would [take a break] from work until McCartney left the building," Cox notes.
The release of those tape recordings was blocked by the former Beatle in 2006, during the divorce proceedings with his second wife, Heather Mills, who accused him of mistreatment. McCartney ended up paying 200,000 pounds (about $300,000 today) to get ahold of them.
Despite her marital issues, Cox also maintains that Linda was devoted to her husband and that she was "like a mother to him."
That statement – which places the composer of hits like Let It Be as a figure in need not only of sentimental affection, but of an almost maternal guardianship – has been corroborated since the very beginning of their relationship. When they met in 1967, Linda was divorced with a daughter – Heather, whom Paul would later adopt as his own – and was one of the most recognized photographers on the rock and pop scene, photographing bands like The Rolling Stones, The Doors and The Who. While her closest friends say that she was allergic to the media spotlight, other voices maintain that she always had an inclination to get closer to the stars and that it was she herself who invented a false rumor that she belonged to the powerful Kodak family.
After meeting Paul in a concert hall and at the launch of The Beatles' eight iconic album – Sgt. Pepper's Lonely Hearts Club Band – Linda returned to the United States. It wasn't until another meeting the following year that their love would blossom. The journalist Howard Sounes – author of the biography Fab: An Intimate Life Of Paul McCartney – writes that the 26-year-old pop star begged Eastman to move with him to London to stop a self-destructive spiral that was threatening his majestic career.
Linda ended up moving to the British capital. She immediately became the target of the tabloid press and a large contingent of Beatles fans, who graffitied the facade of her residence with the words "wild things." The couple tied the knot a few months later, in 1969, at a packed ceremony of bereaved mourners lamenting "losing the last" still-unmarried Beatle.
Linda wore a trench coat (matching her daughter's) to hide her pregnancy. She was carrying Mary, the first of the three children that she and Paul would have together (Stella and James would arrive soon after).
However, the ceremony almost didn't take place: "We had a very big fight the night before the wedding and we almost cancelled it. We had many ups and downs – they were very hectic compared to that image of 25 years of marital bliss," Paul McCartney writes. He also boasts of having spent only a handful of nights separated from Linda in their 29 years of cohabitation: it was due to an arrest at a Tokyo airport for drug possession.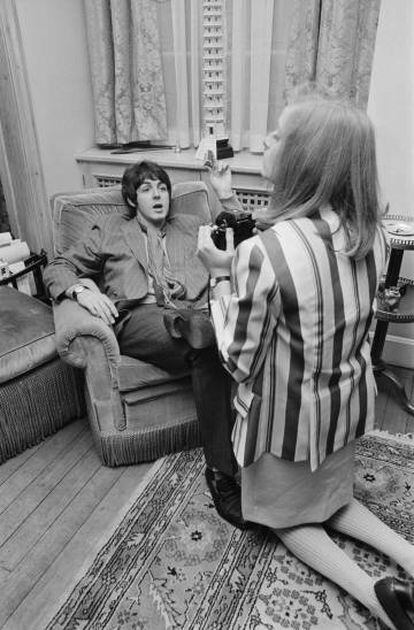 Obstacles were not long in coming. A few months after going down the aisle, The Beatles decided to part ways. McCartney fell into an abysmal depression. He drowned himself in alcohol, feeling a deep sense of anger towards "himself and the world." He couldn't get out of bed, refused to shower or shave – he threw money away on "vultures and parasites." His physical condition worsened every day. Only cannabis served as sedation – both he and Linda were avid consumers.
"I remember Paul saying to me, 'help me take some of this weight off my shoulders,' and I'd say, 'weight? What weight? You're the princes of the world, you're the Beatles!" Linda recalls. Once again, Paul credited his wife with pulling him out of his depression and reminding him of the power of music as therapy.
Her way of reinventing themselves both personally and professionally came about through Wings – a musical group formed in 1971, with Paul McCartney as lead singer and Linda on the keyboards. The former Beatle would later admit that his wife was incapable of playing an instrument. He considered performing without her on more than one occasion, but her company and protection on the international tour were essential to him.
Parallel to this project – and before they turned 30 – the McCartneys left London and opted for a quiet life on a farm in Scotland There, they were surrounded by all kinds of animals – one of Linda's passions.
"People have the image that everything's wonderful and that it's the perfect marriage… but it's not idyllic. We have our fights. I would classify our relationship as [being] quite volatile. We're not bored – we have wonderful children and a lovely relationship. I hope it lasts forever," Paul detailed, in a 1985 interview.
At their Scottish farm, the couple channelled their vegetable revolution and became champions of vegetarian life, breaking the prejudices linked to the movement. They even started up a food company that would make millions of dollars. Those years were the happiest for the couple, according to writer and personal friend, Barry Miles:
"I've never met a more loving family. They were always saying how much they loved each other."
Linda was diagnosed with breast cancer in 1995 and, despite undergoing all possible treatments, died three years later, surrounded by her husband and four children.
Sign up for our weekly newsletter to get more English-language news coverage from EL PAÍS USA Edition