Secrets, million-dollar fees and forgeries: The all-out legal fight over Leonard Cohen's legacy
The singer-songwriter's children have accused his former manager and trustee of the artist's estate and archives of fraud. Meanwhile, a Toronto museum exhibit is showcasing some of the treasure trove in dispute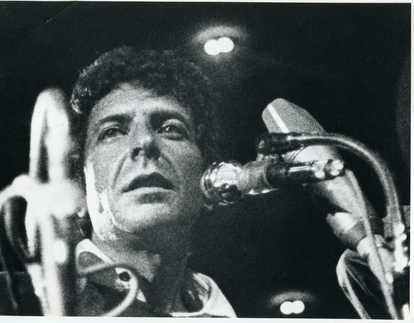 Leonard Cohen kept everything: a doddle on a napkin, letters to his mother, the wine list of the legendary Max's Kansas City in New York where one night he wrote a poem to a woman named Joan... He even saved a 1948 summer camp evaluation, perhaps because it was complimentary: "[He] is very active. Marvelous leader, good sport, even tempered, and generally a good camper," the typewritten letter says of the young Leonard. Now, all those memories, along with photographs, watercolors, sketches, manuscripts, first editions of books (including his own) and digital drawings, populate the halls of the Art Gallery of Ontario (AGO), in Toronto, in the first exhibit to showcase the Canadian poet and singer-songwriter's archives.
The material comes from two sources: the Thomas Fisher Rare Book Library at the University of Toronto, which received four deposits, the first of which was as early as 1964, and the Leonard Cohen Family Trust, created to manage his archives – which includes 243 notebooks and 8,000 photographs – that were painstakingly assembled over a lifetime.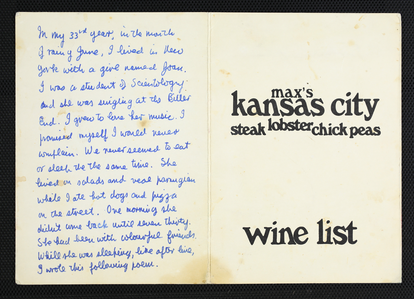 But behind the allure of the show – titled Everybody Knows, like the somber song Cohen cowrote in 1988 with Sharon Robinson – an all-out court battle is raging over the songwriter's estate. Seven years after Cohen's 2016 death, it pits the singer's children, Adam, 50, and Lorca, 48, against the trustee, Robert Kory, 72, who was Cohen's manager in the last decade and helped him get back into the business. Born in Montreal in 1934, the musician hired Kory after the scandalous firing of his previous manager, under whom $5 million of Cohen's "retirement" savings vanished while the singer was living in a Buddhist monastery in California.
The battle over Cohen's estate is now being fought in a Los Angeles court, where the musician died and where his children, the ultimate beneficiaries of the trust, live. In March of last year, they filed a lawsuit over the estate, which is valued at $48 million (just over €45 million), according to one of the court documents reviewed by EL PAÍS.
In the suit, Cohen's children express their "concern about [Kory's] unrestricted control" over the late singer's estate, citing a "lack of transparency," which led to "months of negotiations" over revising the terms of the agreement. According to the plaintiffs, Kory pledged to keep them abreast of his dealings and seek their input before making decisions, but it "took only weeks" to break that agreement by signing the contract to organize the exhibition at the Toronto museum and the publication of an "unpublished unfinished novel."
That early short novel, A Ballet of Lepers, is a sharp story of physical and emotional violence that was published last fall to positive reviews. It was archived at the University of Toronto. The book is completed with 15 short stories and a radio script, all written between 1956 and 1960. Back then, Cohen was a poet in his 20s; he didn't branch out into songwriting until 1967, at age 35, with his masterful debut for the Columbia record label.
In their response to the lawsuit, Kory's attorneys allege that "the crux of the dispute stems from Adam and Lorca Cohen's eagerness to gain control over the[ir] father's estate and inheritance (...), despite the[ir] father's clear wishes to keep that control out of his children's hands during his lifetime." The legal brief adds: "In fact, Leonard not only wanted to prevent that from happening, but for a time even planned to disinherit them altogether, until Kory convinced him otherwise." At another point, they said, Cohen believed that Adam and Lorca "did not have a good enough relationship to work together on the complexities of the artist's estate."
The documents say that, by the end, their father had concluded "that he had made a grave mistake in allowing Kory to meddle in Leonard's affairs and take control of virtually every aspect of the finances and estate."
A forged document
In a telephone interview with EL PAÍS, Adam Streisand, a well-known Los Angeles lawyer who represents Adam and Lorca (and is Barbra Streisand's cousin), explained Friday that the first lawsuit was followed by another filed in August of last year. "[Working on the case,] I discovered that the trust document that supposedly appointed Kory trustee in the first place was a forgery. We sued to oust Kory and when I took the deposition of Reeve Chudd who had been Leonard's lawyer and is now Kory's lawyer, he had no choice but to confess to the forgery," Streisand said. In his testimony, Chudd admitted to deleting a page of the document and replacing it with one that gave the manager additional authority. In light of that finding, the plaintiffs asked the court to immediately dismiss Kory and to order that he turn over the estate's assets and return Cohen's hard-earned money.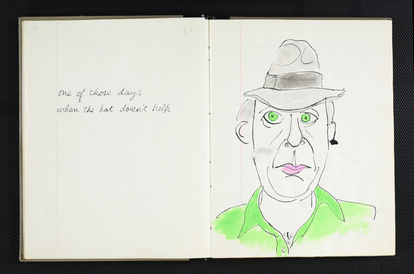 But there's more, explains Streisand, who has litigated other celebrity inheritance cases, including Michael Jackson and Muhammad Ali: "In July 2016, a few months before Leonard died, Kory, procured from a management agreement from Leonard that would give Kory the right to a 15% commission on the sale of the catalogue and / or the sale of the archive. That's a terrible conflict of interest because, as trustee, your job is to pay the taxes and distribute the assets to the beneficiaries who are the kids, but he had his own economic self-interest in not doing that, because if he sold those assets, he would get a 15% commission. The sons raised an issue about that and ultimately Kory agreed on a lower commission rate. Kory also agreed he would not make any more deals without Adam and Lorca's prior approval. However, no sooner had the ink dried on that settlement agreement, Kory abused its terms by making deals without the kids' knowledge or consent. So they sued him."
That's another source of conflict. In February of last year, Hipgnosis, a company that specializes in acquiring the repertoires of legendary musicians, bought the rights to Leonard Cohen's 278 songs, including immortal compositions like "Suzanne," "I'm Your Man," "So Long," "Marianne" and "Hallelujah." The last song has been covered over 300 times, despite the fact that the album was on Various Positions, which was never released in the United States, because the record company lacked faith in Cohen.
According to court documents, Cohen's song catalog was sold for $58 million (€54.5 million), of which Kory took a 15% commission. The lawsuit contends that Cohen signed that deal when he was "dying and heavily medicated" for the cancer that killed him at age 82. Kory did not respond to this newspaper's request for an interview.
"The museum knew nothing about this"
In the catalog of the Toronto exhibition, Kory writes that his "final duty was to organize and digitize the archive (in total, 550 terabytes), with the intention of making it available for scholars, to exhibit and for future generations."
A source close to the family, who spoke to EL PAÍS on the condition of anonymity, explained that "despite the fact that they would have been within their rights to do so," Adam and Lorca never intended to "suspend the exhibition or prohibit the sale of [Cohen's] catalog"; that "would do even more damage to Leonard Cohen's legacy… Clearly, the museum knew nothing about all this. They were duped," the aforementioned source added.
Julian Cox, the curator of the Cohen exhibit, as well as deputy director and chief curator of the Art Gallery of Ontario, explained in a telephone interview that "it's fair to say that he had a very complicated relationship with his children and that he was an absentee father for most of their upbringing and struggled to have a consistent pattern of visitation and time with them. As he got older, the relationship actually improved in many ways. They were both living in Los Angeles, not far from where he was. But ultimately, he made a business decision to leave the care of the of his personal effects and his estate to his business manager because I think he felt that it wasn't necessarily the right thing for them to be involved in". Cox noted that Adam and Lorca "didn't get involved with the process of putting together the Toronto show… Nor did they [participate in] the 2018 Montreal one [Leonard Cohen: A Crack in Everything, which combined the composer's work with that of contemporary artists]."
Unlike the 2018 exhibition, which was also mounted in New York, there are no plans for the current show to be presented elsewhere. "I think the trust wants to sell the archive, preferably to a Canadian university," Cox said. (After an initial interview with the curator, EL PAÍS tried without success to contact the museum again to verify some of the information contained in the court documents). Streisand confirms Cohen's children's interest in the sale of the archive. He adds that their representatives agree with the idea as long as they retain control over the operation.
"We no longer buy these [kind of] materials. Instead, we acquire writers' papers via donation to the library. Tax laws in Canada allow writers to receive a tax credit for their archival material based on an assessment of fair market value by an independent expert," said Natalya Rattan, an archivist at the Thomas Fisher Rare Book Library, in an email last week. Rattan explained that the institution at which she works only loaned "12 objects" to the AGO show.
In 1964 and 1966, the library acquired 12 boxes of documents from Cohen, then in his 30s, for an undisclosed amount of money. Rattan confirmed that those papers include additional unpublished materials. The money that the young artist received from selling his work allowed him to buy time for traveling and growth as a writer. In 1999 and 2003, the library received more materials, this time as a gift.
The sale of his archives in the 1960s reflects the fame that Cohen achieved as a poet in Canada, even as a very young man. It also indicates that he was always aware that he was destined for greatness; if he kept everything, that was because he sensed that someday the world would want to take a look at materials from his life.
Revered as a legend
A visit to the Everybody Knows exhibit at the Toronto museum confirms that Cohen's hunch was right. Beyond the squabble between heirs, the exhibition is a fascinating tour through the life of a man that, when he lost his father at age nine, inherited a leather-bound library of poetry. The journey starts from his childhood as the offspring of a wealthy family of rabbis, Talmudic scholars and businessmen and ends with the videos that send the visitor off with recordings of the successful world tours in which the songwriter was revered as a legend.
In between, we gain glimpses of his life in dozens of photographs and self-portraits, another obsession; the young poet with extraordinary diction; his years in Greece; his transition to a musical career; life on the road (his four bottles of wine a day and "the life of appetites"); his time in Nashville; and his love of guns. All this gives way to Cohen's quiet golden years, spent in his beautiful Spartan-like house in the Little Portugal neighborhood of Montreal (one has no idea where he could keep so many papers), his move to Los Angeles, his time at a retreat in a Buddhist monastery, his awards and his return to the road when he was well into his 70s.
The exhibition, which reviews the major themes of Cohen's work (love, religion, sex, sacred and profane desire, death and the search for transcendence and freedom), does not delve much into the man's private life. Now and then, however, there are glimpses of the women in his life, lovers and friends alike, including fellow Canadian singer-songwriter Joni Mitchell. In a telegram to Greece from Los Angeles, she wrote: "Hello, Leonard, do you still think of me?"
Tangential stories also appear in passing, such as that of Axel Jensen, the son of one of his most stable partners, Marianne Ilhen, who is seen in a black and white photograph that Cohen took himself in 1964 on the Greek island of Hydra, his private Arcadia in the 1960s. Jensen recently starred in a crude documentary in which he spoke (from a psychiatric hospital in Oslo) about the aftermath of the revolution in his parents' generation's customs.
The curator explained to EL PAÍS that his decision not to delve further into the genius songwriter's private universe by noting that he "is not a biographer… I have to be guided by the objects we exhibit." Cox noted that another of his aspirations was to "shed light" on a little-known aspect of Cohen's work: his art, from the pastels and watercolors on paper of the 1980s to the more recent digital drawings. "He was an early convert to Apple technology," Cox pointed out.
The notebooks are the most interesting part of the tour, which includes a multi-channel video consisting of interviews in which all of these themes are narrated by Cohen's consciously seductive voice. We are told that he always left home with a notepad or a shed of papers to record his varied creative interests.
"He had notebooks all over the place," said British music journalist Sylvie Simmons, author of I'm Your Man. The life of Leonard Cohen, a reference biography on the composer. "It is an obsession he had since he was a child. A childhood friend of his once told me that when he was 9 or 10 years old he always carried a notebook with him. And he lost them constantly. Much later, in 2012, [the singer-songwriter] spoke to me about the importance of taking note, and how that had helped keep him close to sanity. It wasn't a surprise; already in one of his first songs, "Famous Blue Raincoat", there is a verse that says: 'I hope you are keeping some kind of record".
Simmons recalled that, despite his obsession with keeping everything, "from the sublime to the ridiculous," his houses in Hydra, Los Angeles and Montreal were spartan, like those of a monk. "There was never anything hanging on the walls, let alone a golden record. The archive was in the garage."
Those boxes, the biographer continued, could contain, without order, magazine clippings, a library loan record, or photographs from different periods of his life. They also served as the roadmap for his creativity. For example, when writing the lyrics to his songs, which he could elaborate on for years. He had the habit of producing many more verses than he ended up using, as can be seen in an interesting documentary about that practice taken to a paroxysm: Hallelujah. Leonard Cohen, a Journey, a Song (Netflix).
The musician took advantage of his Buddhist retreat to organize and index the contents of his notebooks. That work helped him focus, he said. His dedication goes to show the importance that, without telling almost anyone, he gave to the archive as a creative strategy during his life. In a 1996 interview with one of his early biographers, Cohen left at least one clue when he stated: "The archive is the mountain and the published work is the volcano."
What he could not have known then is that, seven years after his death, the object of all his sleepless nights is about to erupt among his heirs in a Los Angeles courtroom.
Sign up for our weekly newsletter to get more English-language news coverage from EL PAÍS USA Edition