Meet the woman who will decide the next James Bond
Having discovered actors like Daniel Day-Lewis and chosen the last three 007s, Debbie McWilliams is one of the most influential casting directors in film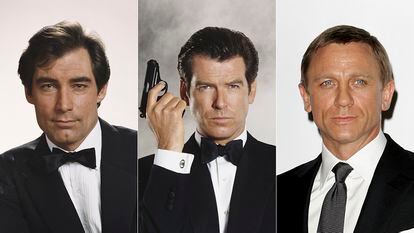 Debbie McWilliams liked acting, but she didn't want to be an actress. However, after working as a secretary in a London theater, she found that she could pursue her calling by being in charge of casting. More than 40 years later, the Briton is one of the most respected casting directors in the film industry, and the person who has chosen the last three James Bonds: Timothy Dalton, Pierce Brosnan and Daniel Craig.
She is now getting ready to select the next 007, working side by side with her niece Jemima, to whom she has taught all the secrets of her trade. Just like the Broccoli family has passed down the role of producers and keepers of the saga from one generation to the next, so do the McWilliams' as casting directors.
Surprising as it may seem, there are performers who, for one reason or another, don't answer McWilliams' call to appear in a Bond film. Rami Malek is a recent example: they wanted him for No Time to Die and pursued him for quite a while, but his agents didn't even bother to respond. Then she attended a preview screening of Bohemian Rhapsody; Malek was not super-famous at the time, as the film that would land him a Best Actor Oscar had not yet been released. He told McWilliams that his agents had not passed on the message. He made a brief call and the next morning, he was seated in the casting director's office.
McWilliams points out that American agents don't hold the James Bond franchise – or offers that come from the UK in general – in high regard, preferring to try their luck at money-making projects like the Marvel movies.
Discovering Daniel Day-Lewis
For My Beautiful Laundrette (1985), McWilliams got director Stephen Frears to try out a virtual unknown: Daniel Day-Lewis.
After seeing Day-Lewis perform in acting school, she went to see him in a small production at an East London theater where he was playing Dracula with his hair dyed platinum blonde. Frears loved him. Something like that would not happen today, McWilliams reflects; the studios generally want somebody who is already famous – with as many Instagram followers as possible, preferably. Thus, it is increasingly difficult to gamble on unknown talents for certain film projects.
Another virtual unknown on whom McWilliams bet was Daniel Craig, who went on to play none other than James Bond himself. Things have changed a lot in the 17 years that have passed since his name was announced: today, many viewers want a super spy who reflects 21st century diversity. Back in 2005, however, the choice of Craig was greeted with a backlash: the fact that he was blonde was simply too disruptive for the character. Nobody wanted that. Only producers Barbara Broccoli and Michael G. Wilson stood by McWilliams' choice. The press was savage. But then Casino Royale premiered, and audiences were shaken and stirred. Now, the problem is finding someone to fill Craig's shoes to the satisfaction of Bond fans.
Jemima, who represents the future of the saga (and of a profession that her aunt will soon leave), understands that today's audiences want a vastly different secret agent. Movies have changed a lot since Craig first became Bond and people expect something different. They want the character to change, whether it is in age, gender or race, no matter how popular the Craig era was. However, it is in the ubiquitous Bond girls where they face more difficulty. Starting with GoldenEye, the franchise managed to turn its female characters into something more than mere eye candy, she explains – but the expectations around them are so tremendous, and they are so exposed to criticism, that the producers think more than twice before putting an actress in that situation.
The new James Bond will not be revealed for some time yet; the script for the next movie, an essential tool for a casting director, has not been written yet. All they can share at this point is what Barbara Broccoli has already confirmed: that Bond will remain a male agent – and that no name that has ever been predicted in the press as the next 007 has actually gotten the role.
Sign up for our weekly newsletter to get more English-language news coverage from EL PAÍS USA Edition