The Geena Davis theorem: how she avoided Hollywood hookups to protect the sexual tension of her characters
The actress, who just published her memoir 'Dying of politeness', has dedicated the last 25 years of her career to funding studies about the gender gap that she herself suffered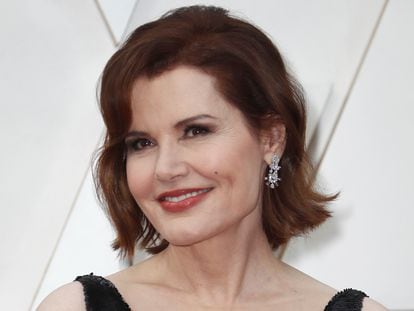 In Thelma and Louise, the diffident Thelma is always a few steps behind Louise, who is all fearlessness. Off camera, things weren't much different. Geena Davis viewed Susan Sarandon as the "Alien Queen" from another planet, and she admired how she was able to speak her mind, stand up to the director, Ridley Scott, and speak bluntly. The actress recounts her experience in her new memoir, Dying of Politeness.
She appears on the book's cover in sky-high red heels and a dress with puffed sleeves, inviting a giant bear to tea —because if a bear came to attack her, she would first offer him tea. The book explores how she has freed herself from the excessive moral exactitude that her parents, an engineer and a teacher from Vermont, passed on to her. "I was conditioned to think that I mustn't ask for things, so trained to be insanely polite that I learned to have no needs," she writes. She gives some examples of how that dynamic worked in her family. On one occasion, they were all in a car with an elderly relative who could barely drive anymore and was weaving in and out of the lane, but her parents didn't say anything. "The lesson being: even if there is death in the offing (or of the offspring), don't say something that could possibly be perceived as impolite." At the age of 10, she began delivering newspapers around the neighborhood, following the classic route seen in so many American movies. One of her neighbors began to invite her in, offered her gifts and caressed her and groped her, until she told her mother, who forbade her to return to the house. But they didn't go to the police to report the abuse; they kept the incident hidden.
At that time, Davis was already the tallest person in her class, at 1.83m. Her height caused her some shame, preventing her from going incognito as much as she wished. But eventually her looks, in tune with the Amazonian superwomen that were beginning to become fashionable in the industry, helped her leave Vermont and start her career as a model.
So why did an actress who was everywhere in the 90s, and who won an Oscar for The Accidental Tourist, suddenly disappear? The answer is depressingly predictable: she turned 40 years old. Asked about this in a recent interview in The New Yorker, the actress said: "When I started out, I'd hear that after forty you stop getting roles. But I was getting these giant roles, and I thought, Well, obviously that's not going to happen to me. And so it was stunning to realize that it did. It was absolutely stunning and heartbreaking. It felt like forced retirement. I'd usually taken a year in between movies, more or less. But then two years, and then three years, was, like, unbelievable. I got Stuart Little and then Stuart Little 2, but other than that the work just dried up. It was incredibly painful."
That's when Davis turned to what has kept her busy in the latter half of her career, what she calls her "data geek" period. One day she took her daughter, who was then two years old, to a children's play. She noticed that more male characters appeared in the play than females. She began asking everyone about it, using the questioning style she had learned from Susan Sarandon, though still with the New England "excuse me" and "please." "I realized that we are training kids from minute one to have unconscious gender bias if they see the boys doing all the interesting and important things and the girls are sidelined or cheering them on," she says in the same interview. She began to talk about the issue in Hollywood, but she found resistance. So she funded a far-reaching report on gender roles in children's TV shows and movies. The data proved her right. For every 16 male characters in children's entertainment, there was one female character. Only 29% of speaking characters identify as female.
Thus was born the Geena Davis Institute on Gender in Media, which is dedicated to research and is now a primary source of data on gender. The organization's next big report showed that only 8% of directors, 19% of producers and 13.6% of screenwriters are women, although the numbers have been slowly improving. In 2020, it repeated the original survey of children's entertainment and discovered that, at least in terms of the main characters, something similar to parity had been achieved. This same year, the actress received an honorary Emmy for her contribution to the entertainment industry.
In her memoirs, Davis also talks about her beginnings. She downplays her modeling career, despite the fact that she was on the catwalk in Paris and was a Victoria's Secret angel before the brand turned its shows into a high-voltage misogynist extravaganza. That's how she got her first role as an actress in Tootsie: they needed a model who could say some lines, and she showed up to the casting with a bikini under her clothes, as asked. On that shoot, Dustin Hoffman, who isn't known for being an easy presence on a set, took her under his wing. He gave her tips for getting around Hollywood, including never hooking up with her co-stars. If they did, Hoffman advised, she should say no "because it would ruin the sexual tension of the characters" (apparently saying no if she didn't feel like it wasn't enough for Hoffman). When she applied the advice with Jack Nicholson, he said to her, "Wow, who taught you that?"
Despite Hoffman's advice, Davis met her second husband, Jeff Goldblum, on the set of the horror film Transylvania 6-5000. Together they shot two more films, David Cronenberg's The Fly and Earth Girls are Easy. When they met, both had just separated, her from the hotelier Richard Emmolo and him from the actress Patricia Gaul. They were married in Las Vegas in 1989 and separated a year later, without clarifying the reasons. A comparative look at their careers reveals how limited options were for an actress until relatively recently. Goldblum continued to combine blockbusters like Jurassic Park with auteur projects, cultivating an image of an eccentric with an eye for fashion, who fits in as well at a small genre film festival as at a Prada show.
Geena also has an eccentric streak —she once decorated a bathroom with 50 cuckoo clocks— and unpredictable hobbies. She is so good at archery that she became an Olympic semi-finalist. But she was not permitted to age on screen like Goldblum has, as an attractive and peculiar person, a tall and strange girl with a gift for comedy.
Although Davis had a leading role in the series Commander in Chief, playing a female president of the United States, and later appeared in three seasons of Grey's Anatomy, she has found the second chance that other actresses of her generation have had. In the promotional interviews she has given for the book, she assures that she now has a juicy role in mind for which she is seeking financing, and she is ready for the "Geenaissance."