Allegra Gucci opens up about her father's murder: 'My mother is attracted to darkness'
After 27 years of silence, the 41-year-old has spoken out about the killing of the fashion magnate, who was murdered by a hitman hired by his ex-wife, Patrizia Reggiani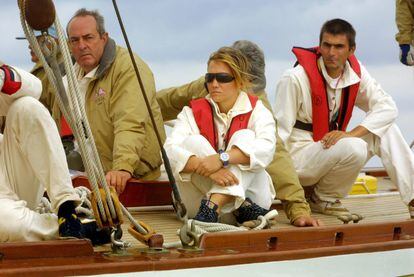 It's the most salacious episode of the Gucci fashion house's 100-plus-year story: the 1995 murder of Maurizio Gucci by a hitman hired by his former wife Patrizia Reggiani. Many books have been written about the killing, and it is also the subject of the Ridley Scott film House of Gucci, starring Adam Driver as Maurizio Gucci and Lady Gaga as Patricia Reggiani.
The movie was quickly denounced by the Gucci family, who alleged the filmmakers were "stealing the identity of a family to make a profit, to increase the income of the Hollywood system." "Our family has an identity, privacy. We can talk about everything, but there is a borderline that cannot be crossed," Patricia Gucci, one of Maurizio's second cousins, told Associated Press.
The daughters of Gucci and Reggiani – Alessandra and Allegra Gucci – have avoided speaking to the media about the incident that sent their mother to prison for 17 years. When the Italian justice system conceded Reggiani a yearly payment of €1 million ($1.10 million) from Maurizio's estate, as part of the divorce arrangements, the women remained silent. The two fought the ruling in court, but even though they've been the subject of endless headlines, they have refused to speak to the press.
Now 41-year-old Allegra Gucci has broken the silence with Fin dei giochi (or, Game Over), a book that relates her version of the story and refutes the official narrative of the Gucci case. Allegra was 11 years old when her mother had a brain tumor operation that changed her personality. When she was 14, her father was murdered, and two years later, her mother was sent to prison for arranging the killing. Little more is known about the fashion magnate's youngest daughter.
Allegra said she decided to publish her version of events in response to the hype caused by the film House of Gucci, which she defined as "an awful caricature." Speaking to the Italian newspaper Corriere della Sera, she said that she wrote the book so that her two children would grow up knowing the truth about their family. "Scott's film portrays my father as a weak, broken person. That's all false. And my mother was a beautiful woman who he sought out. She would never crash a party [as depicted in a scene in House of Gucci]. Papa was brilliant, a hard worker," she said in the interview.
Our grandmother manipulated us with feelings of guilt. And she manipulated others with her acquired economic power

Allegra Gucci
In the book, she recounts the confusion of those years, how their friends abandoned them, the disappointments she faced, her relationship with her grandmother – who she says cared more about money than about her granddaughters –, her experiences visiting her mother in prison and how her understanding of the murder changed after hearing new information on television. "I was sure of her [Reggiani's] innocence. That intense conviction sustained me as I took packages to prison, the years I spent visiting her, studying the trials, trying to bring to light her innocence once and for all," she told Corriere della Sera.
But her mother's declarations shook Allegra's certainties. "I'm not innocent, but I'm not guilty either," Reggiani said on television. "She half-admitted it. The 'not guilty' alluded to the manipulation by people who had taken advantage of her fragility. I called her and asked for an explanation. Finally, she admitted: 'Everything I did, I did for you two.' So she had done something. I felt a void beneath my feet, an abyss," Allegra confessed to Corriere della Sera. "I don't have any truths, but I do have one certainty: my mother was a good woman, but she was very vulnerable." In her book, she adds: "My mother is the opposite of a moth. She is attracted to darkness."
Allegra also refutes the idea that her parent's marriage ended because of Paola Franchi, a former model who became Maurizio Gucci's partner after the divorce. "The separation dated back at least seven years before his relationship with her," she told Vanity Fair magazine. "Second: The cohabitation agreement attests to my father's wish not to get married again. He repeated it to everyone: He would never create a family again because his family was us – my sister and me."
When her mother was found guilty in 1998, Franchi showed up at the children's court offering to protect the sisters and their interests. "Another slap. I, the daughter of a murdered father and an imprisoned mother, had to suffer this too," she said in the Vanity Fair interview. "At that moment I also had to think about defending myself, going before a judge to explain what I felt, what was mine in life, to justify myself to avoid another attack. Paola Franchi has never given us respite. And she continued. I don't understand how you can throw yourself at a little girl like that. Or maybe I know: She was looking for some reward because her actions are contrary to her professed intentions of care and love."
In her book, Allegra also discusses her memories of her grandmother, Silvana Barbieri, with whom she and her sister lived after their mother's arrest. Later they discovered that Barbieri had hidden part of the money meant for them and transferred it to her own account. She also put one of the family's mansions, which the sisters continued paying, into her own name. "I trusted her blindly. But I soon realized that, for Silvana, there was only money and the power that comes with it. She manipulated us with feelings of guilt. And she manipulated others with her acquired economic power," Allegra told Vanity Fair.