There was no chaos or violence. Just a circus of die-hard fanatics at Trump's indictment rallies
Demonstrations in New York in support of and against the former president unfolded peacefully and with little attendance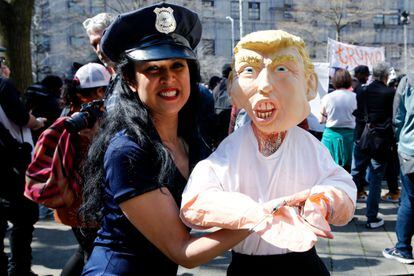 Donald Trump's supporters and opponents had an appointment this Tuesday at Collect Pond Park, a small tree-lined square in front of the New York courthouse where the former president turned himself in, was booked and appeared before the judge to hear the 34 charges against him. Tuesday's rallies were reminiscent of the assault on the U.S. Capitol on January 6, 2021, but only because, just as he did in 2016, Trump called on his fans to protest on his behalf. In reality, the demonstrations that took place while the former president appeared before the Manhattan court could not have been more different than the insurrection that took place two years ago. While the Republican had warned of "death and destruction" surrounding his indictment, Tuesday's gatherings were almost entirely peaceful, with little attendance. The protagonists were a handful of fanatics, who were just looking for their few minutes of fame.
The square was divided into two halves by a row of fences and a police tape. To the south, Trump supporters; to the north, his opponents. Beyond chanting and showing banners and flags, there were hardly any incidents. Despite the deep polarization of U.S. society, rather than a battle of North versus South, it looked more like a feud between rival sports teams. Tensions rised a little bit only when some anti-Trump activities tried to provoke the Republican's supporters, which resulted in pushing, grabbing and shouting, until the police intervened.
In front of the courthouse where Trump was formally arrested, booked and sat before the court, it was easier to run into a journalist than a protester. There were hundreds of them, from all over the world. Some had spent the night there to try to get into the courthouse or reserve the best places to set up cameras. For most of the day there were more journalists than demonstrators, and anyone in the crowd who tried to say anything was immediately surrounded by cameras and microphones, especially if their outfit was photogenic.
A group of "Blacks for Trump" passed by, another of "Women for Trump." Neither of them were too numerous. A Trump supporter hugged an opponent and delighted the photographers. And all of a sudden came the fanatics. A skateboarder juggled two basketballs and a flag with incredible skill worthy of a better cause. Along came the Naked Cowboy, a half-naked man who carries a guitar and who usually does his act in front of tourists in Times Square. There was also a Black woman painted in white, also half-naked, who walked around with a microphone in hand as if she were trying to interview everyone. There was no shortage of people dressed as Trump, with orange hair, a suit and tie. One Trump supporter was carrying what looked like a giant joint that left an intense odor. "He's not MAGA, our guys don't do that," said a woman whose cap bore the acronym for Trump's slogan Make America Great Again.
Of course, there were sincere protesters. Those who supported him repeated his slogans: "Trump's indictment is an instrumentalization of justice," "political persecution..." My pronouns are 'no/guilty,'" said one sign. "I am here because this is a witch hunt," said another. Paulina, who had come from Long Island with her friends, argued that "this is going to make Trump stronger." An Italian woman who lives in Brooklyn repeated the hoax that Trump won the 2020 election: "They don't want to investigate it, it's too bad."
Trump's opponents, meanwhile, said that he should be locked up and called him a compulsive liar. Two New Yorkers who had arrived armed with signs against Trump tried to place one in the area where his supporters were gathered and that provoked one of the few outbursts of the day.
Republican Representative of Georgia Marjorie Taylor Greene led the pro-Trump rally, after a confrontation on Monday with New York City Mayor Eric Adams, a Democrat, who had called on the protesters to restrain themselves in a way that infuriated her: "New York is our home, not a playground for your misplaced anger," the mayor said.
Taylor Greene's speech was expected to heat things up, but the rally lacked minimal infrastructure and by the time she spoke there were hardly any supporters to see or hear her. Surrounded by the media, armed with a low-powered megaphone and with shouts from across the plaza in the background, her message was barely audible. She attacked the Democrats, whom she called "communists," and defended her party's positions.
"Go back to Georgia!" the anti-Trump demonstrators shouted at her. "USA, USA!" her supporters chanted as she left the square.
Before her, George Santos, the controversial New York congressman who is being investigated for having falsified his biography, appeared on the scene. Santos made his own parade for a couple of minutes surrounded by the media.
In addition to reporters, cops, fanatics and protesters, many onlookers and tourists also passed through the plaza. "We were going to the Brooklyn Bridge, but we wanted to see the atmosphere," said a man from Barcelona who had arrived at the square with his wife and daughter. That was the atmosphere, somewhat circus-like, of a day for the history books.
Sign up for our weekly newsletter to get more English-language news coverage from EL PAÍS USA Edition