This is how we covered the 2023 State of the Union address, live
The US president addressed Congress in an event marked by China, the Ukraine war, gun and police reform and calls for unity in defense of democracy
US President Joe Biden delivered on Tuesday the State of the Union address that marks the halfway point of his term. The Democrat was set to showcase his administration's achievements before Congress, from his economic management to his message on the defense of democracy, while the Republicans were planning to warn about debt and inflation. However, a string of mass shootings in January and, more recently, the appearance of a Chinese spy balloon over US skies which has exacerbated diplomatic tensions, have both had an impact on this crucial annual event, which began at 9pm ET. "To my Republican friends, if we could work together in the last Congress, there is no reason we can't work together in this new Congress. The people sent us a clear message. Fighting for the sake of fighting, power for the sake of power, conflict for the sake of conflict, gets us nowhere," he said.
Goodbye
Thank you for following our coverage of the 2023 State of the Union address by US President Joe Biden. Until next time. Good night.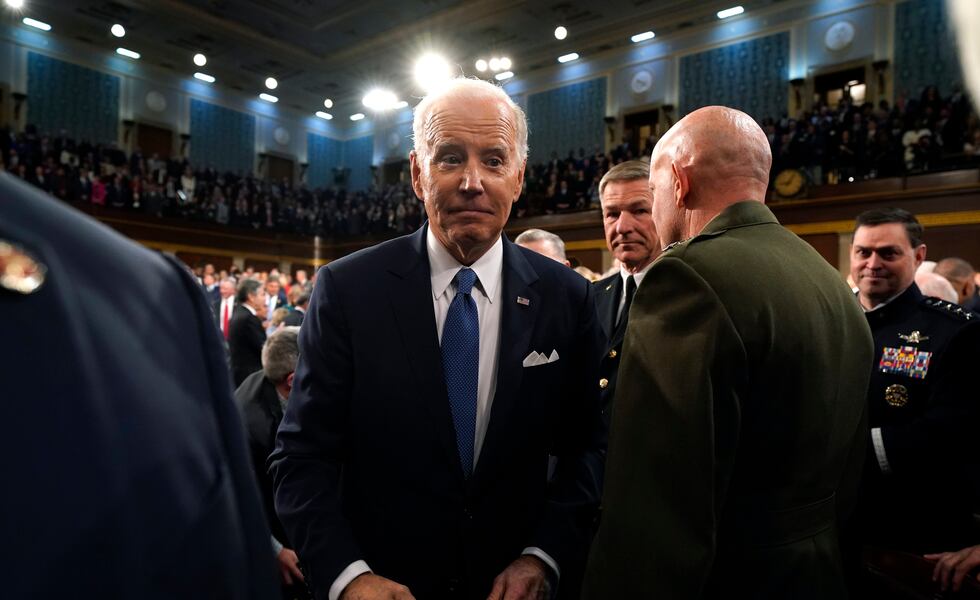 President Joe Biden walks from the podium after delivering the State of the Union address. / Jacquelyn Martin / POOL / EFE
President Biden's speech ends
President Joe Biden's State of the Union address has ended after just over an hour. During his speech he has spoken about domestic and international issues, ranging from the war in Ukraine and the ever-present threat of Russia, to the competition and rising tension with China, all the way through to gun violence and police reform, healthcare and, of course, the economy.
The Democratic president's final words were an optimistic call for unity: "We must see each other not as enemies, but as fellow Americans. We are a good people, the only nation in the world built on an idea. That all of us, every one of us, is created equal in the image of God. A nation that stands as a beacon to the world. A nation in a new age of possibilities. So I have come here to fulfil my constitutional duty to report on the State of the Union. And here is my report. Because the soul of this nation is strong, because the backbone of this nation is strong, because the people of this nation are strong, the State of the Union is strong. As I stand here tonight, I have never been more optimistic about the future of America. We just have to remember who we are. We are the United States of America and there is nothing, nothing beyond our capacity if we do it together".
Biden calls for a defense of democracy with Paul Pelosi's example
Biden concluded his message with a theme he has insisted on time and again: the defense of democracy. It was a key slogan in his campaign for last November's legislative elections. To present it, he made use of the presence of Paul Pelosi, Nancy Pelosi's husband, brutally attacked in his home last November. Democracy, he said, "is the most fundamental thing of all. With democracy, everything is possible. Without it, nothing is possible.
"For the last few years our democracy has been threatened, attacked, and put at risk. Put to the test here, in this very room, on January 6th", he continued, in a thinly veiled attack on Donald Trump, his presidential adversary in 2020. "And then, just a few months ago, unhinged by the Big Lie, an assailant unleashed political violence in the home of the then-Speaker of this House of Representatives. Using the very same language that insurrectionists who stalked these halls chanted on January 6th. Here tonight in this chamber is the man who bears the scars of that brutal attack, but is as tough and strong and as resilient as they get. My friend, Paul Pelosi. But such a heinous act never should have happened. We must all speak out. There is no place for political violence in America. In America, we must protect the right to vote, not suppress that fundamental right. We honor the results of our elections, not subvert the will of the people. We must uphold the rule of the law and restore trust in our institutions of democracy. And we must give hate and extremism in any form no safe harbor".
Biden insisted that the United States is "at a turning point," one of those "moments that only a few generations ever face, where the decisions we make now will decide the course of this nation and of the world for decades to come. We are not bystanders to history. We are not powerless before the forces that confront us. It is within our power, of We the People. We are facing the test of our time and the time for choosing is at hand. We must be the nation we have always been at our best. Optimistic. Hopeful. Forward-looking".
The opiod epidemic and the mental health crisis
The opioid crisis figured prominently in the president's speech. Fentanyl, he recalled, "is killing more than 70,000 Americans a year," he said, urging a major offensive to stop "the production, sale and trafficking of fentanyl, with more drug detection machines to inspect shipments and stop pills and powder at the border."
The call has been accompanied by strong support for mental health, especially for children. "When millions of young people are struggling with bullying, violence, trauma, we owe them greater access to mental health care at school", he said.
Immigration
"America's border problems won't be fixed until Congress acts", Biden said tonight on the immigration issue. The president, who has faced a tough situation on the line with Mexico over increased illegal immigration, says the situation requires the support of Republicans.
He noted that during his administration, 8.000 human traffickers have been arrested and more than nine tons of fentanyl, the potent synthetic opiate, have been seized in recent months.
"Since we launched our new border plan last month, unlawful migration from Cuba, Haiti, Nicaragua, and Venezuela has come down 97%", added the president. Biden also stressed the need to give Dreamers citizenship, one of his first promises upon reaching the White House that remains unfulfilled.
US President Joe Biden speaks during a State of the Union address at the US Capitol. / Jacquelyn Martin / Bloomberg
Economy, collaboration with Republicans, police violence, firearms, Ukraine and China
U.S. President Joe Biden has been speaking just over an hour now. He has reached out to Republicans to work together ("The people sent us a clear message. Fighting for fighting's sake, power for power's sake, conflict for conflict's sake, gets us nowhere"), he has showcased the economic achievements of his presidency ("Two years ago our economy was faltering. As I stand here tonight, we have created a record 12 million new jobs: more jobs have been created in two years than any president has created in four years"), called for police reform and a ban on assault weapons. He also sent a message of support to Ukraine and issued a warning to China: "If China threatens our sovereignty, we will act to protect our country", he said.
Unwavering support for Ukraine in the face of Putin's imperialist aggression
Biden reaffirmed his support for Ukraine to curb Vladimir Putin's imperialist ambitions and the role of the United States as guarantor of the international order in the face of illiberal threats. "Let's remember the world is watching. I spoke from this chamber one year ago, just days after Vladimir Putin unleashed his brutal war against Ukraine. A murderous assault, evoking images of the death and destruction Europe suffered in World War II. Putin's invasion has been a test for the ages. A test for America. A test for the world". Then, he rhetorically posed in his speech whether the US, and by extension the West, was ready to come to Ukraine's defense. "Would we stand for the most basic of principles? Would we stand for sovereignty? Would we stand for the right of people to live free from tyranny? Would we stand for the defense of democracy? For such a defense matters to us because it keeps the peace and prevents open season for would-be aggressors to threaten our security and prosperity. One year later, we know the answer. Yes, we would", he stressed, in the presence of the Ukrainian ambassador to the US, guest of honor at the event.
A call to ban assault weapons
Biden has never hidden his intention to regulate access to guns, including banning assault or combat weapons, the deadliest, and raising the minimum age for purchasing such weapons: "Do something. That was the same plea of parents who lost their children in Uvalde: Do something on gun violence. Thank God we did, passing the most sweeping gun safety law in three decades. That includes things that the majority of responsible gun owners support, like enhanced background checks for 18 to 21-year-olds and red flag laws keeping guns out of the hands of people who are a danger to themselves and others. But we know our work is not done".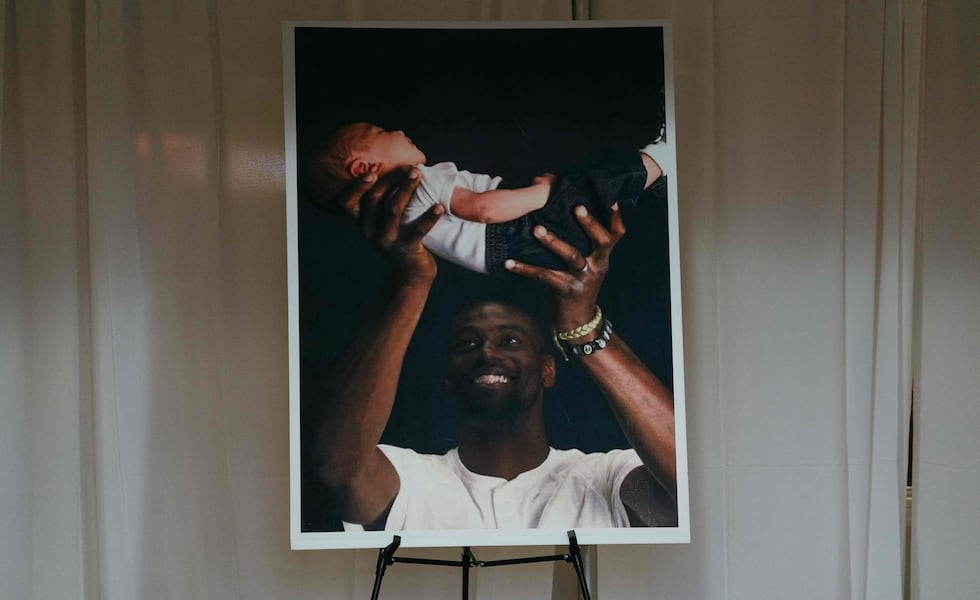 Tyre Nichols holds his newborn son. / LUCY GARRETT / Getty Images via AFP
"Let's come together and finish the job on police reform"
With the memory still fresh of the beating death of young African-American Tyre Nichols in Memphis, at the hands of five police officers, also black, Biden calls for progress on a police reform that has been stalled for two years in Congress by Republican opposition. "I know most police officers are good, decent people," the president said. "But what happened in Memphis, it happens too often."
Biden has called for resources to diagnose and tackle mental health problems encountered by officers on the streets. "We need more money to reduce violent crime and gun crime; more community intervention programs; more investments in housing, education and job training".
"With the support of victims' families," he continued, "civil rights groups and law enforcement, I signed an executive order for all federal agents that bans chokeholds, restricts warrants and other key elements of the George Floyd Act." He did so in May 2022, on the second anniversary of the death of Floyd, an African-American, from choking under the weight of a white officer's knee. That unleashed a wave of global protests that gave birth to the Black Lives Matter movement.
Several family members of victims of police brutality have been invited to tonight's speech. Among them, those of Nichols, who have risen to receive applause from the congressmen. "Let's come together on police reform," Biden said.
It was one of the most emotional moments of the speech. The chamber fell silent when he said, "I've never had to have the talk with my children – Beau, Hunter, and Ashley – that so many Black and Brown families have had with their children. If a police officer pulls you over, turn on your interior lights. Don't reach for your license. Keep your hands on the steering wheel. Imagine having to worry like that every day in America."
That part of the speech ended with a bipartisan ovation for the families of those killed.
Republican boo for Medicaid
The Republican benches have come out of their slumber to eagerly boo a reference by Biden to his alleged hidden plan to cancel Social Security and Medicare, as Republican Sen. Rick Scott (Florida) said in his latest campaign.
Healthcare
The chapter on healthcare, of a system that works for all, is at the center of a large part of the speech; specially the access to insulin at reasonable prices: "Every day, millions need insulin to control their diabetes so they can stay alive. Insulin has been around for 100 years. It costs drug companies just $10 a vial to make. But, Big Pharma has been unfairly charging people hundreds of dollars – and making record profits. Not anymore", said Biden.
Infrastructure
Biden defends one of his major accomplishments, the infrastructure bill: "Now we're coming back because we came together to pass the Bipartisan Infrastructure Law, the largest investment in infrastructure since President Eisenhower's Interstate Highway System. Already, we've funded over 20,000 projects, including at major airports from Boston to Atlanta to Portland". Projects that will provide jobs for "hundreds of thousands of Americans" and that, he recalled, are made possible by bipartisan support for the initiative.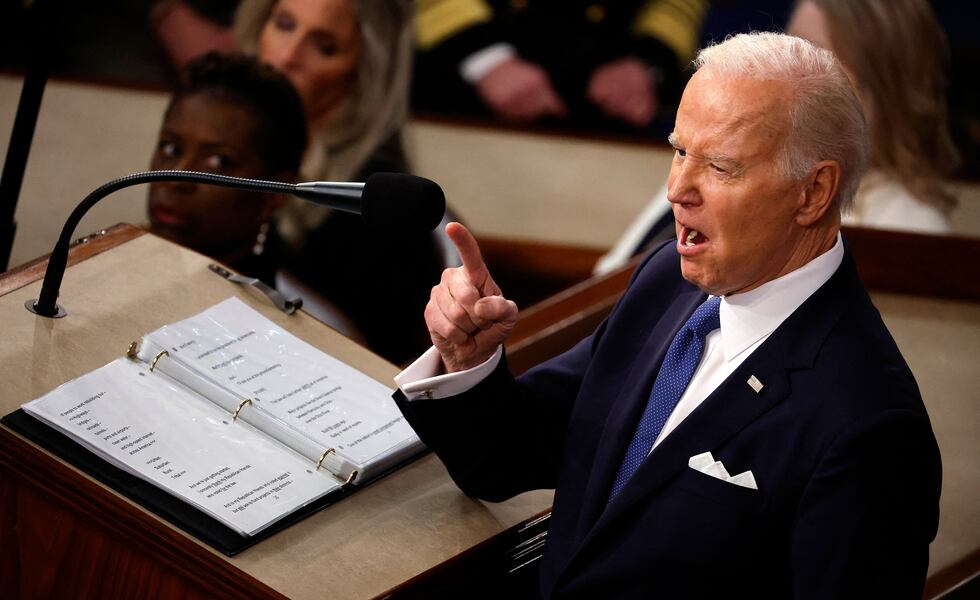 President Joe Biden delivers his State of the Union address. / CHIP SOMODEVILLA / Getty Images via AFP
Biden: "If China threatens our sovereignty, we will act to protect our country"
The White House has advanced the text of Biden's speech. The president offers Ukraine his full support to defend itself against Russia and launches a message to China after the spy balloon incident: "Before I came to office, the story was about how the People's Republic of China was increasing its power and America was falling in the world. Not anymore. I've made clear with President Xi that we seek competition, not conflict. I will make no apologies that we are investing to make America strong. Investing in American innovation, in industries that will define the future, and that China's government is intent on dominating. Investing in our alliances and working with our allies to protect our advanced technologies so they're not used against us. Modernizing our military to safeguard stability and deter aggression. Today, we're in the strongest position in decades to compete with China or anyone else in the world. I am committed to work with China where it can advance American interests and benefit the world. But make no mistake: as we made clear last week, if China's threatens our sovereignty, we will act to protect our country. And we did. And let's be clear: winning the competition with China should unite all of us. We face serious challenges across the world. But in the past two years, democracies have become stronger, not weaker. Autocracies have grown weaker, not stronger".
Unemployment
"Unemployment rate at 3.4%, a 50-year low. Near record low unemployment for Black and Hispanic workers. We've already created 800,000 good-paying manufacturing jobs, the fastest growth in 40 years. Where is it written that America can't lead the world in manufacturing again?"
Sign up for our weekly newsletter to get more English-language news coverage from EL PAÍS USA Edition