Dry gardens and water cops: How California is battling the worst drought in 1,200 years
The state is about to complete two months of restrictions on water use that have led to a nearly 10% drop in consumption in Los Angeles
The hills surrounding the celebrity enclave of Calabasas, 50 kilometers north of Los Angeles, indicate the devastation the three-year-long drought has wrought on this region of California. Their brown and yellow hue contrasts with the bright green of the Country Club in this exclusive location.
Gail Poole, 63, walks a pair of beagles down one of the few freely accessible avenues in a place characterized by luxury mansions tucked away in gated communities.
"There has never been a lack of water here, but now it is noticeable that more care is being taken," says Poole, who has lived in the area for the past 17 years. Since mid-May, the Las Virgenes Municipal Water District introduced one of the state's most restrictive measures on water use. "I'm only allowed to water the garden once a week, on Thursdays, and I can't do it for more than eight minutes," explains Poole.
The authorities have set a daily cap of 300 liters. Those who exceed it receive a written warning. "So far, I haven't had a problem because I've let some of my plants die, but other neighbors have told me that the surveillance has become a bit intense," she adds.
Water shortages in California have turned residential neighborhoods and idyllic suburbs like this one into battlegrounds. Water cops patrol these areas to keep an eye out for those infringing the new regulations. Some use satellite imagery. Given California's longstanding drought – the worst in several centuries – it is normal for these images to show up swathes of yellow or orange. But the cops are looking for a color that suggests abundant watering.
More than 5,500 violation notices have been sent out to neighbors in the vicinity in the past eight months. According to The Wall Street Journal, Kim Kardashian and Sylvester Stallone are among Calabasas' offenders, with the Rocky star using more than 300% the amount of water allowed for the 500 trees on his $18 million property.
In Camarillo, a town of 65,000 people west of Calabasas, they can only water their outdoor plants and gardens for 15 minutes a week, between 6pm and 8am. Offenders who receive three warnings face a $600 fine. If the measures are ignored for a fourth time, the culprits' water pressure is turned off.
The year began with the three driest months in history, prompting California Governor Gavin Newsom to call for a 15% statewide reduction in consumption at the end of March, with up to 35% in the areas most affected by the drought. Dozens of restrictions were approved and have been applied in the last two months.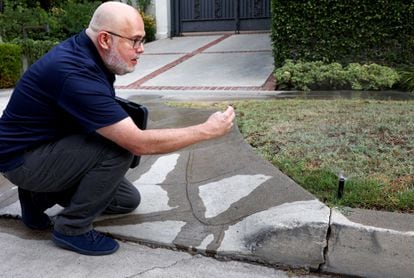 Most of the restrictive measures have focused on outdoor consumption. The Southern California Metropolitan Water District estimates that irrigation accounts for 85% of urban water use. Now bans have been introduced regarding washing sidewalks, irrigating two days after rain, watering artificial turf and running fountains without recirculation systems. It is also forbidden to wash cars with hoses that do not have a water saving nozzle. Indoors, restaurants have been told to stop offering tap water unless customers ask for it.
Unable to maintain their gardens in the circumstances, several neighbors have opted to alter the landscape in their yard, replacing lawns with gravel and planting cacti in a desert design found in cities such as Phoenix or Las Vegas.
Meanwhile, the California Department of Water Resources has turned off the tap for the second consecutive year on 95% of its supply to cities due to soaring temperatures; as there was no snow this year in the Sierra Nevada, one of the main sources of its supply, mountain-sourced water accounted for less than 25% of reserves this year, the third lowest figure after 2015 and 2018.
Contrary to expectations, just after Newsom made his announcement, figures were released indicating that consumption actually increased in April by 17%. May was worse, up 18.9%. In June, however, restrictions arrived in the densest urban areas of a state with a population of 40 million. The first month following their introduction saw savings of 9% in the Los Angeles metropolitan area. July's figures will be released in early August.
The latest figures released by California's water departments show a concerted, if inconsistent, effort. While Marin County, just north of San Francisco, has managed to cut consumption by 24% compared to 2020, Sonoma and Napa counties have missed the savings target by 18% and 16%, respectively. And while San Francisco has achieved a 7.3% saving, statewide, the figure is just 2%.
Some environmental groups such as the Sierra Group believe that the impact will be limited until the restrictions are applied to rural areas; agriculture uses 80% of California's water in a dry year. More than 400,000 hectares are used to cultivate almonds, one of the state's most profitable and, together with pistachios, water-intensive crops. However, a recent report by the organization Food & Water Watch indicates that despite the drought, almond plantations have grown 78% in the last 12 years.
It's not the first time that California has had to ask its residents to make this kind of sacrifice. In May 2015, then-Governor Jerry Brown introduced what were unprecedented measures at the time to save 25% of supply. The state came very close to achieving this at 24%, thanks to an executive order that reduced the flow being pumped to cities. The measures were in place for nearly 11 months, until a series of torrential rains in early 2017 ended one of the state's most severe droughts, lasting five years. The 2000-2021 period has been described by a February study in Nature magazine as a "megadrought" and the driest 22-year period since the year 800.