Will Smith on his marital relationship: 'I don't suggest this road for anybody'
In an interview with 'GQ' ahead of the release of his memoir and a new movie, the actor says that his wife Jada Pinkett Smith is not the only one who had affairs during their 23-year marriage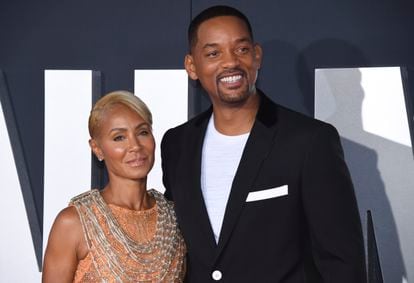 It's not the first time that Will Smith makes headlines over his relationship with Jada Pinkett Smith. Despite the mutual shows of support throughout the years, the 53-year-old actor now says that their marriage has not always been idyllic. In an interview with GQ magazine to discuss his new memoir, Will, Smith provided new details about their 23 years together: "For the large part of our relationship, monogamy was what we chose, not thinking of monogamy as the only relational perfection."
The confession that the relationship they share has evolved comes after a year of rumors. Pinkett Smith publicly admitted in 2020 that she had "an entanglement" with the singer August Alsina. According to her, this happened at a time when the marriage was in a deep crisis. The couple had a public discussion on the topic on Pinkett Smith's Facebook Watch talk show Red Table Talk, although as Smith told GQ, the details they were discussing were, by that point, years in the past.
According to GQ reporter Wesley Lowery, Smith was concerned that following that online talk, "a viewer could have walked away thinking that Jada was the only one engaging in other sexual relationships, when that was not, Smith delicately explained to me, in fact the case."
The Hollywood star is now set on debunking those rumors. "Once the public decides something, it's difficult to impossible to dislodge the pictures and ideas and perceptions," he told the reporter.
His memoirs include details of an explosive fight the pair had on Jada's 40th birthday. "Our marriage wasn't working," Smith writes in his book, as reported by GQ. "We could no longer pretend. We were both miserable and clearly something had to change."
Smith told Lowery that "Jada never believed in conventional marriage.… Jada had family members that had an unconventional relationship. So she grew up in a way that was very different than how I grew up. There were significant endless discussions about, what is relational perfection? What is the perfect way to interact as a couple?"
In an interview with Vanity Fair in 2018, Pinkett Smith defined her own views of the relationship, saying that no matter what may be expected of a conventional relationship or marriage, she would always be there by Will's side. And both seem to share this vision.
"We have given each other trust and freedom, with the belief that everybody has to find their own way," Smith told GQ. "And marriage for us can't be a prison. And I don't suggest our road for anybody. I don't suggest this road for anybody. But the experiences that the freedoms that we've given one another and the unconditional support, to me, is the highest definition of love."
Smith's memoir Will is due to be released on November 9, and his new movie King Richard will premiere in movie theaters and HBO Max on November 19.
English version by Susana Urra.