Profile: Nayib Bukele and absolute power
The showman president of El Salvador is causing a furor in the central American country. But the international community is keeping a wary eye on an unprecedented phenomenon, whose election success on Sunday has empowered him to reform the judicial system and the Constitution
Nayib Bukele, Latin America's youngest president, doesn't much like venturing into the street, or indigenous people, or wandering around markets, or being photographed with other people's babies. The 39-year-old leader of El Salvador instead enjoys his cellphone, public image polls and "implementing, implementing, implementing." This has proven sufficient to sweep away three decades of bipartisanism and drastically transform the political landscape of a country still marked by the wounds of a bloody civil war (1980-1992) that ended when Bukele was barely 10.
In the view of his biographer and advisor, Geovani Galeas, Bukele is a multi-tasker capable of shaping the destiny of his people from the computer screens in his office, and is a leader with a political persona comparable to that of Fidel Castro or Mao Zedong. According to his former attorney and current political adversary Bertha Deleón, Bukele is "an adolescent with power, incapable of maintaining a conversation about the most important matters without permanently checking his cellphone." Between one portrait and the other are the face masks and t-shirts bearing his image that go for $12 a time in the center of San Salvador and that paint Bukele as a messiah who cuts ribbons at hospital openings and tackles the dark forces of the National Assembly. On February 28 his political party, Nuevas Ideas (NI), standing in legislative elections for the first time, scored an unprecedented landslide victory that delivered an absolute majority and effectively wiped the traditional parties, the Farabundo Martí National Liberation Front (FMLN) and Nationalist Republican Alliance (ARENA), from the political map.
After almost two years in power, Bukele has risen from being a youthful politician to leading a type of modern teleocracy, a social phenomenon that has been applauded at home but criticized abroad by the Organization of American States and Human Rights Watch, which has voiced concerns that El Salvador is on the path to becoming a "dictatorship." The new administration of US President Joe Biden has distanced itself from Bukele but on his own turf he has no political equal and one of the highest popularity ratings on the continent, at over 71%. The numbers reveal abilities that go beyond a deft handling of Twitter and even his adversaries admit to some achievements under his presidency, among them reducing violence in El Salvador to rarely witnessed levels and the firm response to the coronavirus pandemic, which combined strict lockdown measures with direct aid payments of $300 to citizens.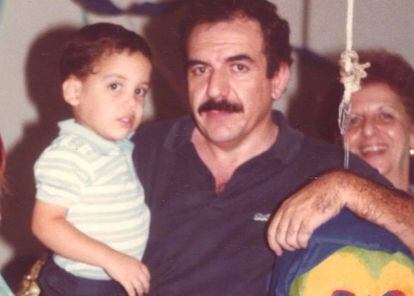 The son of a Muslim father from Bethlehem, who was a driving force behind the construction of some of the first mosques in Latin America, Bukele carries politics as close to his heart as he does publicity. Leaving a law degree aside after the first year, Bukele started working for his father's firm, which at that time was engaged in promotion work for the FMLN, El Salvador's traditional leftist party.
Bukele took his first steps into politics with the FMLN, under whose banner he was elected as mayor of San Salvador, a position he held between 2015 and 2018. During his mayorship, Bukele gained recognition as an efficient leader who was able to reclaim the dangerous downtown area of the city. His tenure was accompanied by slogans such as: "We have to change history," or: "One day, one job" until he had his first brush with democracy in 2016. Bukele threatened the attorney general that he would use the people to "throw him out of office" after being called to testify in a case against him: he was being investigated for allegedly being behind a group of computer engineers who had launched cyber-attacks on La Prensa Gráfica newspaper. He arrived for his court date with around a thousand supporters in tow.
At the time he was just a 34-year-old mayor with delusions of grandeur, the emerging star of Salvadoran politics as it rose from the ashes of bipartisanism. But some of the traits of his way of exercising authority were already evident: his repudiation of other powers when they contradicted him, the use of opaque operations to enhance his own image and confrontations with the press. Since he assumed the presidency, Bukele's broadsides against journalism have encompassed local media such as El Faro, Gatoencerrado and Factum, as well as the Associated Press. But he has not reserved his criticism solely for independent media, launching a money-laundering investigation against El Faro over subsidies from international donors.
When his tenure as mayor of San Salvador came to an end he also took on his own party, which did not view him as presidential-candidate material. To realize his ambition he left the FMLN and made an 11th-hour jump to another ship, Gran Alianza por la Unidad Nacional (GANA), a party that carried a string of corruption cases in its wake but that was able to provide him with the electoral registration he required before he could legally formalize his own platform, Nueva Ideas. During his tussle with his former party, the political right and the press, Bukele forged his identity as an idealistic rebel, enchanting El Salvador's youth.
To make sense of such an irresistible rise it is necessary to understand the political decay from which Bukele emerged: decades of corruption scandals that sent two former presidents to jail and another on the run have laid bare the death throes of the party system that emerged after the civil war. Bukele's publicity experience led to the slogan: "Let them return what they have stolen," which has become a rallying cry repeated like a mantra at every party meeting.
Throughout this period, social media has been Bukele's staunchest ally. Through it he has sacked ministers, overseen public works and held forth on the press as well as announcing his wedding and publishing his daughter's ultrasound scan. If he feels that wider explanations are required, he uses Facebook Live. Bukele describes himself as the "coolest president in the world." Only 10.7% of El Salvadorans over the age of 18 use Twitter but almost 40% follow the country's political life through social media, according to a study by polling firm LPG Datos for the Universidad Centroamericana (UCA). As well as the "Bukele effect," El Salvador's generational shift, with the average age standing at 29, has to be taken into account. According to the electoral register, almost half of those eligible to vote in the February 28 elections had an average age of 38.9, the same as their president.
Bertha Deleón was Bukele's attorney between 2016 and 2019 during two legal processes. For many years she was his confidant in the courts until on February 9 last year she cut ties with him definitively via WhatsApp: "You blew it," she messaged his personal cellphone when the president walked into the Assembly flanked by military personnel in an attempt to force deputies to approve a US loan of $109 million destined for law enforcement funding. "But he never replied and we haven't spoken since," says Deleón, who is now a member of Nuestro Tiempo, a political party formed by former members of ARENA in 2019. That February Sunday in 2020 was a turning point in Bukele's political career and set alarm bells ringing in the international community, which has since followed his every step with close attention. "I overestimate my own ability to plan ahead; I do what I think I need to do," he told EL PAÍS at the time, while intimating that "the people" had led him to that juncture.
"Bukele speaks with hate in a violent country. He is a brilliant man when it comes to advertising because it should not be forgotten that he comes from that world," says Deleón, who describes her former client as "someone who is addicted to surveys regarding his image and what people in the street think, but incapable of holding a conversation because he is transfixed by his cellphone." Deleón reserves her harshest criticism for Bukele's treatment of what he has termed the "farcical" peace accords signed when he was a child to end a civil war that claimed 100,000 lives. "He was brought up with a silver spoon in his mouth and never felt the effects of the war," Deleón says.
Running the country with a phone
Bukele's privileged upbringing, belligerent discourse and "cool" posturing are not necessarily opposite currents of his public image, but different facets that he has been able to exploit. He has forged a modern teleocracy devoid of ideology in order to talk about efficiency. He believes it is possible to run a country with a telephone, say his advisors, and he is well aware that his most effective press officer is himself. He is far more comfortable talking to rapper René Residente on Instagram, his baseball cap on back to front, than giving an interview with CNN. His Twitter account is employed to upload selfies from the UN Assembly before addressing world leaders or to distribute photos of gang members in jail, crowded together, practically naked and handcuffed, to project a vote-yielding image of an unshakable iron fist against violent crime.
According to Bukele the decrease in violent deaths in El Salvador, which have fallen from 50 homicides per 100,000 people when he was elected to almost 19, is the result of his Territorial Control Plan, which the army has deployed in every corner of the country with a heavy hand on both the streets and in jails, including authorizing the use of deadly force if deemed necessary. According to left-leaning digital newspaper El Faro, though, this relative peace has been brought about by a secret pact with the most powerful of El Salvador's gangs, the Mara Salvatrucha, a claim Bukele denies.
Bukele is married to Gabriela Rodríguez, a child psychologist he met a decade ago, but almost all sources consulted for this story agree that his brothers are the only people he trusts. Karim, Ibrajim and Yusef Bukele Ortez, three of the 10 siblings born to Armando Bukele Kattán and Olga Cortez, form the most influential circle of power around Bukele's presidency. Although they hold no official public office, several sources confirm they are his principal strategists and have the ear of the president.
"There is no ideology; this is a 20th century set-up and Bukele is a 21st-century president," says Galeas during an interview in San Salvador. "The central concept of Bukele's ideology stopped being left/right to become 'them,' the 2% of the population where the wealth is concentrated, and 'us,' the 98% of the population aggrieved by 200 years of corruption."
Galeas, author of two books about Bukele, maintains that the president feels his cellphone is enough to govern the country without the need to waste hours and hours on journeys. According to Galeas, who describes Bukele's office as a desk with several screens in front of it, the president's principal virtue is his ability to multitask and the main issue of his mandate "will be finding someone to replace him."
Bukele's rhetoric has had a galvanizing effect on the Salvadoran population, which has historically fed the migratory flow north to the United States with an exodus of people fleeing violence, poverty and a lack of opportunities at home. Over the past year the percentage of Salvadorans joining migrant caravans has fallen due to, among other things, the wind of change blowing across the country, along with measures put in place by Bukele including border patrols, the arrests of people accused of organizing the caravans and the 16,000 people who have been placed in internment centers for failing to adhere to the country's strict coronavirus lockdown.
When Bukele formed his new government in June 2019 he replaced all of the serving ministers with the exception of one, Finance Minister Nelson Fuentes, who described Bukele as a man focused on "implementing, implementing and implementing the budget to meet the needs of the people as quickly as possible and in the best way possible." In June 2020, Fuentes resigned amid alleged pressure from Bukele to use his office against the president's political enemies. "A minister is always under pressure. Halfway through the year I began to think that we had different ideas as to how to achieve stability in the country and I felt that the best thing for me to do was leave," Fuentes says of his departure and the parlous state of the public coffers after a spike in spending and an 8% fall in GDP as a result of the coronavirus crisis. "My concerns are different than those of the president. They were difficult moments," he adds in the only interview he has given to a media outlet since his resignation.
Two years ago, the telegenic Bukele scored an overwhelming electoral victory, with no second round required, over the historic FMLN, the heir to the guerrillas who had been in power for the previous eight years. Since then he has governed in the face of an Assembly controlled by the opposition, a situation that has been reversed with NI's legislative election success. Now, Bukele controls the Assembly and with it has the opportunity to make alterations to the justice system and the constitution, powers that until now had been beyond his reach.
Bukele is not interested in obscuring his desire for power, nor does he seek to appear friendly. On the rare occasions he has attempted to do so he has given off an odd sense of frivolity more suited to a millennial than to a head of state, such as the time when he was videoed driving a Ferrari at high speed in one of the poorest countries on the continent. Or the day when he issued dozens of orders to his subordinates and ended up ordering the entire country to go to bed as well. Or, more recently, when he changed his profile picture to a photo of a bird in response to a round of memes mocking his thin legs. When he is comfortable in company, he likes to point out that before he was president he ran a nightclub. As such, when he wishes to please his interlocutor, he will upend a bottle of rum and tap the mouth of the bottle to work out the number of ounces he should serve, like the barman he once was. It is one of the few good-natured gestures those close to him acknowledge.
A fan of video games and a lover of luxury and expensive cars, Bukele has managed to negotiate his public life without the need to clarify whether he is Catholic, Muslim or an evangelist, stating simply: "I believe in God."
God was precisely the recourse that Bukele summoned on February 9, 2020, when he faced the most critical moment of his political career as thousands of his followers gathered outside the Assembly to urge him to take the legislative building by force. He had earlier received a telephone call from the US Embassy prescribing prudence but, among his own people, he said nothing. After a few seconds of silence, he raised a finger to the sky to indicate that from there had come the order for him to withdraw. After a few minutes, the fired-up throng also started to file away peacefully. The advertising man had won again and he made good on his vow to further exact his revenge last Sunday at the polling booths.
English version by Rob Train.