From Vienna to Buenos Aires: Café hopping in 20 cities around the world
Here is a tour that takes in a Mozart cake in Salzburg, guided visits to coffee plantations in Costa Rica and a cappuccino at the Tommaseo in Trieste
Coffee connoisseurs know there is an element of ceremony to enjoying a good cup of coffee. Not only does it require the right bean, but also a cozy atmosphere conducive to good conversation.
What follows is a mini global tour of the authentic temples dedicated to a ritual that is no longer embraced only by artists and intellectuals, but by us all.
1. New York Café (Budapest, Hungary)
"The best coffee in the world" is the claim of the New York Café in Budapest, and who could disagree? With its lush décor, wooden balustrades and lavish ceiling moldings, this space is reminiscent of a baroque shrine. A traditional meeting place for intellectuals and writers in the Hungarian capital, this 1894 café has emerged surprisingly unscathed from the ravages of the city's violent history and, after a thorough restoration several years ago, once again offers delicious coffee accompanied by all kinds of delicacies.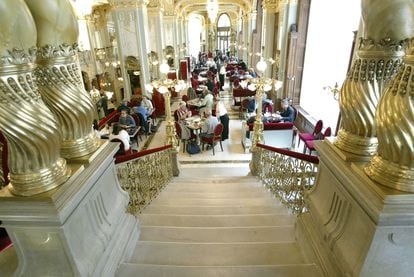 2. Grand Café Orient (Prague, Czech Republic)
The unique Grand Café Orient can be found within the House of the Black Madonna, one of the finest examples of Cubist architecture in Prague. From its extraordinary chandeliers to the padded benches upholstered in green stripes, everything here is cubist – even the sweets. For example, the venecek coronita, a typical Czech dessert which is usually round, is square.
3. Café de la Paix, La Rotonde, Café de Flore and Les Deux Magots (Paris, France)
Paris is one of the capitals with the most classic cafés in the world. Artists, writers, painters, intellectuals and show business personalities frequent them – cafés like the emblematic La Rotonde in the Montparnasse district that opened its doors in 1911 and was a haunt of Picasso and Modigliani. Or the legendary Les Deux Magots, in Saint-Germain-des-Prés, in the heart of the Latin Quarter, which was favored by the romantics at the end of the 19th century who no doubt appreciated its outdoor seating, atmosphere and views. Also worth a visit is the Café de Flore, another meeting place for intellectuals, especially the existentialists.
But the oldest Parisian café still in business is Café de la Paix. Located opposite the Opera, it was inaugurated in 1862, but gained its fame on the occasion of the Paris Universal Exposition of 1867. With its gilded columns and Second Empire-style frescoes, it retains its air of grandeur and remains one of the icons of Parisian gastronomy.
4. The Wolseley and other classics (London, UK)
Strictly speaking, The Wolseley is not a café, but a tea room. It is also a restaurant, a brasserie, a meeting point for the fashion world – Kate Moss used to sit at table number 32. The traditional afternoon tea, which, of course, also exists in champagne version, is a dream with its delicious clotted cream scones, served under high arches and marble columns.
In the British capital, rather than Central European-style cafes, it is tea rooms which are unrivaled. All the major hotels have them, but among the most famous are those at Claridge's, the Ritz and The Berkeley, where the sweets are designed by major fashion brands, such as Gucci and Dolce & Gabbana. And of course: the essential and historic Fortnum and Mason, with its Diamond Jubilee Tea Salon on the fourth floor.
5. Café A Brasileira (Lisbon, Portugal)
Are the luxurious cafés of the last century a dying breed? Perhaps, but some magnificent specimens have survived in Europe. In Lisbon, the café par excellence is A Brasileira, in the Bairro Alto, where coffee culture has flourished between its mirror-covered walls for more than 110 years. It is a gem that hasn't changed since being frequented by poet, Fernando Pessoa.
6. Sprüngli Confectionery (Zurich, Switzerland)
Choosing from a range of confectionery like that displayed by the Sprüngli, with its fine chocolates, pralines and pastries, is extremely difficult, and has been ever since it opened its doors in 1836. This is where the legendary luxemburgerli, the cream-filled cookies typical of Switzerland, originated.
7. Café Pushkin (Moscow, Russia)
This café was inspired by the 1964 song Nathalie, by Gilbert Bécaud, in which the singer meets his beloved – a Russian guide he met on tour – at the fictional Pushkin Café in Moscow. The song became so popular at the time that many French tourists visiting the Russian city sought out the café, which, in fact, did not exist. Until it did, opening in 1999, with carefully chosen antiques, wood-paneled walls and Russian and French dishes on the menu.
8. Schamong Kaffee (Cologne, Germany)
Schamong is the oldest coffee roastery in Cologne, with more than 50 years of history. Its store sells a range of blends, from classic coffees to special interpretations of the coffee bean. But Schamong is also a coffee shop, which means one can linger and enjoy one of the delicious house concoctions. It is also home to the city's first "coffee academy," where they teach the seven rules that must be followed to prepare an authentic espresso. And all this with an emphasis on sustainability.
9. Café Sacher (Vienna, Austria)
In the late 19th and early 20th centuries, Vienna was the capital of a great empire that included not only Austrians, but also Hungarians, Czechs, Slovaks, Poles, Italians, Bosnians, Romanians and Germans. It was a metropolis comparable to contemporary New York, and at the center of it was its cafés. Almost all of these cafés have preserved the atmosphere prevalent in the eras of Gustav Mahler, Adolf Loos, Richard Wagner, Gustav Klimt and Sigmund Freud, making them part of UNESCO's intangible cultural heritage.
The most popular with tourists is the Sacher, known for its legendary Sacher chocolate cake. But there are many others in the city, such as the Sperl, from 1880, frequented by Gustav Klimt and Egon Schiele, who paid for their drinks with the sketches done in the café. Around the same time, Freud went to the Landtmann, which is located very close to where he had his practice.
10. Grand Café (Oslo, Norway)
All of Oslo was shocked by the announcement in 2015 that the historic Grand Hotel Café was closing after more than 140 years in business. At the end of the 19th century, it was mainly artists who came here in search of peace and quiet: Henrik Ibsen came every day, for example, and Edvard Munch painted there. Fortunately, it has reopened with refurbishments that have managed to retain the cozy atmosphere for which it was renowned.
11. Caffè Tommaseo (Trieste, Italy)
The Tommaseo opened in the year 1830 and, for decades, served as a meeting point for successful businessmen, artists and intellectuals, as well as being the epicenter of various political movements; in fact, there is an exhibition dedicated to its history. But, above all, the Caffè Tommaseo is visited for its cappuccino.
12. Café Maiasmokk (Tallinn, Estonia)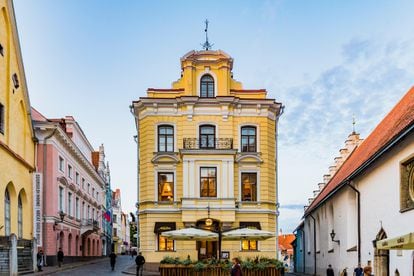 The Maiasmokk has been in business since 1864 and includes numerous unique pieces of décor dating back to that era. Delicious biscuits, cakes and pastries are served with coffee, and, in an adjoining room, a small marzipan museum provides information on the origin of this sweet almond paste.
13. Hafiz Mustafa (Istanbul, Turkey)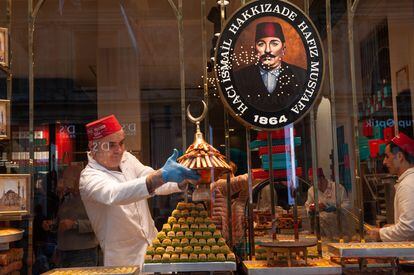 A good Turkish-style coffee is very different from that drunk in most of Europe: it is prepared with finely ground coffee in a copper and brass pot with a long handle, known as a cezve, and in the Hafiz Mustafa, it is accompanied by the house specialty baklava – a pastry filled with crushed pistachios and syrup. A café and store founded by a moneylender more than 150 years ago, the Hafiz Mustafa sells Turkish sweets and treats from early in the morning until well after midnight and serves typical Turkish black coffee or a strong black tea up on the second floor.
14. Gran Café Gijón (Madrid, Spain)
Of all the great Madrid cafés, Café Gijón, on Paseo de Recoletos in the Spanish capital, is one of the most famous. It was founded by a Spaniard in the northern region of Asturius who settled in the city in 1888 and, from the moment it opened its doors, it became a magnet for writers, artists and intellectuals. From Salvador Dalí and Luis Buñuel to the legendary spy Mata Hari, many of the most legendary figures in recent Spanish history have gathered there. When the café was sold in 1914, the new owner had to sign an agreement stating that the business and its name would be retained. Nowadays, it is still a landmark in the city.
15. Fürst Confectionery (Salzburg, Austria)
Nobody with a sweet tooth can avoid a visit to the cozy headquarters of the Fürst confectioners on Salzburg's Market Square – or any of its three other branches – which is best known for its delicacy, the Mozartkugel or Mozart ball, which is still made according to the traditional recipe.
16. Caffè Florian (Venice, Italy)
In Europe's oldest cafe, time seems to have stood still. Opened in 1720, the only things that have changed at the Florian are the prices and, of course, its customers. The rituals remain the same: waiters in white jackets serve cappuccino on silver trays and, in the evening, the orchestra strikes up. A popular hangout for artists, intellectuals and politicians centuries ago, it now attracts crowds of tourists. The Florian was the first café in Italy to allow women to enter, earning it the unsavory nickname "Casanova's hunting ground."
17. Antico Caffè Greco (Rome, Italy)
Open since 1760, Rome's oldest café boasts waiters in tails and bow ties, waitresses in frilly white aprons, red velvet walls and gilded mirrors scarred by the passage of time. Casanova, Goethe, Wagner, Keats, Byron, Shelley and Baudelaire were regular patrons, and you can even lie on Hans Christian Andersen's ginger-colored sofa – reached from the entrance on Via dei Condotti, by walking through the eight rooms to the last room, with a grand piano. Naturally, the Antico Caffè Greco's prices reflect its impressive heritage.
18. Britt Plantation (San José, Costa Rica)
Costa Rica has made coffee one of its iconic products and it is unthinkable to pass through this Latin American country without tasting one of the most famous coffees in the world. A good place to visit is Barva, in the Central Valley. There you will find the most famous Costa Rican roastery, Britt, which lays on a 90-minute guided tour around its plantation that includes a coffee tasting and even a dramatization of the bean's history.
19. Tortoni (Buenos Aires, Argentina)
The Argentine capital inherited the Italian and Spanish taste for cafés with large modernist glass windows and wooden tables, converted into centers of social and cultural life. In fact, natives of the city boast that Buenos Aires is "the Vienna of America." Symbolic of this tradition is the famous Café Tortoni, the city's oldest café, which was once the center of literary gatherings. It is now so famous that busloads of tourists are deposited at its door, detracting somewhat from its charm. Nevertheless, it is an almost obligatory pitstop for anyone visiting the city.
20. Camelot (Krakow, Warsaw)
The European heart of coffee culture? Vienna, of course. But some connoisseurs consider Krakow the secret coffee capital. Because there, cafés abound in historic buildings in the old town. For example, there's the Camelot café, where you can enjoy a slice of cake in its cozy, candlelit rooms. And there is also no shortage of good breakfasts and lunches for those who want more than just a good cup of coffee.
Sign up for our weekly newsletter to get more English-language news coverage from EL PAÍS USA Edition