Álex Chan, the Spaniard making history for the US at the 2023 World Handball Championship
The top scorer in Spain's premier handball league has become a key player for the USA and contributed to the team's first victory at the tournament after 25 consecutive defeats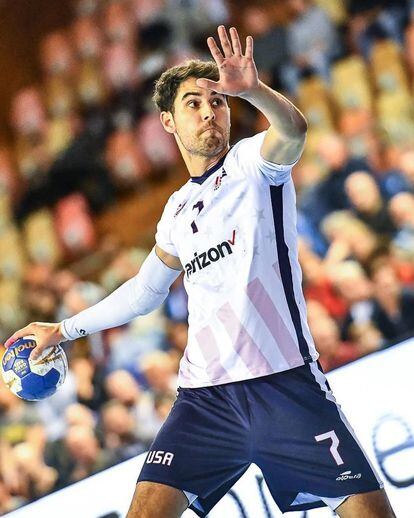 Years ago, Spanish player Álex Chan, 29, sent a letter to the US Handball Association to let them know they could count on him, that he had dual nationality and was eligible for selection. The 1.88-meter-tall player from Pontevedra received no answer. At the end of 2020, he learned that the US had been invited to the 2021 World Handball Championship in Egypt and promptly used contacts to reach the team's coach, sending him videos showcasing his skills as a player. And, this time, he was listened to.
However, by the time he and the US team landed in North Africa for the tournament, Covid had infected the entire locker room and they were forced to withdraw before making their debut. Two years later, on 13 January 2023, Chan made his debut as part of the US team. And he did it in style. His five goals against Morocco – four of them in the second half – proved key to the US' first World Championship victory (27-28) after 25 consecutive defeats. "We had the game well studied on video, well prepared," said Chan in the wake of the team's success.
Two weeks earlier, Chan told EL PAÍS he was at the top of his game: he had been the top scorer in Spain's professional Liga Asobal, scoring 100 goals for his modest Cisne Pontevedra team, which finished the season second to last. But the experience of preparing for the World Championship had completely changed his game: in the summer he put his job as an industrial engineer on hold to concentrate on the sport. "I wanted to be more focused on handball. Besides, I was going to be out of Spain all January," said Chan, whose team was beaten by Croatia on January 15 but still has Egypt to play on January 17, with their sights set on getting into the second round. "We are eager to achieve something more if we are able. Our goal is to be increasingly competitive," he said.
Chan didn't feel he had a place in Spanish handball; he candidly admits that there were better players than him in the generation of 1992-1993. "There was Aitor Ariño [out due to injury] and Álex Dujshebaev," he explains. "I played in the youth team, but the team was very well-defined and I was also one of the youngest. It was very complicated to get in." Fortunately, he has been given a break thanks to his dual nationality.
Chan's maternal grandfather, José, left Spain for North Carolina in the middle of last century at the age of 17 to work as a stonemason, eventually settling in Alexandria, a medium-sized city in the state of Virginia, on the east coast. He married an American woman, with whom he had three children; one of them, the handball player's mother, who spent her early childhood in the US, eventually returned to Galicia, where Chan would later be born.
US team an international affair
Chan's grandfather's emigration turned out to be the ticket to his sporting adventure in a country with hardly any handball tradition, but which is looking to put together a team for the Los Angeles Olympic Games in 2028. During the 2021-22 campaign, there were just 1,300 registered players and domestic competition was reduced to regional leagues, especially in the northeast, with weekend qualifying events for the national championship held in May, according to its federation.
"The team is mainly made up of players who have mostly lived in Europe," says Chan. "We have Germans, French, Danes, Swedes, Hungarians, Argentineans. I think there are only three players who only hold a US passport." After 22 years playing under the radar, the historic victory against Morocco was broadcast by ESPN, one of the major American networks – proof of the commitment to do something worthy in 2028 in one of the few sports historically missing from the US sporting calendar.
On the bench is coach Robert Hedin, a 56-year-old Swede whom Chan had to track down two and a half years ago. Chan's coach at the time, Javier Fernández Jabato, contacted his Ademar León colleague Manolo Cadenas, who knew Heding, a former Helados Alacant player in the early 1990s, and told him about Chan. A couple of brief conversations and back-up evidence were enough to bring Chan – who was no stranger to the US, having spent his summers in Virginia and Maryland with his aunts, uncles and cousins – on board for the national team.
Sign up for our weekly newsletter to get more English-language news coverage from EL PAÍS USA Edition