A Spanish bar becomes popular with African workers, and the locals walk away
The owner of Racó de la Vero, in the Catalan village of Alcarràs, has been dealing with negative attitudes ever since she started serving dishes that seasonal fruit laborers can afford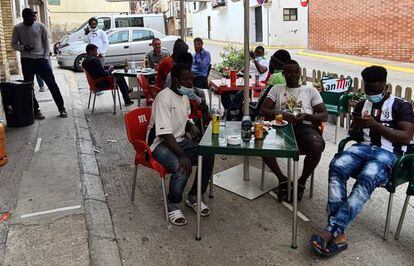 El Racó de la Vero does not feature in any gastronomy guides, but its reputation has reached as far as Guinea-Conakry, Senegal and Mali. Located in the village of Alcarràs, barely 11 kilometers from the Catalan city of Lleida, it opens before dawn, in time to serve breakfast to dozens of seasonal workers.
Serving them is Verónica Argelet, who is known to the workers as Mama Africa, though to the rest of the town she is "La Vero de los negros," a nickname she received when a bar in the square closed and the immigrants began to walk into her establishment. "As the black people came, the white people left," said Veronica on the radio show A vivir que son dos días, which airs on Cadena SER. "Even my friends walked away; they told me that it was bad for the bar's image."
The change in customers started two years ago, during the summer. After their usual hangout at the village square closed down, a few seasonal workers went up the street and decided to try out El Racó de la Vero. Some days they would take up one table, some days two. And as more Africans started to come, more locals vacated their tables and did not return.
Verónica says that nobody ever told her to her face that the atmosphere in the bar made them uncomfortable, but she did hear complaints about there being "a lot of black people" at the bar, and about the fact that they were using all the outdoor seating area. "Once a couple showed up with a child, and since all the tables outside were taken, they asked me to get a black man to give up his table so they might sit down. As if [the African workers] didn't have the same right to be sitting there as anyone else!" says Veronica. The couple, who were regular weekend visitors, never showed up at El Racó de la Vero again.
In the space of two months, the bar turned into what it is today – a meeting place whose clients represent up to eight different nationalities. Mali, Senegal, Morocco, Guinea-Conakry, Algeria, Congo and Guinea-Bissau are just some of the countries providing the 6,000 seasonal workers who come to Alcarràs every year to pick fruit.
Thanks to their work, the markets are never short of produce, yet many of these workers live in miserable conditions, either in shacks on the town's industrial park or even out on the street. This has been happening for years but now, with the health crisis, the extent of the problem has been flagged up. "I have a mattress in the back of the bar and one night, when it was raining hard, I had to give it to a guy who was sleeping rough," says Veronica, who believes the way the workers are treated is very unfair. "They work; they don't want things for free. All that's needed is a little humanity, nothing more."
The coronavirus crisis has not only exacerbated living conditions for seasonal workers, it has also increased the social stigma attached to them. "They say the black workers have brought the virus to Alcarràs, but that's a lie: only three people are infected!" says Veronica. Local authorities have made two municipal hostels with a hundred beds available to seasonal workers with Covid-19 symptoms so they can isolate and avoid the spread of the disease.
Verónica never imagined that her life would take this turn when she opened the bar in 2015. On top of losing her job, she had just gotten a divorce. The premises were available, and she decided to put everything she had into starting a business. These days, she provides home cooking with a twist: all the dishes cost just €1 each. "It's the only way to make it affordable for them to eat," she says. "You have to give them a chance, and they thank you for it for the rest of their lives."
These prices beg the question of how the business manages to stay afloat. "I'm the only employee, and I have practically no profit margin," explains Verónica. "I get most of my income from the drinks, I buy meat and fish when there are special offers, and I plan what I'm going to cook every day based on that."
Until very recently, Verónica was buying most of her meat from a slaughterhouse in Lleida. As the company worked in bulk, it was able to significantly lower the price of surplus produce. Verónica would buy 40 or 50 kilograms of chicken at 50 cents a kilo, freeze it, and have enough food for a couple of weeks at least. Now that the abattoir has closed, she buys meat on a similar basis from Corporación Alimentaria Guissona, which supplies a regional chain of supermarkets named bonÀrea.
To keep costs down, she also serves portions on dessert plates, and insists that two to three euros is enough to satisfy any appetite.
Less alcohol, more tea
There is no fixed menu. Some days there are chicken sweetbreads. Other days, there are fried anchovies or liver with onions, or fried squid rings. If they are on sale, there are chicken drumsticks that she cooks in a casserole with tomatoes, peppers and carrots. As for drinks, alcohol sales are low, while tea with lemon and honey is in high demand with as many as 200 to 300 ordered on a single day.
The African recipes are cooked by her husband, who is from Guinea-Conakry and whom she met while running the bar. Since she opened, Vero has been discovering Africa without leaving the premises. "Now I know about their cultures, the differences between each country, and the different forms of worship depending on where they grew up," she says, adding that her neighbors' attitude towards her for opening her bar to the African workers on their doorstep has made her skeptical about the support for the BlackLivesMatter movement sparked by George Floyd's death in the United States.
English version by Heather Galloway.