Nearly half of Spaniards think Covid-19 vaccination should be mandatory
Older people are more like to support this view in a country with one of the highest immunization rates but now faced with the problem of expiring doses
"Everyone should be forced to get vaccinated even if they don't want to." Fully 47.7% of Spaniards checked this answer in a survey about Covid-19 immunization carried out in September by Spain's Center for Sociological Studies (CIS). Another 25.4% said that "nobody should be forced to get vaccinated" while 21.8% said it depends on each case and 4.8% were undecided.
These percentages rise considerably for certain professions: 81.5% of respondents said that healthcare personnel, senior home staff and workers who deal directly with the general public should all get mandatory shots. This percentage includes the 47.7% who support obligatory inoculation for everyone regardless of their occupation.
The CIS then asked the same question, excluding supporters of blanket immunization, and found that 64.5% of those who either rejected vaccination for all, supported case-by-case decisions or were undecided nevertheless believed in forcing healthcare and care home employees to get vaccinated.
In Spain, where the coronavirus incidence has dropped to 96 per 100,000 people – the first time since June 25 that it falls below 100 – health authorities reported 4,075 new coronavirus cases and added 101 fatalities to the official count on Thursday. The improving situation has led some regional governments to relax remaining restrictions on social life and business opening hours, including in the Basque Country and Castilla y León.
Despite falling case numbers and a successful vaccination campaign – 75% of the population is now immunized – there is an ongoing debate on whether to make inoculations mandatory, at least for certain professions.
In France, essential workers who deal with the public must get vaccinated or face getting suspended. Italy has just gone even further and starting on October 15 it will demand a Covid certificate (proving vaccination, a recent negative test or recovery) from all 23 million public and private workers. While this is not the same as mandatory vaccination, in practice it is very hard for an employee to be constantly undergoing coronavirus tests just to go to work.
In the European Union, 21 countries now require this document to access concerts, shows, bars and public swimming pools. In Spain, several regional governments have attempted to introduce it to access bars, restaurants and nightlife venues, but the initiative was struck down by the justice system. Only the northwestern region of Galicia has secured backing from the courts, but the measure is not in place and in any case it is only being considered for municipalities with high transmission rates.
The CIS conducted its survey in the first two weeks of September, just as Spain had managed to vaccinate 70% of its population in what represents one of the most successful campaigns in the world. This past Thursday the figure had risen to 75%, compared with an average of 60% for the EU.
"Spain had an advantage compared with neighboring countries, such as more trust in the health system and wider acceptance of vaccines," said the sociologist Josep Lobera, who teaches at Madrid's Autonomous University (UAM). This trust goes back to the days of the Franco regime, when many Spanish children were still afflicted by polio, a disease that had by then been eradicated in France. "That backwardness compared to other countries and the importance of public healthcare is a generational memory that still endures among our elders," added Lobera.
This view is supported by the CIS survey: older people were much more supportive of mandatory vaccination. Among the over-65s, 63.3% defended it and only 12.8% rejected it. In the 18- 24 age group, 36.7% rejected obligatory inoculations and 32.9% supported them.
Expiring doses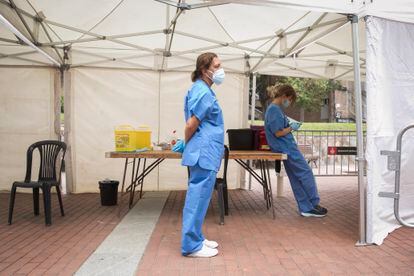 In Catalonia, vaccine doses are starting to expire due to a much slower inoculation pace than expected. Several vaccination teams have confirmed that several hundred vials were not administered within the established 31-day period after taking them out of the freezer. The same sources said they did not know what plans the Health Ministry has for such cases, and warned that "many doses" are on the verge of expiring. For now, these expired doses will not be discarded, but kept in cold storage until scientific studies determine whether they lose much of their immunization power.
Catalan authorities had believed there would be a spike in inoculations in September following the summer lull. But only 123,000 doses were administered in the last seven days, far from the 500,000 target set by the regional health department. Coverage in Catalonia is currently 71%, compared with the national average of 75%. The highest rate of vaccination is in Asturias with 82%, and the lowest in the Balearic Islands with 68%.
The Spanish government has asked vaccine maker Pfizer to delay this week's shipment in order to avoid accumulating unused doses across the country, said a source at the Health Ministry. The vaccines made by Pfizer-BioNTech and Moderna, the ones most widely used in Spain, can be stored in deep freeze for six months, but once they are shipped to vaccination points and placed in refrigerators, there is a 31-day period in which to administer them.
The decision made on Thursday by Spanish authorities to administer a third dose to residents of senior care homes and patients with high-risk conditions such as cancer may provide an outlet for some of this unused stock. "This decision is great news because it will allow us to use vaccines at risk of expiring," said Magda Campins, head of preventive medicine and epidemiology at Vall d'Hebron Hospital in Barcelona.
English version by Susana Urra.