Three arrested over alleged homophobic killing of Samuel Luiz in Galicia
Police sources described how a "human pack" kicked the 24-year-old nurse 150 meters down the street until finally beating him where he lay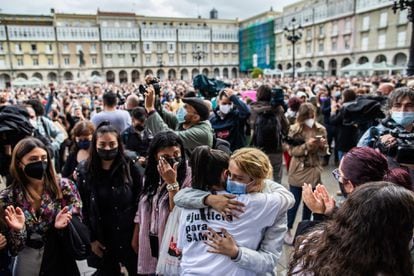 Spain's National Police have arrested three people on suspicion of their involvement in the beating to death of 24-year-old nurse Samuel Luiz in the early hours of Saturday morning in A Coruña, Galicia. That's according to police sources, who spoke to EL PAÍS. As many as 15 people have already given a statement to the authorities about the crime, which is alleged by witnesses to have been a homophobic attack against Luiz, who was gay. The police confirmed that the three people arrested are two men and a woman aged between 20 and 25, and residents of A Coruña.
The alleged homophobic nature of the attack – which took place over Pride weekend – prompted a wave of protest across Spain on Monday, organized by LGBTQ+ collectives. Speaking about this element, the central government's delegate in Galicia, José Miñones, said on Tuesday that "no hypothesis was being ruled out."
The security cameras outside EL Andén, which is the nightclub where Luiz had been that night, along with his attackers, show that the victim did not cross paths with the assailants until an argument began over a cellphone. "The assailant, together with two of his companions, believed that they were being recorded [by Luiz] and they rebuked him," police sources said. In fact, Luiz was speaking on a video call.
The attacker first punched the victim, but then the incident descended into a brutal group beating that police sources have described as a "human pack kicking a youngster for more than 150 meters down a street." That's the distance between the nightclub and 2 Buenos Aires Avenue, which is where the young man "fell to the ground as if he were dead." The same sources added that it was there "that they showed him no mercy," with "between six and 10 people still kicking him."
The police said that they are focusing their investigation on the moment that the assailant approached Samuel and "insulted" him, thinking he was filming him. "Not due to his sexual orientation – they didn't know each other, they had never seen each other before," police sources explained.
Speaking to Spanish TV channel Telecinco, however, a friend of Luiz's who was present when the assault took place, stated that one of the assailants shouted at the victim: "Stop recording us if you don't want me to kill you, you fucking fag." A tweet that a friend of Luiz's published also claimed he had been killed "due to his sexual orientation," something that sparked a wave of reaction on social media on Monday.
"The man tried to escape on a number of occasions," the police sources detailed. "He fell and got up as many as three times, he managed to cross the street, but they caught up with him again and carried on beating him. There were a lot of people, men and women, and they didn't assault him but they did cheer on those who were," until Luiz "definitively fell to the floor."
Given that so many people were involved, "although at the end it was six to 10 people targeting the man, who could barely defend himself," the sources explain, it has taken time for those present to be identified. The arrests took place on Tuesday, three days after the killing. The people arrested so far have Spanish nationality.
Officers are not, however, ruling out more detentions and are still taking statements from those who were present. The investigation is currently taking place under judicial seal.
English version by Simon Hunter.
More information