Earlier curfews, more municipalities locked down: Spanish regions introduce new Covid-19 measures
Madrid, Aragón and Castilla y León announce stricter restrictions, leading to some clashes with the central government over the terms of the state of alarm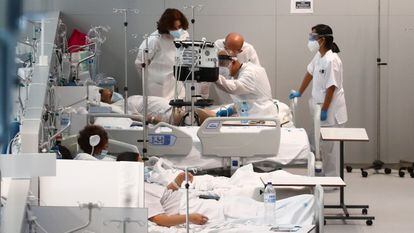 Several Spanish regions on Friday announced new measures aimed at containing the third wave of the coronavirus, which is already yielding record case numbers and stretching some hospitals to breaking point.
These measures include earlier curfews, more perimetral lockdowns in municipalities, and shorter business hours for bars and restaurants.
But despite growing calls from politicians, public officials and unions for a full home confinement, the central government continues to oppose a strict lockdown like the one that placed the country's economic and social life on hold between mid-March and mid-June last year.
The difference of views and the fact that decisions are shared between central and regional administrations is leading to some confusion over the kinds of measures that are allowed.
Controversial curfew
The government of Castilla y León on Friday said that the overnight curfew will start at 8pm, only to have the Health Ministry quickly note that this schedule is not compatible with the rules of the second state of alarm, the legal framework underpinning Spain's current emergency measures.
Under the terms of the state of alarm, which has been approved until May by Spain's lower house of parliament, the Congress of Deputies, freedom of movement may not be curtailed before 10pm. But regional officials have fallen back on a judicial report to support their decision.
"Starting tomorrow, being out on the street will be forbidden from 8pm onwards," said Francisco Igea, the deputy premier of Castilla y León, a large region that is home to major cities such as Segovia, Valladolid, Salamanca and Burgos. "These are tough measures, but this is an exceptional and very tough situation. The time has come to ask citizens for responsibility. The coming two weeks are going to be very difficult."
Regional authorities in the Basque Country said that they would like to introduce an even earlier curfew of 6pm, but that they see that as "not being possible" because of the rules. Basque officials said they would like a review of the state of alarm in order to make allowances for earlier curfews than 10pm.
Madrid restrictions
In the Madrid region, the curfew is being brought forward to 11pm while bars and restaurants will have to close at 10pm.
And starting on January 18, residents of 19 municipalities and 47 healthcare areas – administrative zones that do not coincide with city limits – are now confined to these spaces (see the list here), which they may only exit from or enter for essential business.
Regional officials also pleaded with citizens to reduce their social contacts to the bare minimum. "We must not get together at home with people from other households," said Antonio Zapatero, the deputy chief of Public Health and Covid-19 in the Madrid region.
In Aragón, the regional health chief Sira Repollés said that all three provincial capitals – Zaragoza, Huesca and Teruel – are being sealed, as well as six smaller municipalities. This means that two out of every three residents of the region will be confined to their own city limits.
In Murcia, all hospitals have cancelled non-essential surgeries and medical visits will be conducted through video conference for the next two weeks, said regional officials. Other regions of Spain, including Valencia, have also rescheduled elective procedures due to a surge in Covid-19 patients.
Calls for home confinement
The leaders of the regions of Galicia and Castilla y León, Alberto Núñez Feijóo and Alfonso Fernández Mañueco, both of the Popular Party (PP), on Friday urged citizens to stay home except for work, school or grocery shopping.
Regional governments do not have the power to introduce mandatory home confinement, but both Núñez Feijoó and Fernández Mañueco said in statements to the television network Antena 3 that the central government should allow the regions to impose shelter-at-home orders at the local and provincial level.
This idea is being echoed by the leader of the liberal party Ciudadanos (Citizens). On Friday, Inés Arrimadas offered the government support for a new state of alarm that would allow an "intelligent" confinement now and prevent putting Spaniards under a severe lockdown like the one they experienced last year. "Let's act now. The third wave has already flooded Spain," said Arrimadas. "If the primary healthcare system breaks down because of Covid-19 cases, the vaccination drive will be hampered."
The leader of Más País (More Country), a leftist splinter party created by Podemos co-founder Íñigo Errejón, has sent a letter to Spanish Prime Minister Pedro Sánchez, of the Socialist Party (PSOE), asking for tougher restrictions, including a halt on all non-essential social activities.
"We feel that, in order to take good care of Spain, we need to prioritize saving lives, toughening the current measures of the state of alarm," writes Errejón. "We cannot waste a single day more. Let's not make the same mistakes again."
In Valencia, regional premier Ximo Puig called the situation "tremendously negative" but did not introduce any additional restrictions on top of those already in place. "The fundamental thing is for people to strictly observe restrictions right now," he said.
Vaccination irregularities
Valencia authorities are investigating cases of three mayors who were "irregularly" vaccinated for the coronavirus despite not being in the priority groups for inoculation. They are the mayors of El Verger (Ximo Coll), Els Poblets (Carolina Vives) and Rafelbunyol (Fran López). López has stated that he was offered the chance on the first day of vaccination, and did not think twice about it.
Valencia Deputy Premier Mónica Oltra said on Friday that "elderly or at-risk people could have been vaccinated before the mayors of El Verger and Els Poblets," and promised to conduct an in-depth investigation into the matter. Spain's vaccination drive got underway in late December and is currently inoculating residents of senior homes, their carers and healthcare workers.
English version by Susana Urra.