Spanish regions ramp up coronavirus restrictions as third wave takes hold
Galicia is bringing forward its curfew and closing hours for hostelry establishment, while La Rioja is locking down Logroño and Navarre is banning smoking on terraces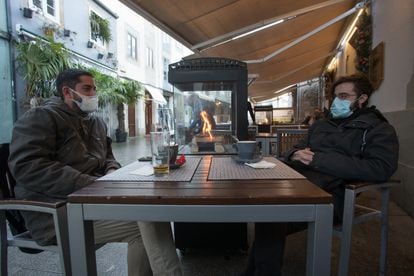 Santiago | San Sebastián -
The feared third wave of the coronavirus after Christmas is getting worse in Spain, and is forcing the country's regional governments to take action. After relaxing restrictions for the holiday season, which saw a spike in social interaction, and given the rise in daily infections and increased pressure on hospitals, coronavirus measures are once again being revised.
On Tuesday, the central Health Ministry reported 25,438 new cases and added 408 fatalities to the official death toll. What's more, the 14-day cumulative number of coronavirus cases per 100,000 inhabitants now stands at 454, well about the 250-limit that the ministry considers to be extreme risk. The effect of last week's Kings' Day celebrations is yet to be seen in the figures.
On Wednesday, Galicia, La Rioja and Navarre announced new measures, while the Balearics and Castilla-La Mancha are due to do the same.
Galicia
"There are tough weeks ahead," said the Galician premier, Alberto Núñez Feijóo, when announcing new restrictions in the region, which currently has a 14-day cumulative number of coronavirus cases per 100,000 inhabitants of 325.
From Monday, the curfew will be brought forward an hour to 10pm, while all hostelry establishments in the region will have to close at 6pm. Social meetings will be limited to just four people. The authorities have split the region in two, with restaurants in the stricter half limiting capacity to 50% in terraces, with no indoor dining allowed, and the other half permitting 75% in terraces and 30% inside.
Feijóo stressed the importance of limiting contact to people from their household. "Any other alternative is a risk," he warned. He also ruled out home confinement, but he recommended only leaving the house for essential activities: health, education and work.
Stores will keep capacity at 50%, but must close at 9.30pm. Common areas in shopping malls must close, while sports activities will be limited to four people and capacity in cinemas, theaters and auditoria will be 50%, with a maximum of 250 people in closed spaces and 500 outside. Social distancing of 1.5 meters must be observed, and attendees must be seated. In areas at the maximum level of restrictions, capacity will be limited to 30%.
Sixty municipalities, home to 47% of the population, will be under the more restrictive measures, including residents of A Coruña, Santiago, Ferrol and Ourense. The four cities will be under a perimetral lockdown, as will the other council areas on this level. The rest of the major Galician cities – Lugo, Pontevedra and Vigo – will be under less-restrictive measures, but they will also be under a perimetral lockdown.
La Rioja
The situation in La Rioja is "serious" after the "alarming rise" in positive cases, the regional premier, Concha Andreu, admitted on Wednesday. With 42.6% of intensive care unit (ICU) beds occupied by Covid patients, and a 14-day cumulative number of coronavirus cases per 100,000 inhabitants of 597, the regional government will implement tougher measures from January 16 to 31.
All non-essential businesses will have to close at 5pm, and the capital, Logroño, will be under a perimetral lockdown, as will Lardero and Villamediana de Iregua, the largest neighboring municipalities.
All citizens have been advised to stay at home, particularly the over-65s. Until the end of the month, the region will also be under a perimetral lockdown, while the 10pm to 6am curfew will remain. Social meetings will be limited to four people if they are not from the same family.
Visits and leave from senior residences will be suspended.
Navarre
The northern Spanish region is bringing forward closing times for hostelry establishments to 9pm, although capacity will remain at 30% inside and at 100% on terraces. The regional government is also banning smoking outside bars and restaurants. Large shopping areas will have to reduce capacity to 30%.
These restrictions will be in place from January 15 to 28, given that the region is on high alert. The region will remain under a perimetral lockdown, with an 11pm to 6am curfew as well as a limit of six people and two households for social meetings.
The spokesperson for the Navarre regional government, Javier Remírez, admitted that the progress of the pandemic in the area is "worrying," and he is not ruling out "tougher decisions" in the coming days if the situation gets worse. Currently, the 14-day cumulative number of coronavirus cases per 100,000 inhabitants in the region stands at 301.
English version by Simon Hunter.