New book explores how 19th century Gothic literature helped scientists identify the characteristics of a serial killer
The authors of 'Frankenstein' and 'Dracula' challenged prevailing criminological theories and presaged the scientific study of psychopathy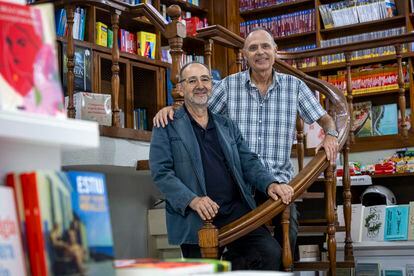 Gothic literature foreshadowed modern concepts of medical psychopathy, as well as the characteristics of serial killers. The crime fiction that followed delved deeper into these ideas that were ultimately upheld by scientific research. That's the main conclusion of a book (El monstruo y el asesino en serie. De Frankenstein a Hannibal Lecter) by criminology professor Vicente Garrido and criminal lawyer Virgilio Latorre that explores the history of serial killers in literature. They focus on how four books (Frankenstein, Strange Case of Dr. Jekyll and Mr. Hyde, The Picture of Dorian Gray and Dracula) challenged prevailing criminological ideas in the 19th century and helped scientists identify the characteristics of serial killers. During the 20th century, crime novels and films brought psychopaths into the spotlight. This intersected with theories on marginalization and neurophysiology, linking criminality to social exclusion and neurofunctional changes.
Question. What do the characters in these Gothic novels have in common?
Vicente Garrido. They all have a need to kill and display the traits of psychopathy, along with the absence of any feelings of guilt. They are all upper-crust characters, so the books have a revolutionary message: don't look for these monsters among the poor and indigent.
Virgilio Latorre. The four books share a common focus on how identity is built. Failures in the identity building process are the catalysts for violence.
Q. How did your book come about?
VG. I've been intrigued by novels and films for years, especially Gothic literature and crime novels. I wanted to explore if they adhered to the established ideas and conventions of their time. When I discussed this with Virgilio, we discovered that scientific research eventually aligned with writers in portraying the characteristics of psychopaths and serial killers.
P. What clues about serial killers does Frankenstein give that were later confirmed by scientists?
VG. Frankenstein challenges the paradigm of physiognomy, which was that horrible-looking people couldn't be kind or intellectually gifted. It was the prevailing thesis of the time but Mary Shelley describes Dr. Frankenstein's creature as an eloquent and innocent man.
VL. The creature represents fractured identity. You can't establish your identity based solely on the recognition of others, because it often leads to marginalization and violent actions. What's truly monstrous isn't an individual's appearance, but the crimes he commits.
Q. What about Jekyll and Hyde?
VG. In this book, Robert Louis Stevenson creates a double identity. Early criminologists espoused the theory of the born killer. Scientists only recognized after World War II that environment alone does not create murderers. The seemingly respectable Dr. Jekyll secretly created another identity that felt no remorse for his crimes. Stevenson's book explores the origins of a serial killer. Similarly, Dorian Gray delves into the concept of a socially integrated psychopath who manipulates and corrupts using their good reputation.
VL. [The story of] Jekyll and Hyde predates the theory of the shadow, which explores the darker side of one's personality. Published in 1886, the book portrays Jekyll's struggle with his own shadow, ultimately leading him to contemplate suicide. Psychiatrist Carl Jung emphasized the importance of integrating the shadow and conscious self for a healthy identity. Similarly, The Picture of Dorian Gray explores a man with a separate, alternate identity that led to very destructive consequences. Crime novels also delve into similar themes, providing detailed insights into human behaviors and underlying mechanisms. The way these books presage later theories is truly astonishing.
Q. Why are serial killers so fascinating?
VG. There are biological, anthropological and cultural reasons for this. Throughout our evolutionary history, we have primarily been hunters, and this fact leads us to be inherently alert to danger. It's not morbid — it's part of our nature.
VL. Several aspects of serial killers attract our attention. There's the romantic aspect of a villain eluding the police, representing desires we are incapable of acting upon. Also, the idea of having a scapegoat to punish is reassuring and helps us repress desires we don't dare pursue.
Sign up for our weekly newsletter to get more English-language news coverage from EL PAÍS USA Edition