Yeast-free fonio bread in Senegal to combat the price of wheat baguettes, made more expensive by the war
The West African country promotes baked goods made with native grains, to overcome the ups and downs of imports after the Russian invasion of Ukraine
Isseu Diop Sakho enters her bakery, speaking loudly into her mobile phone. The 38-year-old businesswoman walks briskly past glass cases filled with baguettes and pastries. She's in a hurry. She has just returned from Plateau – Dakar's business district – and now has to go to Ngaparou, 50 miles south of the Senegalese capital, where she runs another bakery and 14 kiosks the sell bread.
At first glance, business seems to be going well. But according to Sakho, her bakery – called Mburu (which means "bread," in the Wolof and Bambara languages) – is barely staying afloat.
"The year 2022 was hell for us," she sighs, as she sits down in her office, on the upper floor of the store. She never imagined that the consequences of the war in faraway Ukraine would be felt at home in West Africa. "Within a few months, we saw the price of imported grain skyrocket," explains Sakho. "This complicated things, because bread is a product with little profit margin and Senegal is an African country. We can't just double the price of bread, because our customers can't afford it," she adds.
Traditional wheat cannot be grown in Senegal, due to the soil conditions and hot weather. For this reason – as in other parts of the African continent – the country is dependent on imports. Before the war, half of the grain that Senegal needed was bought from Russia, but imports halted with the invasion of Ukraine in February of 2022. Sanctions imposed on Russia by Western nations made it more difficult to buy Russian wheat. Starting in July of that year, Ukrainian wheat reached African countries via the Black Sea Grain Initiative… an agreement that the Russian government suspended just two weeks ago.
The most-common type of grain used around the world to make bread costs about $7 a bushel (the unit utilized to measure wheat) before the invasion of Ukraine began. By the end of February of 2022, the prise rose to more than $12 and remained high until mid-June of that year, forcing many African nations to seek alternatives to wheat. The Senegalese government has applied its own control measures, freezing the price of bread and promising compensation to importers, as explained by Claude Demba Diop – president of the National Association of Grain Importers – in the online media outlet The World.
Although prices have since stabilized, Senegal has witnessed the dangers of relying on imports. The government has since implemented support measures for farmers to grow grains that are indigenous to the land, such as maize, millet and moringa. With this measure in place, the government has set a new goal: within the next two years, at least 20% of national grain production should be utilized towards bread-making. Additionally, West African nations have agreed that it must be cheaper to export and import local cereals.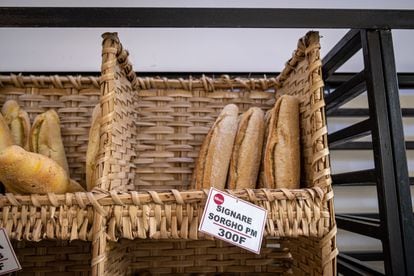 If the Mburu bakery has survived, it's precisely because of its focus on indigenous cereals, the owner explains. Upon opening the business in 2019, Sakho made the decision to specialize in sorghum and different types of millets, such as fonio. So, in Mburu, even the classic baguette – eight million units of which are eaten each day in this former French colony – is made from locally-grown grains. The Senegalese Federation of Bakers indicated last year that they want to start making 50% of all Senegalese bread with native grains as soon as possible.
Other bakers in the country have followed the same strategy. Over the last year, the number of merchants dealing with alternative grains has increased. Some of them have even received training to make their bread with these native grains. "I think we have to evolve," celebrates Sakho. "We have to be smart with what we have at our disposal." For this trader, importing European wheat when Senegalese cereals are available is absurd.
Fonio is seen by some nutrition experts as an African superfood – much healthier, for example, than the flour used to bake French-style white baguettes, since it is gluten-free and packed with nutritional properties. In eastern Senegal, this traditional cereal has been cultivated and consumed on a small scale for at least 5,000 years.
The UN General Assembly declared 2023 to be the International Year of Millets, in order to promote the consumption of this cereal. According to UN experts, millets can "fight against food insecurity and climate change, promote biodiversity and transform agri-food systems." However, data from the Food and Agriculture Organization of the UN (FAO) shows that different types of millets only represent 3% of the global trade in cereals at the moment.
Colonial aftertaste
The war in Ukraine has made many African governments feel the urgency of achieving self-sufficiency when it comes to basic necessities, such as cereals. But to favor this shift, it's necessary to change eating habits… and that takes time. According to Sakho, about one in three of her customers (mainly Senegalese, but also some foreigners) opt for the baguettes that are made from local grains. And while the businesswoman urges her employees to emphasize the health benefits of this ancient grain, she finds that many customers continue to opt for the baguette that has been the norm for decades. The dark brown bread made primarily with fonio tends to be smaller – the dough only rises a bit, containing less air than a traditional baguette.
If people started eating bread made with fonio in densely-populated cities, it would stimulate the local economy and agricultural sector, while significantly reducing food insecurity in the region. Sakho notes that the war in Ukraine and its repercussions on the world food chain have indirectly succeeded in opening a healthy debate: "[The war] has helped us rethink our daily diet. People wonder why we're so dependent on imported products and why what comes from our country isn't good enough. The war has made us realize that we have to focus even more on the cultivation of indigenous cereals," she stresses. The transformation is still in its infancy, but fonio growers in eastern Senegal are seeing a steady increase in demand. And, if production can be increased, the Senegalese government hopes to be able to export fonio to other countries in the Sahel region.
In Sakho's opinion, the questioning of the ubiquitous baguette has also sparked another debate about food that has a colonial aftertaste. "Everything was shaped by the French colonizers. I think we have to find a new standard in which our tastes are adapted to the ingredients that abound here," the businesswoman affirms.
Sign up for our weekly newsletter to get more English-language news coverage from EL PAÍS USA Edition