Araceli Vázquez, the Mexican serial killer who never was
She is still in prison after 19 years despite evidence of her innocence and the conviction of the real murderer, who has become a celebrity
Araceli Vázquez García's nightmare began on April 1, 2004, when her face was splashed all over millions of television screens throughout Mexico. From that moment on, the short, middle-aged woman would be forever remembered as "La Mataviejitas" (the Old Lady Killer).
Mexican authorities and the media had linked Vázquez to a wave of murders of elderly women that had Mexico City on edge. Local prosecutors claimed they found one of her fingerprints on a glass at a crime scene, and that relatives of the victim – 81-year-old Gloria Enedina Rizo Ramirez – had identified stolen jewelry in Vázquez's possession. Both claims would later be disproven. The case is now the subject of a new Netflix documentary, The Lady of Silence: The Mataviejitas Murders.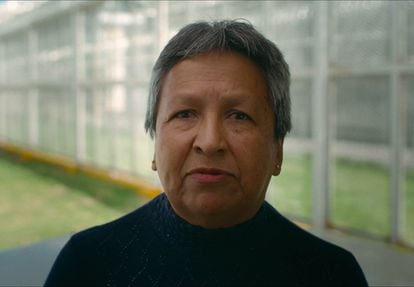 In the early 2000s, Mexico City police and prosecutors faced a daunting challenge – finding a chilling serial killer who targeted elderly women aged 70 to 90 in their own homes. In a span of six years, at least 20 victims fell to the unknown predator, leaving the city gripped by fear for their beloved grandmothers.
Vázquez immediately admitted to committing several robberies, but she steadfastly denied being a serial killer. Thirty more murders within a span of 22 months after her arrest would prove her right. Juana Barraza was caught red-handed on January 25, 2006, just after strangling Ana María de los Reyes Alfaro at her home in the Moctezuma neighborhood. After Barraza's arrest, murders of elderly women abruptly ended.
Barraza was convicted of 16 homicides, including Gloria Enedina, whose murder in 2003 had been attributed to Vázquez. However, the fingerprint found on a glass in Enedina's home did not belong to Vázquez as claimed by prosecutor Renato Sales – it actually belonged to Barraza. Consequently, she was never charged for that specific crime. Nevertheless, Vázquez is currently serving a sentence of 23 years and 9 months for another crime: the murder of Margarita Aceves Quezada on January 5, 2004.
Over 17 years after the justice system closed the La Mataviejitas case, recently declassified court records for Juana Barraza and Araceli Vázquez expose a trail of negligence, manipulation, and lack of transparency in the official investigation, along with numerous arbitrary arrests.
The investigation for the Netflix documentary reveals that Vázquez was accused of murdering Aceves based on inconclusive evidence. The modus operandi actually matches that of Juana Barraza, as do the physical descriptions provided by witnesses.
"The doctor"
Margarita Aceves was strangled at the age of 75 with an object from her own home – a radio cable – and there were no signs of forced entry. She lived in the Azcapotzalco borough in the northwestern part of Mexico City. That day, a neighbor of Aceves named Himelda was outside enjoying the sunshine when a tall woman dressed in a white lab coat, with light brown skin and short, straight blonde hair approached her. The woman asked Himelda if she knew any retired people living alone because she wanted to offer them a 45% pension increase.
"I said yes… and pointed to my friend Margarita's apartment window," reads the statement in the case file. Another neighbor named Isabel saw Himelda talking to the "doctor." Two other neighbors – Martha and her daughter Berenice – watched from their apartment as the woman in the white coat asked for Margarita Aceves' retirement ID card. Margarita agreed to come downstairs and let the woman into the building.
That night, the neighbors were surprised to see Margarita's windows still open and no lights on inside. Martha's husband entered Margarita's apartment using an extra set of keys and found her lifeless body. The four witnesses were called to testify on January 6, the day after the crime, and they all gave consistent physical descriptions of the suspect.
Three months after the murder, Vázquez was arrested. Margarita's neighbors were called in to view photographs and identify the suspect through a one-way mirror. No one identified Vázquez as the person they saw with the victim.
A witness stated that the woman who came to their apartment building was taller than Vázquez, who was described as short. During a raid at Vázquez's home in Acolman (north of Mexico City), authorities allegedly found a bag with a wig and a white lab coat, as well as a watch identified as belonging to Aceves by her niece. All three items were crucial evidence in convicting Vázquez, who maintains that they were planted in her house by homicide investigators led by Guillermo Zayas. Vázquez was paraded at the press conference wearing the same wig and white lab coat allegedly found in her home.
"I just want it known that I wasn't the one who killed that woman – the evidence is right there. I've been keeping quiet for 18 years!" said Araceli Vázquez, whom authorities tried to link to five homicides. "I used to steal – I've always admitted that," she said in an interview at the Santa Martha prison on September 23, 2022.
When Juana Barraza was arrested, Vázquez was happy and Mexican authorities celebrated – they had caught the real Mataviejitas. There were ceremonies and medals for the heroes, and media attention focused on a tall, strong woman who claimed to be a pro wrestler and went by "The Lady of Silence" in the ring.
Vázquez believed that Barraza's arrest was strong evidence of her innocence, and hoped that the justice system would only punish her for theft. But Vázquez has been in prison for 19 years and feels abandoned by the justice system. Coincidentally, Barraza is in the same prison – Vázquez says they have a "cordial" relationship.
Forgotten and without legal representation
Today, Vazquez's mind seems muddled and the toll of almost 7,000 days behind bars is evident. Her eyes lack the spark they once had, and her short hair is now tinged with gray. At 57, she appears older than her years. Her son was killed in a robbery, her ex-husband has moved on with his life, and her daughter now lives far away.
Vázquez explains that she hasn't had access to her file or any updates from her retired court-appointed lawyer, whom the investigative team for this story tried to reach unsuccessfully. She does recall being sentenced to over 40 years. According to press reports in 2004, she was sentenced to 18 years for robbery and 23 years for homicide. But Vázquez says she doesn't even know the exact number of robberies she's serving time for, or the names of the victims she's accused of killing.
New information obtained after completion of the documentary, confirms that Vázquez is currently serving time for five crimes. One is the homicide of Margarita Aceves, and the other four are related to robbery. Vázquez still has many more years of prison time.
"If a judicial error occurred, it should be rectified in a timely manner. This responsibility lies with the current Office of the Attorney General and falls under the jurisdiction of the Judiciary. Mechanisms are in place to address such issues. It is unfortunate that errors may occur during investigations, and it is important to acknowledge and rectify them. However, sometimes this may not happen due to media and political considerations. Nevertheless, it is crucial to be able to admit one's mistakes," stated Renato Sales in an interview. Sales was the deputy attorney general when Vásquez was convicted.
In a related case also marked by seemingly arbitrary decisions, Jorge Mario Tablas Silva was charged in September 2004 with the murders of four elderly women, though two charges were later dropped. Like Vázquez, a fingerprint allegedly belonging to Tablas was found at the murder scene of one victim – María Guadalupe González Juanbelz. It was later determined to be Barraza's fingerprint. The case file reveals that the evidence of his guilt was false. Two witnesses had definitively identified Tablas, but one who worked in the victim's home conveniently recanted. She changed her testimony from seeing a "woman" with her employer to seeing a "man disguised as a woman." According to reporter Antonio Baranda, Tablas died in prison.
Today, Juana Barraza is a celebrity in the Santa Martha prison and demands payment for the many interview requests she receives. Meanwhile, Vázquez hasn't received a single visit in six years and no interview requests until recently. All she wants is for someone to review her case.
**This article is based on research conducted for "The Lady of Silence: The Mataviejitas Case," a documentary produced by Mezcla and premiering on Netflix on July 27, 2023.