Colombia tires of 'government of change' in just one year: 61% disapprove of Petro
The president, who began his mandate in August 2022 with 56% support, is trying to regain the initiative after several crises that have damaged his popularity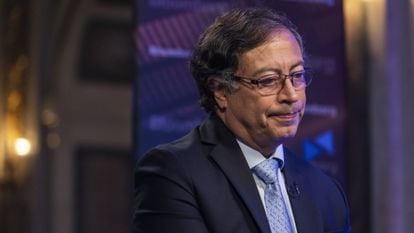 After two months of bad news and crises, the week had started off well for Colombian President Gustavo Petro. Despite this, he has not been able to bounce back, both figuratively and at times literally. Sometimes a change of scenery is needed to change the narrative, and that is exactly what Petro hoped to achieve by moving his so-called "government of change" to La Guajira this week, a marginalized region where children often die from malnutrition. In La Guaijra, where indigenous communities drink brown-colored water, Petro suffered food poisoning and was forced to change his schedule. There were concerns about his health, but the president himself confirmed that he was better after a few hours.
During his convalescence, he must have had a revelation. For the first time since he became president, he strongly condemned Russia for the war in Ukraine, which temporarily ingratiated him with the usually livid world of Twitter. But this respite was short-lived: on Wednesday afternoon, the latest Invamer bimonthly poll was released. The president, who in August 2022 began his mandate with a 56% approval rating and 20% against, now has a disapproval rating of 61%. It's a fall at breakneck speed.
Up until February, Petro's approval rating had been higher than the percentage who disapproved of him. In that first period, the total peace law and the tax reform were approved, relations with Venezuela were reestablished, the dialogue table with the ELN guerrillas was set up and a resounding agreement was signed to buy land from cattle ranchers and give it to rural people without property. Today, Petro's approval rating has dropped to 33%.
The poll is a reflection of what Colombian voters think of the last two months of Petro's government. In that period, the president appointed a new, more leftist cabinet, broke the coalition that gave him a majority in Congress and saw all his reform projects fail.
And that is not all. In the past two months, the Colombian government has also faced numerous scandals. One of Colombia's intelligence agencies admitted to illegally tapping the phone of nanny Marelbys Meza, based on the false suspicion that she was part of a vicious criminal syndicate. Moreover, this innocent young woman was subjected to a polygraph test in the basement of a building near the presidential palace, because she was suspected of involvement in the theft of an unspecified sum of money from the home of her employer, Laura Sarabia, who until recently served as Petro's chief of staff.
The government was also rocked by the suicide of a colonel who worked in the president's security detail and audio messages allegedly sent by Colombia's ambassador to Venezuela, Armando Benedetti, in which he threatens to reveal incriminating evidence about the funding for Petro's presidential campaign.
In short, two menses horribilis that the president — who still has three years left in his term of office — is trying to overcome.
But the latest poll results show widespread pessimism in almost all indicators. Vice President Francia Márquez has a 52% disapproval rating compared to 26% approval, 70% of Colombians believe that things are getting worse in the country and 61% think that the government's total peace policy is on the wrong track. What's more, 16% believe that the country's main problem is "bad government," which has overtaken corruption.
It's a low moment for Colombia's first leftist government in contemporary history, and its fall is boosting the other political extreme. While it's too soon to claim that Colombia is shifting to the right — 11 million people voted for Petro just a year ago — it is striking that 49% of respondents in the Invamer poll have a favorable view of Nayib Bukele, the authoritarian president of El Salvador. Only 10% have a negative opinion of the leader, who has been accused of violating human rights in his war against the gangs.
And the Bukele model is not just gaining ground in Colombia. His iron-fist approach to violence has also become the formula to follow in other countries governed by the left such as Chile, Colombia, Brazil and Mexico, which have been historically marked by violence.
The good news for Petro is that he is not the only president to have suffered from poor ratings. Both his predecessor Iván Duque and former president Juan Manuel Santos had an approval rating of around 30%, or even lower, and a disapproval rating of over 70% during most of their terms. What's more, according to Invamer's historical data, Colombians have been responding that the country is getting worse since 2011. Only Álvaro Uribe, the former president who governed from 2002 to 2010, achieved very high levels of popularity (over 85%) thanks, precisely, to his highly questionable security policy.
Uribe and Petro have few things in common, but the idea to temporarily move the government to a rural area was in fact Uribe's. In 2003, the leader of the Colombian right wing governed from Arauca, a place then paralyzed by fear and violence, for three days. Two decades later, the leader of the left will decree on Thursday an economic and social emergency in La Guajira, a place paralyzed by poverty and hunger. Petro is trying to regain the initiative and overcome the political crisis by reorganizing priorities. In two months, he will again be put to the polls.
Sign up for our weekly newsletter to get more English-language news coverage from EL PAÍS USA Edition