Colombia unprepared for Chinese investment boom
Growing political, security and contracting risks in Colombia are affecting Chinese companies' perception of the country, a new report warns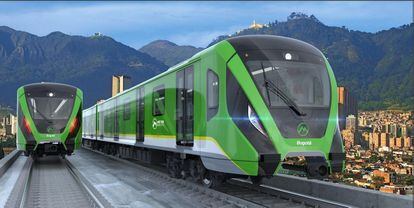 From the perennially delayed construction of Bogotá's first metro line, to an oil company that has suspended operations after attacks by locals at its site in Caquetá, Chinese investment in Colombia seems to be everywhere. And the figures bear this out: between 2021 and 2022, it trebled. However, be it from an economic, political or geostrategic perspective, the Colombian government of Gustavo Petro is unprepared for a deepening of ties with China, the globe's growing superpower. That's the verdict of the risk consultancy Colombia Risk Analysis, in a new report on local perceptions about Chinese investment in the country.
"This is not simply about the current trade imbalance between the two countries, or the lack of a clear, coherent, and sustained foreign policy approach from Colombia," says the report, which was published on Wednesday. "It also relates to the way in which institutions with a control and oversight role will be challenged by issues arising from Chinese infrastructure companies, as has already been the case both in Latin America and elsewhere around the world."
Colombia Risk Analysis' report looks at 90 completed, ongoing, failed, pending and potential Chinese projects in Colombia. Among the most ambitious is the first metro line in Bogotá, a contract awarded to China Harbour Engineering Company and Xi'an Rail Transit Group. It's a project that President Petro is eager to build underground, despite its approved plans featuring a solely overground design. Other major undertakings include the RegioTram, a light rail connecting Bogotá and several regional towns, awarded to the Civil Engineering Construction Corporation; and the Buriticá gold mine, which Zijin Mining purchased from the Canadian firm Continental in 2020. China is also interested in investing in Colombia's upcoming 5G tender, and in a number of future rail and road projects.
However, political, security and contracting risks are growing for companies in the South American nation, Colombia Risk Analysis says – a state of affairs that affects direct foreign investment in the country. Rising uncertainty in Colombia, the report forecasts, will influence Chinese companies' perception of the country, particularly when three of China's chief projects there – in Bogotá, Buriticá and Caquetá – are facing growing challenges. The latter project belongs to the Chinese oil firm Emerald Energy, which at present is only active in one of its five operating areas following a violent invasion by protesters from local communities on 2 March.
According to Colombia Risk Analysis, the situation is compounded by a lack of knowledge or understanding about China and its business practices among Colombia's civil servants, its entrepreneurial community and the general public. "There is a positive perception of China [in Colombia]," says César Caballero of Cifras y Conceptos, a research company that surveyed Colombians' perceptions of China as part of the Colombia Risk Analysis report. "However, there is a low level of knowledge about the country and there is some noise about the quality [of its products], as well as the issues of human rights and workers' rights."
As in the rest of Latin America, China's influence in Colombia has grown in size and scope over the past decade. In the region, 21 countries have signed up to the Belt and Road Initiative, a Chinese government-funded scheme that began in 2013 and seeks to invest in infrastructure including railways, roads and ports. Although Colombia is not part of the BRI, its largest infrastructure projects in transportation and mining in recent times have been awarded to companies from China.
Recent Colombian presidents have deepened the country's ties with the Asian giant. Juan Manuel Santos, who governed from 2010 to 2018, deployed intense diplomatic efforts in Asia, and began to negotiate a free trade agreement with China in 2015, although it was never concluded. His successor, Iván Duque, who was in power from 2018 to 2022, also showed interest in strengthening links, and visited China at the end of his first year in office to mark 40 years of diplomatic relations and attract Chinese investment in Colombia. However, he later introduced protectionist measures that affected Chinese products.
Petro, for his part, has so far maintained friendly relations with the country, naming Sergio Cabrera, a filmmaker with strong ties to the People's Republic, as Colombia's ambassador to China. Petro has shown a determination to put forward proposals for large infrastructure projects that can connect rural areas of Colombia, many of which are likely to depend on direct foreign investment, Colombia Risk Analysis notes. According to the consultancy, Chinese infrastructure projects could promote greater development and well-being, particularly in periphery regions – as long as Colombia has strong financial oversight and compliance mechanisms.
"China's engagement in Colombia will likely focus on its commercial and economic agenda in the near future," Colombia Risk Analysis says. "However, China's political relationship with the Gustavo Petro administration will likely grow, not only as a result of the advances made under the presidencies of Juan Manuel Santos and Iván Duque, but also thanks to President Petro's inclination to diversify Colombia's trade and investment partners."
Sign up for our weekly newsletter to get more English-language news coverage from EL PAÍS USA Edition