'The worst part now is the uncertainty. The earthquake is over, but when will I go home?'
Some survivors are being housed in temporary shelters but wondering what comes next after their houses were either destroyed or badly damaged. Rescue efforts continue despite freezing weather and constant aftershocks
Abdala is Syrian and so young that he doesn't even remember his native country. He is 13 and his family fled Aleppo 10 years ago. "Our house has fallen down. Really. We were out and after the earthquake we went to see how it was and there was nothing left. I was very scared," he says at the sports center in Şanlıurfa, in southeastern Turkey. The facility is decorated with images of the founding father of modern Turkey, Mustafa Kemal Atatürk, and of the president, Recep Tayyip Erdoğan, as well as the country's flags. Around 100 people are spending the night here on gym mats with blankets to combat the cold weather brought by a storm that is affecting the area.
Sitting just a few meters away, Ahmet, 23, describes the earthquake as "the greatest terror" he has experienced in his life. "The tremor kept growing and it seemed like it would never end," he says. He froze, not knowing what to do as he called his parents, who were in an adjoining room. The house has been damaged, but "not too much." There are a few cracks in the wall that are preventing the family from going back in case it collapses. "The worst part now is the uncertainty. The earthquake is over, but what now? When will I go home?" he wonders.
Another refugee from Aleppo, Mohammed Mohammed, 28, says he felt no fear during the two minutes in which he felt the first earthquake, even though – he assures – it is worse than the bombings he experienced in his hometown. "This is unexpected. When it starts to shake it catches you by surprise, it happens all of a sudden. You get used to the bombings and you kind of expect them because you hear the planes coming," he recounts as he drinks cold coffee and charges his cell phone at one of the only five working outlets on the site. He says he returned to his home, in the neighborhood of Bahcelievler, after the first tremor, but one of the aftershocks almost knocked over his safe. "I grabbed my glasses, my cigarettes, my keys and left," he recalls. A Turkish friend told him that the authorities had set up the sports center as a shelter for quake victims, so he went back to get some more things and headed that way. "My house is still standing, but the building and the one next to it could fall down at any moment. They are in very bad shape," he says.
Mohammed has been living in Turkey for 10 years, but only four months in Şanlıurfa (also known as Urfa in English). "I was living in Istanbul and I was considering going back to my country. I am alone here, my whole family stayed behind because they didn't want to leave their homeland. But a friend convinced me to come to Şanlıurfa. He told me that there is work here for us [refugees]," he says. After the earthquake, however, he has dismissed the idea of returning to Syria: "Now it makes even more sense to stay here because the whole world is sending aid and in our country the regime is going to keep it all." At his side, Walid Hassa, a 21-year-old Syrian, agrees: "Some people are not coming here to take shelter because they don't know it's open, or else because it's a building and they are afraid of anything with a roof that can fall down. In Syria now people are dying because of the war and the earthquake."
The number of victims of the two powerful earthquakes that hit Turkey and Syria on Monday – as well as their aftershocks, which are still ongoing albeit with less intensity – continues to grow. The death toll already exceeds 9,400 and around 42,000 people have been injured. And everything indicates that these figures will continue to rise in the coming days. Turkey, which has already reported 5,434 deaths and the collapse of more than 5,000 buildings, has declared a state of emergency for a minimum of three months in the 10 most affected provinces, all located in the southeast of the country, President Erdoğan announced on Tuesday. In Syria, which has been immersed in a civil war for more than a decade, the figures are no better: reported deaths total 1,250 in the area controlled by the Damascus government, and 1,280 in the areas controlled by the rebels fighting the regime of Bashar al-Assad.
In a street near the sports center, two cranes and a crowd of onlookers are milling around a rubble-filled lot. However, the city of Şanlıurfa is not where the earthquake has done its worst damage. The surrounding buildings do not appear damaged on the outside. They are, in general, newly built houses, unlike those in the center, which have suffered the most. There, hundreds of buildings have been damaged, according to authorities. One of the aftershocks demolished an eight-story building, video footage shows. Five people are estimated to have died and are still buried under the rubble because the instability of the adjoining building prevents rescuers from going in safely.
The city of Şanlıurfa is located 170 kilometers east of Pazarcik (Kahramanmaras province), the epicenter of the first of two earthquakes that have radically changed this city. The province of Şanlıurfa is one of the 10 areas in which Erdoğan has declared a state of emergency.
The depressed mood of the locals and the lack of life in the streets contrasts with the message of an advertising poster: "The local land is now something more special." In an open-air parking lot, five groups of about 10 men try to stay warm over a bonfire in an oil drum. They are an exception. Most of those who need help are staying at shelters.
The rescue work is taking place in freezing temperatures and amid constant tremors. There have already been more than 300 aftershocks, according to Turkey's emergency management agency (AFAD). On Tuesday at 10.11am local time the area was shaken by a 5.4 magnitude earthquake with an epicenter 10 kilometers deep underground.
The first 48-72 hours are crucial to finding survivors; afterwards, the chances of locating anyone alive are considerably reduced, and even more so considering that many of the affected provinces have registered freezing temperatures overnight, as well as rain and snow. According to Turkish Vice President Fuat Oktay, about 8,000 people have so far been rescued from the rubble. Ankara has deployed nearly 25,000 rescuers. They have been joined by an international team in which 19 European countries are participating and which includes 1,155 rescuers and 72 trained dogs.
It is a delicate task that requires the efforts of dozens of people and is hampered by the continuous aftershocks. In the city of Kahramanmaras, at around 5am local time, emergency crews managed to rescue a 14-year-old boy named Can, who had been trapped by the cement blocks and beams that fell on him, according to CNN-Türk. Finally, after four hours of work, the teen was extracted from the remains of the building and transferred to a hospital without very serious injuries.
Towns without help
But there have also been reports of affected towns where aid has not arrived, especially in the Turkish province of Hatay, located between the Mediterranean coast and the Syrian border. In that region alone, more than 1,200 buildings have been destroyed. More than 9,000 soldiers and 12,000 volunteers have gone there to help in the search for survivors, said Turkish authorities. Despite this, in videos posted on social media, local residents can be seen asking the authorities to send specialized teams because, without machinery, they cannot free people who are trapped under heavy rubble.
In İskenderun, a city of 1.6 million residents historically known as Alexandretta, rescue teams and survivors were digging through the rubble on Tuesday in search of signs of life. Much of the port city has been left in ruins. In the vicinity of what was a hospital two days ago, one of the doctors recounted that it had been very difficult for him to return to what was once his workplace: "I am devastated, I see bodies everywhere. Although I am used to seeing corpses, this is very difficult for me," he told Reuters. Kerim Sahin, a taxi driver helping with the rescue efforts, said he was looking for a friend at the hospital: "A doctor said there are about 15 people here, including patients. At the moment, everyone is trapped. No one can enter the building."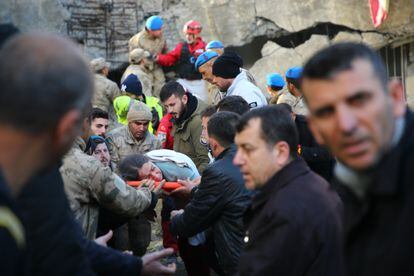 A similar feeling of helplessness invades Sara Islán, a Spanish teacher who has been living in Turkey for a decade, in Şanlıurfa, and who is now spending a few days in Madrid. "If help does not reach those who are under the rubble, imagine those who are sheltering in cars, or without food or drinking water. Yesterday, my friends only found water and cookies. There is no bread. They are handing out one small bowl of soup per child. And it's very cold," said Islán in statements to reporter Ángeles Lucas.
The Turkish government, through the country's emergency and disaster management agency, has made an app available to residents to indicate the location of people who have been trapped under the rubble. "They can't keep up," says Islán, sounding anguished.
"The vast majority of the buildings [in Şanlıurfa] are very old and built with poor materials; there are many that have turned to dust," she adds. Islán's husband is a Turkish civil engineer born in Şanlıurfa who says that there used to hardly be any quake-proofing regulations in the building codes. "But one was introduced in 2007 and another, even tougher one in 2019. And predictably these buildings are resisting better. They are having more superficial problems," says Islán, adding that local technicians are now thinking about marking buildings where it is safe to enter with green crosses, yellow ones where care must be taken, and red ones for prohibited access.
Sign up for our weekly newsletter to get more English-language news coverage from EL PAÍS USA Edition