The head of the Russian mercenaries breaks Kremlin's law of silence
Yevgeny Prigozhin, the businessman at the head of the Wagner group, takes advantage of his political and media projection to break a taboo: public criticism and threats against other members of Russia's elite

There was a time when the Russian elite washed its dirty laundry at home. Those who were outspoken critics of their rivals saw their political careers end with a bang on orders from above. President Vladimir Putin was the guarantor of stability, and the tensions between the different factions that fluttered around the president were resolved behind closed doors. In addition, the Kremlin always tried to keep up appearances by giving a legal veneer to all its actions, even the most repressive ones. At least that's how it was until the Ukraine war. Emboldened by his role in the offensive against the neighboring country, one of Putin's businessmen – 61-year-old Yevgeny Prigozhin, who controls the state-backed group of mercenaries known as the Wagner Group – has dared to test the status quo with threats and public accusations of treason against other senior officials.
Media reports often exaggerate the real power of Prigozhin, who is also the founder of a factory of trolls and bots that carried out propaganda and destabilization activity against the West through social media. Known also as "Putin's chef" because of his catering company, one might say that he has two armies, one that is military in nature and the other based on his media assets. Yet in four years he has not managed to bring down a politician of relatively little weight, the governor of St. Petersburg, his archrival Alexander Beglov. Despite supporting him in his election in 2019, Prigozhin has seen the politician reject several of his construction projects. The confrontation only ended when Prigozhin was given free rein because of the Russian armed forces' dependence on his army of mercenaries.
"Beglov does not bring any benefit to the city, he has created a system to divide up the money, the buildings and territories of the city among a group of people with an axe to grind. This web of corruption can only be destroyed with a sledgehammer," Prigozhin said on December 30 through a public chat that he maintains through one of his companies.
That reference to the sledgehammer was not fortuitous. The death penalty is suspended in Russia under a 1996 moratorium, but the Wagner Group applied it without trial against a Russian citizen in November. The execution of Yevgeny Nuzhin, a former Russian prisoner who had been recruited by Wagner to fight in Ukraine, later turned himself into Ukrainian authorities and was returned to Russia as part of a prisoner exchange, was broadcast on Wagner-affiliated social media. The paramilitaries hit him on the head with a sledgehammer and accused him of treason. "A dog receives a dog's death," Prigozhin remarked.
"This is none of our business," said Putin's spokesman, Dmitri Peskov, when asked if an investigation would be opened into the event. It was forgotten, just like the fact that Russian legislation contemplates prison terms of up to 15 years for people who recruit and train mercenaries in Russia.
"Prigozhin is not a friend of Putin's, he is just a useful tool. He knows it very well by doing precisely what the Kremlin needs of him," says Mark Galeotti, an expert on Russian security affairs, in a telephone interview. According to Galeotti, the businessman "hates" Defense Minister Sergei Shoigu, which would explain his criticism of the high command. "When Shoigu fired the person in charge of army logistics, he severed his ties to him because that military official was giving Prigozhin's companies a lot of business. From his point of view, Shoigu is costing him money."
Unlike Putin and Shoigu, Prigozhin is constantly visiting the front, and he has no qualms about displaying himself alongside mutilated fighters or visiting a sinister makeshift morgue in a basement. "Their contracts have ended, they are returning home," he said as he picked his way among black plastic body bags containing the remains of some of his recruits. For Prigozhin, this is publicity: he has found a populist niche that is in contrast with a high command that tries to hide the dramatic nature of the war: "There are those who do not like the fact that ordinary Russians, those who do not participate in parades or have an irreproachable past, can defeat the enemy. Russia's wars have not been won by special forces with acrobatic acts, but by these men with balls of steel."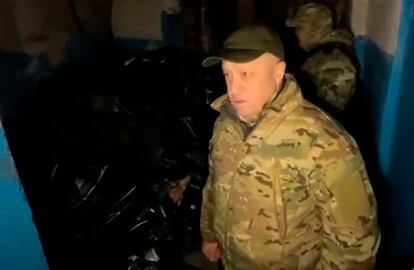 Prigozhin's verbiage knows no bounds. A few days ago he called former president Dmitry Medvedev's forecasts for 2023 "erotic fantasies," and in early December he made another veiled threat against the former head of the Russian space agency Dmitri Rogozin, who had previously been criticized for wearing NATO gear. "If someone approaches Wagner's positions in these clothes, we will return them in a plastic bag," said the businessman. Weeks later, Rogozin was seriously injured when the Donetsk restaurant where he was eating was shelled. According to Russian militarist channels, his location may have been leaked.
Prigozhin's attitude is very striking if one takes into account how the last politicians who dared to voice public criticism have ended up. The former mayor of Moscow Yuri Luzhkov questioned the leadership of then-president Dmitri Medvedev in 2010 and was dismissed "for loss of trust." Two years earlier, in 2008, Viktor Cherkesov was abruptly removed as head of the Anti-Drug Agency. The senior official had written an article in the daily Kommersant criticizing the internal struggles of the security services after the arrest of several of his collaborators. He never returned to politics again, and Putin publicly chided him: "Anyone who makes claims about a secret service war must first be innocent."
A rising star
However, others see Prigozhin as a rising star who is well worth cozying up to. The governor of Kursk, Roman Starovoit, published a video on Telegram this past Sunday where he announced that he had spent the first week of the year training with a Wagner unit. "Surrounded by real men, Russian patriots," he said.
Prigozhin recruits a large part of his forces inside prisons, where he offers promises of release even though pardons are not within his power. According to Pentagon spokesman John Kirby, out of Wagner's 50,000 troops only 10,000 are professional mercenaries, while the rest are convicts. US intelligence services estimated that this private army is costing the Russian Defense Ministry about €1.2 billion a year, the equivalent of the budget of regions such as Briansk or Karelia.
"Don't drink too much, don't take drugs or rape women," Prigozhin said in a relaxed tone to several mutilated prisoners in a hospital who have recently been pardoned by the government. In that video, he also asked Russians to be understanding of these individuals. Meanwhile, independent news outlets such as Jólod and Agentstvo Nóvosti have identified several criminals among these men: there is a man who murdered his grandmother to collect the sale money on an apartment, as well as several thieves and drug traffickers.
Prigozhin's private army is now locked in a bloody battle for the conquest of Soledar and Bakhmut in the Donetsk Oblast. According to US intelligence, behind that massacre there is an attempt to gain control of salt and gypsum mines, as Wagner has done before in Africa, in exchange for its services.
Igor Girkin aka Strelkov, a Russian army veteran who played a key role in the annexation of Crimea and one of the most critical voices against the Kremlin since the beginning of the war, has accused Prigozhin of favoring his business over the war. "Even if our troops win a tactical victory, strategically we have lost because you have once again thrown our best forces at a futile target. And in this case, the Russian armed forces will only have reached the limits of the third fortified line of Ukraine, no worse equipped than the first two," Strelkov, one of the Russian military leaders who started the Donbas war in 2014, wrote on his personal channel. "The fault does not lie with Prigozhin or Wagner, but with the General Staff of the Armed Forces of Russia, but the responsibility of these private traders should not be completely dismissed," he warned.
Sign up for our weekly newsletter to get more English-language news coverage from EL PAÍS USA Edition