An interview with Juan Manuel Santos, Colombia's former president
The Nobel Peace Prize winner and ex-president sat down with EL PAÍS to discuss, among other things, Venezuela and Nicaragua, ending drug prohibition and Colombia's ongoing peace process
Juan Manuel Santos, at 72, has reached a point in his life where he could easily dedicate all his time to his grandchildren. But his political appetite – which led him to become Colombia's president on two occasions and strike a peace deal with the FARC guerrillas – prevents him from doing so.
The interview with EL PAÍS takes place in his office in Bogotá, an expensive, well-guarded apartment where a pleasant silence reigns. Santos responds – like the old journalist that he is – weighing every word.
This interview has been translated and edited for clarity and brevity.
Question. How do you see the Colombia that newly-elected President Gustavo Petro receives compared to the one you left to former President Iván Duque four years ago?
Answer. Unfortunately, we have regressed in almost everything. Four years ago, we left President Duque a strong economy, with single-digit unemployment, controlled inflation, poverty at historic lows, as well as an improved security situation. Petro has received a country in much worse condition… over the last four years, debt increased by almost 50% and unemployment has hit double digits. Duque did not achieve what every president would like: to leave his successor a country that is a little better than the one he received.
Q. You've been a minister three times, president for two consecutive terms (2010-18) and you forged a peace agreement – although it was rejected by the Colombian people in a plebiscite – that earned you the Nobel Peace Prize. Did you imagine all of this when you entered politics?
A. They say that I was obsessed with being president since I was little, but that's not so true. I have taken advantage of opportunities and I have been lucky. At a certain point, seeking peace became a priority for me. They even accused me of conspiring with the guerrillas and the paramilitaries to overthrow [ex-president Ernesto] Samper. Looking back, I thank God for having given me the strength to become president and achieve, among other things, peace with the FARC insurgency. But no, I never imagined I would go this far.
Q. And have you suffered in your career?
A. A lot. Politics is harsh and thankless. Making peace is more difficult than making war. The defeat of the 2016 plebiscite was a tremendous blow, without a doubt, but what hurt me the most was always seeing the consequences of the war: the mothers burying their children, seeing the trauma of the victims, the funerals of so many soldiers and policemen, facing widows and mothers asking why their husbands or children had been killed...
Q. In a country that has lived through a civil war for half-a-century, with 450,000 dead and millions displaced, how long do those wounds take to heal?
A. It may take generations. Reconciliation is very difficult, but necessary – it's about convincing the victims of atrocities to accept and forgive the perpetrators. That's why a truth commission is so important in any peace process. I remember Nelson Mandela telling me: "The truth is what helps the most to heal those wounds."
Q. During Duque's mandate, did you ever fear for the peace process?
A. Duke wanted to derail and then stop the process, but he couldn't. Congress did not allow it and neither did the international community. In the end, he had no choice but to get on the train. With Duque, the peace process underwent an acid test and, paradoxically, came out stronger. We saw it in the last elections. Now it is necessary for Petro's government to fulfill what it promised.
Q. There are those who say that the election of President Petro and Vice-President Francia Márquez – the first Afro-Colombian VP in the country's history – would not have been possible without the peace agreement.
A. Democracy today is more inclusive than it was before the peace agreement, but we still have a long way to go. What I can tell you is that, for example, the fear of people going out to protest was removed… and certain stigmas that the Colombian right historically used to stop leftist parties were erased.
Q. What kind of relationship do you have with Petro?
A. I have a good, normal relationship, although we've been at odds for almost our entire public lives. He supported me in my 2014 re-election bid, without any conditions. And today, I fully identify with the three pillars of his administration: the implementation of the peace process, the transition to a green economy and social justice. That's what the country needs and I hope it goes well. I did not support Petro in the recent elections, or any other candidate. What I do believe is that, if he does well, the country will do well. There are those who say that because there are former ministers of mine in his cabinet, I am the force behind his government, but that's not true. Those who are there are on their own merit, they do not represent me. I am retired from politics. However, if [Petro] needs me, I'll be there.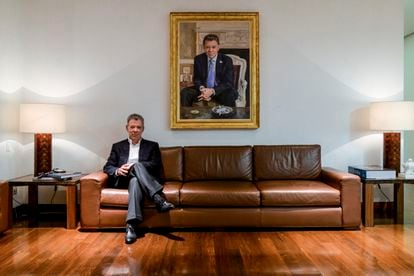 Q. How do you judge Petro's first days in power?
A. The government is well-positioned, but lacks rigor and narrative. Public policies – especially when there are policy changes – must be explained very clearly. People have to understand the why and the how. What is not understood, by nature, is rejected. That's why it's so important to offer clear narratives.
Q. Petro has revived negotiations with the National Liberation Army (ELN). Will these talks prosper?
A. I think and hope so. Peace with the ELN guerrillas would be very welcome for the country and all those who are suffering from the violence of this insurgency.
Q. The ELN has asked that it not be equated with criminal gangs…
A. And they're right. You can't put everyone in the same bag. Political organizations can benefit from the Rome Statute – as the FARC did – and transitional justice can be applied to them. But criminal gangs cannot enter that lane. With them, it's possible to negotiate penalties and a return to civilian life, but there must be acceptance of judicial procedures.
Q. But now that Petro wants to deal with criminal gangs, with pure drug traffickers… can't that poison the negotiations? Wouldn't it have been better to wait for the talks with the ELN to advance first? Is Petro's notion of "total peace" too ambitious?
A. That's what I mean when I talk about refining narratives. There's still a lot of confusion about what [Petro] describes as "total peace." With how many groups? Under what conditions? In what regions? All of this needs to be clarified, or people are going to be more and more skeptical.
Q. Will the Colombian military interfere with the negotiations?
A. I don't think the military is going to be an obstacle. There's this mistaken idea that the military automatically opposes peace processes. Many officers have told me: "We are the ones who die. We are not in favor of war." All my predecessors were wrong – they believed that the soldiers were going to oppose them and they pushed them aside. We incorporated them. We put two of the most popular generals in the National Police and the Army as negotiators… this helped a lot.
Q. What do you think of the reestablishment of relations with Venezuela?
A. The famous diplomatic siege imposed by Duque and Trump was a resounding failure. Today, Maduro is much more secure in power than he was four years ago. And, from the bilateral point of view, breaking off all communication with a neighbor with whom we share a 1400-mile-long border makes no sense. That being said, we must continue advocating for the reestablishment of full democracy in Venezuela.
Q. Do you think that the Colombian government was wrong to not vote in favor of the OAS resolution condemning the abuses of Daniel Ortega's dictatorship in Nicaragua?
A. 37 years ago, my brother and I won the first King of Spain Award for International Journalism for some articles we wrote that denounced the corruption and oppression of Ortega's Sandinista regime. At the time, Ortega's brother Humberto was commander of the army and the Vice President was the novelist Sergio Ramírez. Today, both men are in opposition to Ortega. The situation today is dire. If you ask me if the Colombian government was wrong in not voting on that resolution, I have to say yes, it was wrong.
Q. Do you support Petro's proposal to de-narcotize the relationship with the United States?
A. To de-narcotize is to abolish prohibition in the fight against drugs. That's the only solution… although I know how difficult it is to sell that idea. 10 years ago, at the Summit of the Americas, I proposed changing international conventions to allow for a more practical and effective approach in the failed fight against drugs. Obama and Biden and all of Latin America's leaders accepted… but in the United Nations, we had fierce opposition from China, Russia and Middle Eastern countries.
The whole world – particularly Latin America and Africa – suffers from the growth and empowerment of the cartels. Prohibition must be abolished, otherwise, the drug war will have worse and worse consequences. That's why de-narcotization is a totally appropriate process. If Asia or the Middle East don't want it, then let the Americas do it.
Q. With the political polarization in the United States, it doesn't seem like this will be possible…
A. It's true. We need to recover moderation at all costs, accept the contrary, sit down to dialogue, dialogue and dialogue. The habit of not speaking with those who think differently is fatal for any democracy.