ARTS
A dramatic encounter for Falklands veterans
A play to be performed in Madrid brings old enemies together on stage to relive their experiences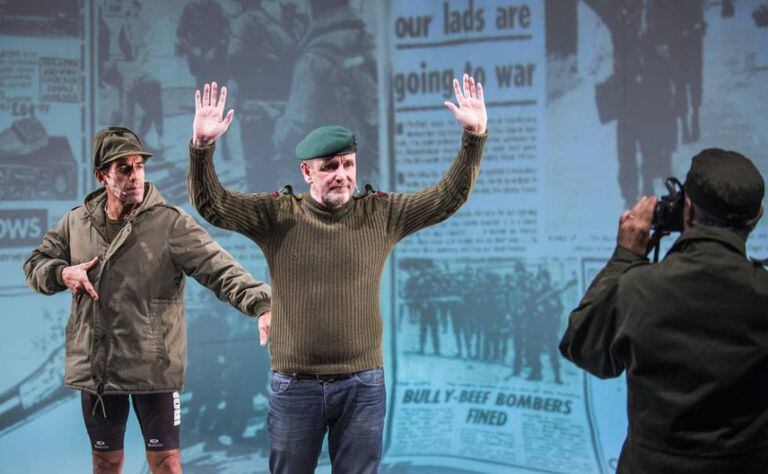 It wasn't long ago that Marcelo Vallejo still felt like he had been punched every time he heard English spoken. He couldn't stand English music and didn't want to know when his son started studying the language. In fact, he had hated everything about England since 1982, the year he turned 20 and lived through the most traumatic period of his life – the Falklands War.
"I was angry for a long time after that," he says on the phone from Buenos Aires. "Drugs, alcohol, depression. I always explain it like this: I had to hate to shoot and afterwards, it's not easy to get rid of the hatred."
The work is not just about that war but also about the mark war leaves on people
Director Lola Arias
But when multifaceted Argentinian artist Lola Arias suggested Vallejo get involved with a play she was directing alongside British veterans – his former enemies – he decided to say yes, despite the turmoil he felt when they came face to face. "Just hearing them transported me to the past," he says. "During rehearsals, any conversation or sound could take me back there again. I had trouble getting to sleep and I often thought about dropping out; I didn't feel I had the right to speak about memories that included dead colleagues."
Vallejo stuck it out, in spite of his reservations, and now he is glad he did. The play Minefield premiered in 2016 to great acclaim in both Argentina and Britain, where it played at the Royal Court Theater in London. It has been touring ever since and has now become a benchmark for documentary theater.
Next weekend, it will be showing in Madrid's Canal Theater from November 23 to 25 together with the film War Theater that captures the relationships that developed between the veterans as they rehearsed and which was awarded the Prize of the Ecumenical Jury at the 2018 Berlinale Film Festival. "The work is not just about that war but also about the mark war leaves on people," says Arias in a phone call from Buenos Aires. "That is why it is of interest beyond those countries directly involved."
Reconstructing a war scenario with veterans is, of course, very different from reconstructing it with real actors. But there is something more compelling about seeing the former enemies come together. On the Argentinian side, there is Marcelo Vallejo, who was a volunteer and is now a triathlon athlete; Gabriel Sagastume, who was called to the front while he was doing his military service – obligatory in Argentina until 1995 – and is now a criminal lawyer; and Rubén Otero who survived the sinking of the Belgrano navy cruiser and now plays drums in a Beatles tribute band, often in a Falklands t-shirt.
I had trouble getting to sleep and I often thought about dropping out
Argentinean veteran Marcelo Vallejo
On the British side, there is Lou Armour, a professional soldier who left the army after the war and is now a special needs teacher; David Jackson, a radio operator during the conflict and now a psychologist for war veterans; and Sukrim Ral, a Nepalese Gurkha contracted by the British army who now works as a security guard.
All are around 60 years old and were chosen to perform in Arias' play after an intense selection process. Over the course of the performance, they share their various memories with the audience – the journey to the Falklands, their attitude to the conflict, a wounded colleague, an enemy who dies in their arms, a letter to their family, the noise of the fighting, an explosion, fear, cold, hunger, the return home and life after the war.
Using film images and music, the veterans recreate their war. "That's me!" cries Armour at one point during the play when he see the front page of a newspaper with a photo of soldiers emerging from Government House with their hands above their heads. It was April 2, 1982, the day the Argentinian army surrounded the official governor's residence in Stanley and took control. "I felt so humiliated that I asked to go back," he says from London.
Armour didn't think twice when Arias offered him a part in the play. "In my country, it's common for veterans to get together with their former enemies," he says. "We have a lot of experience with that because of the World Wars. For the Argentinians, it was harder, particularly because it was not a professional army. Many youngsters had volunteered to go to the front because of the hatred the dictatorship had incited for the English. We didn't go with hatred. It was just another war for us."
There are still significant differences between one side and the other. "In Argentina, the defeat in the Falklands is still raw. You see a lot of graffiti in the streets calling for sovereignty. That's why the play caused such a stir when it opened," says Arias. "But in the UK, the play was useful for highlighting a conflict that is not considered terribly important, though it was in fact the catalyst for Thatcherism."
Towards the end of the play, Armour and Sagastume contrast their versions of the war and tell the story of the colonization of the Falklands from two very different perspectives.
Would they fight again if they were given the chance?
"No," says Vallejo. "Certainly not in defense of a flag." Meanwhile, Armour says, "It depends. There are just wars. Perhaps I would fight against extremism."
The questions these veterans are most often asked, however, are more along the lines of: Did you kill anyone? Did you see anyone die? Did you hold anyone who was dying? They are questions that have been incorporated into the rousing punkrock song the veterans perform together to bring the complex play to its conclusion.
Cutting edge theater
Writer, actress, director of stage and film, Lola Arias has become a leading light in documentary theater, a genre that is beginning to catch on internationally. "It was inevitable that theater would start to reflect the world as it is now using contemporary stories, which is what film has been doing for a long time," she says. "It"s fine that we use Hamlet metaphorically to speak about certain things that still relate to us but why not also use what is around us? I believe it"s the only way theater can attract new audiences. For example, when we perform Minefield, there is a far greater cross-section of the public in the audience – veterans, families, people who wouldn"t normally go to the theater, people who are simply interested in the history."
Arias says that to get documentary theater right, however, the research has to be extensive and there are far more rehearsals needed when the actors are not professional, though in Minefield, it is hard to tell.
English version by Heather Galloway.