30 years on since first migrant death, still no end to tragedies at sea
When the body of a Moroccan man washed up on a beach in Tarifa in 1988, no one knew that it would be the first of more than 6,700 fatalities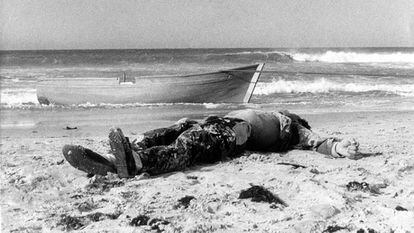 The body lay face up in the sand with its arms in a cross. It was swollen but clothed. The small boat had run aground and swept up on the shores of a beach in Tarifa, a town in Spain's southern province of Cádiz. Four survivors recounted in French the story of the shipwreck that "froze the heart."
We have gone from the globalization of indifference to the globalization of rejection
Priest Gabriel Delgado
It was November 1, 1988, a date that continues to haunt journalist Ildefonso Sena. He took 10 photos of the scene with his Nikon compact camera but only one was needed for the incident to send shock waves through Europe. Without intending to, he had immortalized the first migrant death in the Strait of Gibraltar.
"I wasn't aware of the number of deaths that would follow," Sena told the local newspaper Diario de Cádiz. Two bodies were found the following day, another two on November 3 and one more in Ceuta, the Spanish exclave city in North Africa. A total of 11 people died and seven disappeared. It was the first time a migrant boat had shipwrecked off Spain's southern border. Thirty years on, there is no sign of an end to the deaths. "There has not been one single year where there have not been deadly tragedies," says Gabriel Delgado, who has been director of the Migration Office of the Cádiz and Ceuta Diocese since 1993.
Since November 1, 1988, 6,714 migrants have died or gone missing in the Strait of Gibraltar, according to a report by the migrant support group Andalucía Acoge. As the sun sets one afternoon in late October, Antonio Ruiz and his son Francisco Ruiz visit the graves at Tarifa cemetery. Antonio was mayor for the Socialist Party (PSOE) when Tarifa was shocked by the first migrant death. Now his son is the mayor and the people of the town, home to 118,116 residents, jump into action to lend a hand and provide resources to hundreds of migrants when the system is unable to cope.
In Tarifa, they now know that when the wind is calm or gently blowing from the west, boats will arrive to the shore. And, if there is a sudden easterly gust, that there will be more deaths at sea. "We have 30 years of experience. We have been living with this situation for many years and are used to it. You have to normalize providing shelter, but you must never normalize death," says Francisco Ruiz.
This is the unwritten wisdom of a town committed to solidarity at all costs – a hundred or so locals spent their summer helping migrants sheltered in the municipal pavilion – and one that is becoming increasingly more familiar with the arrival of bodies of North African and Sub-Saharan migrants to their shores.
It was not like this in the 1980s, when the town had no idea about the scope of the problem. "We could not imagine that this was going to lead to what it has led to," explains Antonio Ruiz. Sena agrees: "The migration phenomena was gradually revealed. Between 1982 and 1983, boats began to arrive and the Civil Guard thought at first they were bringing in drugs. Later it happened more frequently but nobody gave it any importance until November 1, 1988." That was the day the journalist was told by a Civil Guard officer: "Go to Los Lances beach, a body has appeared."
Sena remembers the scene when he arrived: "There was an infernal wind. The dead young man was two meters from the bow of the boat. He was around 25 years old and covered with grime from the sea."
He squatted down to take the photos. An officer then approached him and asked if he could interpret from French for the four Moroccan survivors. "They told me that 23 of them had set sail at 12 from a beach in Tangier. Halfway into the trip, they were surprised by a very strong easterly wind. They got close to the coast but the ship capsized," recalls the 67-year-old, who has now retired.
The 11 migrants who were found dead in the following days had no name, affiliation or known family – a pattern that would become all too familiar. Their bodies were moved from the morgue to a common grave in Tarifa cemetery, which is marked by a simple tombstone: "In memory of the migrants who died in the Strait of Gibraltar." Delgado placed the tombstone when he took office. Since then, he and his team have discovered that, unlike other dioceses, the brunt of their work is in assisting migrants, not emigrants.
You have to normalize providing shelter, but you should never normalize death
Tarifa Mayor Fernando Ruiz
Delgado has 25 years of bittersweet experiences, of migrants who were able to move forward and others who became just another anonymous legal process of a tomb in the cemeteries of Tarifa, Barbate and Conil de la Frontera in Cádiz, and in Ceuta. In these years, Delgado has seen blood trails on beaches and dead children, like Samuel, who was found at the beginning of 2017 in Barbate. "Fatal tragedies hit me very hard. I cannot get used to it," explains the priest, who has officiated dozens of migrant burials.
Every second Wednesday of the month, Delgado organizes Circles of Silence meetings in cities in Ceuta and Cádiz. "We don't want anyone to get used to tragedy. Now I fear that, what's more, we have gone from the globalization of indifference to the globalization of rejection," he says in a serious tone.
Every date marks the death of a migrant at sea. But back on November 1, 1988, it was difficult to imagine the Strait of Gibraltar would become the mass grave it is today. That windy morning was just a day when Sena pressed the shutter on his camera, "without calibrating the importance the photo would have."
English version by Melissa Kitson.