Minimum services to be announced after Ryanair fails to halt "biggest ever strike"
Unions from the low-cost airline have not ruled out staging stoppages every month until their demands are met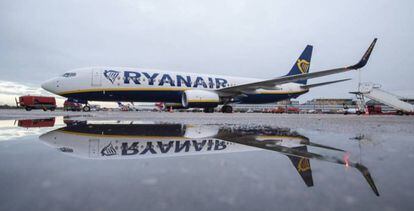 Low-cost airline Ryanair has failed to convince cabin crew unions to call off the strike planned for Friday, September 28 in Spain, Portugal, Italy, Belgium and the Netherlands. The Irish carrier met with the unions behind the strike on Monday but was unable to reach a deal, meaning Spain's Public Works Ministry will have to set out minimum services for the date of the work stoppage.
Around 1,800 cabin crew members are expected to go on strike in Spain
Unions want the minimum services to include 24% of all flights to the Spanish peninsula, where the travel alternative is less than five hours' duration, 24.5% of flights between the peninsula and the Balearic and Canary islands, no international flights if there are alternatives from other companies, and all flights between the islands. Ryanair, however, wants 100% of flights to be included.
With regard to cabin crew services, unions have demanded that only flight attendants who help people with special needs and those who are legally required on flights longer than six hours be made to work on Friday.
Union representative Ernesto Iglesias said he asked the Public Works Ministry to attend a meeting between cabin crew and Ryanair but has received no response. He is calling on the government to "at least listen" to the complaints of Ryanair workers and not impose "abusive" minimum services.
Unions have called the strike to protest against the company's policy of putting all its workers on Irish labor contracts rather than adhering to local legislation. Representatives say they have "not ruled out" holding a strike every month until Ryanair accepts their demands, which received the backing of the European Commission last week.
Unions have asked the ministry not to impose "abusive" minimum services
The unions warn that Friday's work stoppage will be "the biggest strike ever seen by Ryanair" following earlier walkouts in July and August that forced the company to cancel hundreds of flights across Europe.
During these strikes, the ministry set minimum services at 100% of all Ryanair connections with the Balearic and Canary islands, 35% of flights to Spanish cities on the peninsula where travel alternatives are less than five hours, 59% of international flights and national flights where there is no alternative or the travel alternative is longer than five hours.
The strike called for Friday is likely to involve workers from a sixth country and will affect 1,800 Ryanair cabin crew staff in Spain.
English version by Melissa Kitson.