TOURISM
Informal tourist guide threatened with €600,000 fine by Valencia region
Susana Meseguer was working for tips via the GuruWalk app, but was warned by letter to cease her activity given that she had no official authorization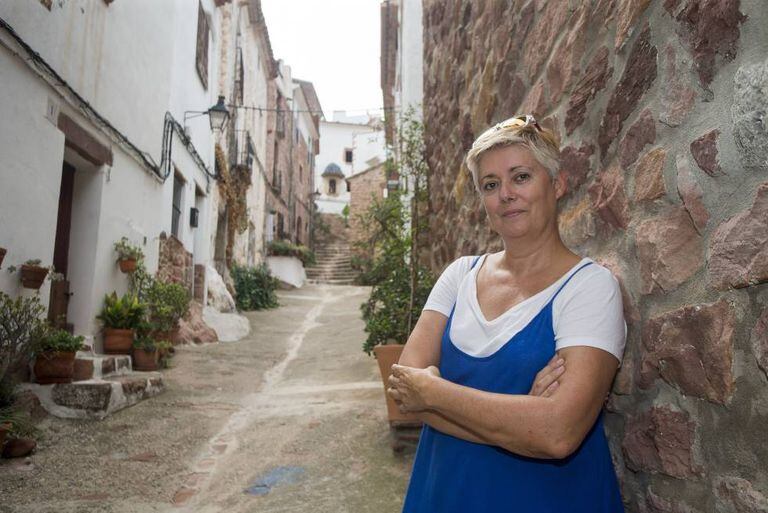 Susana Meseguer knows that in Vilafamés, the village in Castellón (Valencia) where she lives, there are 13 niches, each one with its own story, and that in the past served as street lights. She also knows that the castle that dominates the village has a well-preserved Carlist tower. She knows a lot of things about Vilafamés, and she is passionate when she starts to explain them – but she is not a tourist guide. Nor does she want to be one.
Susana Meseguer
In May she ended up without a job, so she signed up to the online platform GuruWalk, which brings together tourists and tour guides all over the world. The latter offer their services in exchange for tips from the former. But the Valencia regional government got wind of what Meseguer was doing and on July 19 sent her a letter reminding her that tour guides in the region need authorization, and that she didn't have it. They warned her that she had to cease the activity or face a possible fine of between €100,000 and €600,000.
GuruWalk is not the first online application to have received a less than warm welcome in Spain. Transport service Uber has been mired in legal battles filed by taxi associations since it began operating in the country, while many local authorities have vowed to restrict the number of apartments rented out via tourist accommodation websites such as Airbnb. Official tour guide groups have stated that GuruWalk, which is a Valencia-based site, is degrading the profession
Meseguer, 50, says that she has found "her place in the world in Vilafamés," but has succumbed to the pressure from the regional government and has left the GuruWalk platform, removing the cards that she had left in the tourist office in the village advertising her services. The regional government has been informed, in a bid to halt the administrative process against her.
Meseguer suspects that someone may have reported her to the authorities
But she denies some of the claims made in the letter she was sent. "I was not doing tours from 9am to 9pm every day, as they said, it was a sporadic thing, some weekends, as a hobby, because I love my village," she says in a telephone conversation. "I liked the walks where I would explain information and tell stories, and I would always warn that I was not an official guide. The most I ever made was around €60 in one month. If they had called me I would have cleared everything up, but they never did."
She also claims that the local council and the tourist office knew what she was doing, and that the person in charge of the tourist office had even sent her groups when they couldn't leave their post.
The tour that Meseguer was offering is now not available on GuruWalk, despite very positive reviews
Meseguer suspects that someone may have reported her to the authorities, but sources from the regional government say that her activity was detected as part of a campaign to prevent intrusion in the tourist sector, which includes the monitoring of tourist apartments. The same sources add that if the person found to be operating without the proper authorizations can show that they have ceased their activities, fines are not imposed.
The tour that Meseguer was offering is now not available on GuruWalk, despite the very positive reviews that users had left. She complains that she cannot now continue to share her "excitement to spread the word about what we have here in Vilafamés." The incident has, however, encouraged her to set up a new business offering the hire of electric bicycles with GPS that can be used to visit the "unknown countryside around Vilafamés." You can sense her passion once again, as she talks about it being "beautiful, a little Tuscany," "with a microclimate and a creeping olive tree," as well as the cave that was a "refuge for 800 people in the Civil War," and the waterwheels that are dotted around the village…
English version by Simon Hunter.