Spanish king's sister prepares for uncertain future following Nóos ruling
Cristina de Borbón y Grecia may need to relocate after the Supreme Court on Tuesday confirmed prison time for her husband over corruption charges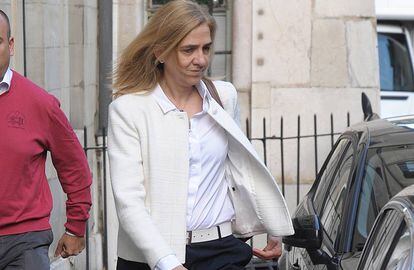 Cristina de Borbón y Grecia, the sister of Spain's King Felipe IV, turned 53 today, but the mood is unlikely to be festive given that her husband, Iñaki Urdangarin, was sentenced yesterday to five years and 10 months in prison.
Spain's Supreme Court handed down the sentence against the Spanish king's brother-in-law for his involvement in a scandal known as the Nóos case. In the lead-up to the Supreme Court ruling, the infanta, as Cristina is known, and her husband had tried to keep out of the public eye, spending time instead with Urdangarin's family. Some of his relatives even traveled to their home in Geneva to take part in a marathon on May 6, the last time he was photographed in public.
Friends close to the infanta say she has been "destroyed"
The future of the infanta's family now depends on the terms of the prison sentence handed down to Urdangarin. The date he must report to prison is yet to be confirmed and there is still the possibility they could appeal the sentence with the Constitutional Court or request an official pardon with the central government.
Depending on the outcome, Borbón must decide whether she stays in Geneva, where she works for a foundation run by Agá Khan – a close friend of her father, former King Juan Carlos – and where her youngest children go to school, or moves to Portugal, where her work has another headquarters, to be closer to Spain. This is likely to be the most practical option if Urdangarin is sent to a prison in Extremadura. But there is also the chance that he will serve his sentence in a prison in Ávila. The king's younger sister has also considered returning to Madrid, but there her children would have difficulty escaping the media spotlight.
Cristina de Borbón was educated as a daughter of kings under the strictest of protocols of royal houses and has been taught not to show her feelings in public. This training has allowed her to keep up appearances since 2010, when investigations into the Nóos case began. For example, on February 8, 2014, when called to appear before Judge Castro in a court in Palma de Mallorca, she got out of her car with a big smile and shook everyone's hand – including uniformed police officers. Everyone was surprised by her friendliness. She has adopted this attitude on numerous occasions throughout the trial when forced to appear in public.
But behind the scenes, the infanta is a broken woman and a mother worried about the collateral damage the case has done to her four children, Juan, Pablo, Miguel and Irene, who were children when Urdangarin was accused and are now teenagers well aware of their father's problems with the law.
Cristina clashed with her brother King Felipe when he took away her title as duchess of Palma de Mallorca
In an effort to shelter their family, Urdangarin and the infanta moved to Geneva after an attempt to rebuild their life in Barcelona failed. The family, after an initial exile in Washington, had moved to a house in Pedralbes and tried to reestablish their network. But the Spanish royal family had put up a firewall around and this made it impossible. An incident at the school of one of their children and at the tennis club where they took classes convinced the couple to take refuge in Geneva.
When Juan Carlos was still king of Spain, he kept his distance from his youngest daughter but continued paying his grandchildren's school fees. He also pulled strings so that his friend at the Agá Khan foundation would give Cristina a job. With this position, she is technically the sole breadwinner of the household.
In exile in Switzerland, the couple lived away from their children, receiving only visits from family and a few loyal friends. Their movements have been followed by the paparazzi, who lurk outside the couple's rented apartment in the city center. Urdangarin is often seen riding his bicycle but hasn't said a word in the lead up to the court sentence.
Everyone spoken to within their close circle has said the infanta is "destroyed" and some have mentioned depression. She has never admitted that her husband's dealings with his business partner at the Nóos Institute, Diego Torres, were wrong – ignoring the advice from the royal family and cutting ties with advisors from La Zarzuela palace. She clashed with her brother King Felipe when he took away her title as duchess of Palma de Mallorca and refused to give up her royal rights.
Since the Nóos case erupted, the royal family has had to balance its obligations to the crown with their feelings. But many in the Spanish royal family are concerned about the infanta. With this concern in mind, her father traveled to Geneva to celebrate the 50th birthday of Urdangarin.
Regardless of the outcome of Urdangarin's prison sentence, Cristina's aim is to protect her children as much as possible. This might mean she will have to fly to the prison to visit her husband. That will be her sentence.
English version by Melissa Kitson.