An astronaut will be Spain's new science minister
Pedro Duque is the best-known face in a Cabinet lineup with more women than ever before in Spanish democracy
The Spanish astronaut Pedro Duque, who has been on two space missions, will be Spain's new minister for Science, Innovation and Universities. The high-profile appointment is one of four new picks to join the Socialist Cabinet of Pedro Sánchez, who became prime minister last week after leading a successful no-confidence motion against Mariano Rajoy of the Popular Party (PP).
Duque is one of the best-known faces in Spanish science. In October 1998 he participated in the Discovery mission, spending nine days in space to lead a series of scientific experiments for the European Space Agency. In October 2003 Duque returned to outer space aboard a Russian Soyuz shuttle, and spent 10 days on the International Space Station.
A window of opportunity has opened up for the country
Isabel Celaá, new education minister
Also on Wednesday, it emerged that the new justice minister will be Dolores Delgado, a veteran prosecutor at Spain's High Court (Audiencia Nacional) and a specialist in jihadism cases. Judge and attorney associations celebrated the appointment, calling her "competent and qualified" for the job, Europa Press reported. One of the issues on her desk will be the fallout from the recent ruling in a gang-rape case known as La Manada, which sparked nationwide protests and calls for an overhaul of sex-crime definitions in Spain's criminal code.
The labor portfolio will go to Magdalena Valerio, who has experience as head of employment, tourism and justice for the regional government of Castilla-La Mancha. Valerio has made pensions a priority of her department.
Isabel Celaá, a former education chief for the Basque government, has been named the new education minister. Although she has yet to define her priorities, Celaá told Europa Press that "a window of opportunity has opened up for the country."
Economy minister
On Tuesday afternoon, government sources revealed the name of the new economy minister: Nadia Calviño, a lawyer and economist who played a key role in regulating the financial sector following the 2007-2008 crisis, and who has made a career for herself at the European Commission in Brussels after more than a decade working for the Spanish Economy Ministry. Fluent in four languages, since 2014 she has been the European Commission's Director General for Budget.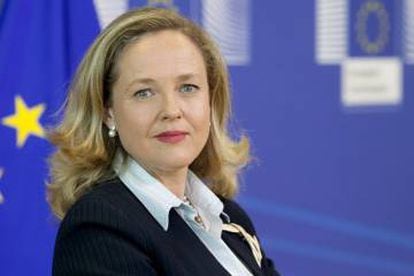 Ana Patricia Botín, chair of the Santander Group, tweeted: "At a key moment for the European Union, having Nadia Calviño as our new economy minister is a guarantee that Spain will keep increasing its weight in European institutions. Congratulations Nadia."
Sánchez will officially inform King Felipe VI of his picks later this afternoon. These latest appointments make the Sánchez administration the one with the most female ministers in modern Spanish democracy.
Reaction
Meanwhile, the PP has asked the new prime minister to take a stand on the Catalan crisis. "Pedro Sánchez will have to clarify as soon as possible what his position is with regard to the first steps by the [Quim] Torra government in Catalonia," said party official Andrea Levy in statements to esRadio. "We will continue to defend the unity of Spain and the upholding of the law."
Ciudadanos, the protest party that is leading voting intention polls, reiterated calls for a snap election. "What Mr Sánchez needs to do is give Spaniards their voice back; the two-party system is afraid of the ballot box," said the party's communications secretary, Fernando de Páramo.
An astronaut at the helm
Manuel Ansede
On November 3, 2016 Duque jokingly tweeted about a story that appeared in the satirical daily El Mundo Today that made him out to be the foreign affairs minister. But the joke has turned into reality as Duque has now accepted the portfolio of science, innovation and universities.
Duque is a vocal supporter of science. "If we keep failing to invest in our future, this country will sink forever," he said in 2013, during protests against cuts to science effected by the government of Mariano Rajoy. In a letter published in EL PAÍS in 2012, Duque also defended education as a fundamental investment.
The new minister is also an outspoken critic of pseudoscience. "Even if the homeopathy industry manages, through who knows what wiles, to get the European Union and governments to protect it, it doesn't change anything. It doesn't work. It doesn't do anything. At least nobody is forcing us to pay them for that candy that they sell," he tweeted on April 28.
English version by Susana Urra.