Spanish airports will have to sell bottles of water for €1
Authorities introduce new conditions to address passenger complaints about the exorbitant price of water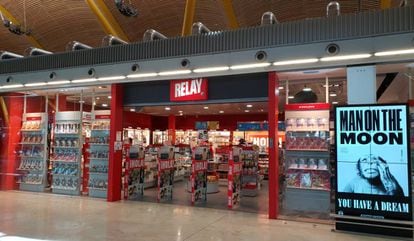 Spanish airport authority Aena has taken note of the most common complaint from passengers: overpriced water. Aena is going to force all operators of vending machines and convenience stores in Spanish airports to sell small water bottles for no more than €1, sources at Aena told EL PAÍS.
This condition has been included in the terms of the new tenders to acquire commercial space in the airports. Convenience stores and vending machines will have to sell 300-mililiter bottles at that price. Half a liter bottles, typically sold in vending machines, will also cost €1.
Aena has also promised to increase the number of free drinking fountains
This new condition is already included in the contract of 19 shops at six airports (Madrid-Barajas, Palma de Mallorca, Bilbao, Tenerife Sur, Santiago, Vigo and Girona-Costa Brava).
There are also 134 vending machines inside six Spanish airports (Tenerife Sur, Gran Canaria, Fuerteventura, León, Vitoria and Salamanca) where 500-milliliter bottles are sold for €1.
International recommendation
In 2015, Airports Council International (ACI) – the international association that Aena is a member of – recommended that airport operators ensure there was enough supply of water bottles costing no more than €1.
The issue was also investigated by the Spanish Ombudsman after it received multiple complaints about the excessive price of basic products, particularly water, at Spanish airports. The Ombudsman recommended the price be set no higher than €1.60 but Aena has gone one step further and adopted the ACI recommendation.
Aena has also responded to requests for more free drinking fountains and is planning to place more units in its airports. There are currently 193 water fountains in the airport network – 41 in common areas and 152 in the passenger boarding zone.
English version by Melissa Kitson.