Immigration
'Chiñol': the dilemma of being second-generation Chinese in Spain
Children of migrants from the Asian powerhouse complain they suffer racism from childhood onward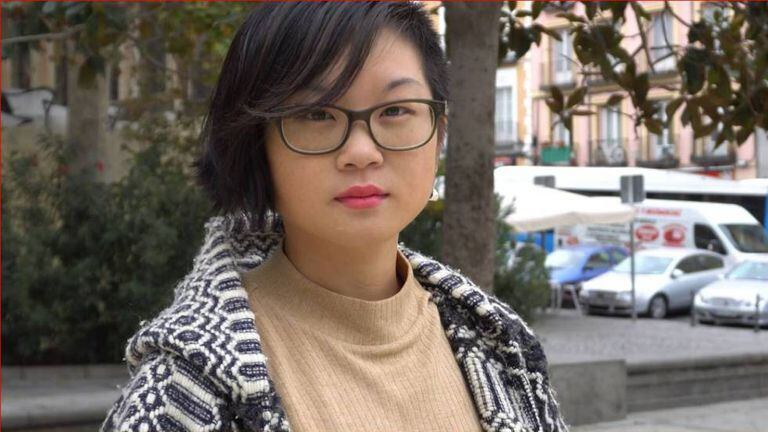 Quan Zhou would like to say she has never received racist abuse, but this Spaniard, born to Chinese parents, still remembers what she went through as a child. "They looked at me strangely, they followed me down the street, they called me 'Chinese' but in an offensive way," she says at the Madrid bookshop where she is signing her second graphic novel, Andaluchinas por el mundo (Andalusian-Chinese around the world). Through stories and humor, the 28-year-old illustrator recounts what it was like growing up in Spain with her Chinese origins. Born in the Andalusian city of Algeciras, she refers to herself as "Andaluchina". It's a term she prefers over "chiñoles", which was coined by the children of Chinese migrants who were born in Spain to define a generation that straddles Asian and European culture.
Yi Yi Zhang
Yi Yi Zhang, a 22-year-old waiter, confesses to feeling more Spanish than Chinese, although no one else thinks of him this way. "From when I was very young, they hassled me for having almond eyes and very straight hair, or for not being able to pronounce the letter 'r,'" he says. He remembers they often yelled at him, "Chinese piece of shit, go back to your country." But he says he was always clear about where his home was: Madrid. "When I travel to China, it takes just a few days before I want to go back to Spain," he says.
The Chinese community is the fourth-largest foreign community in Spain, with 207,593 registered citizens, according to 2017 figures from the National Institute of Statistics (INE). In first place are Moroccans, followed by Romanians and the British. "The first generation of Chinese migrants did they best they could," explains journalist Susana Ye, born in Alicante to Chinese parents. "They didn't integrate well because they had to take care of their basic needs and work incredibly hard to provide a future for us," she says.
The young journalist has tried to challenge the image of Asian people as a "gigantic, strange, homogeneous" group in a documentary that explores the daily life of children of migrants who arrived from China to Spain in the 80s and 90s. "The documentary Chiñoles y bananas (Chiñoles and bananas) defines the duality of being yellow on the outside and white on the inside," says Ye. This is a dual identity which, in many cases, causes conflict both within the children themselves and with their family and society. "When I looked at myself in the mirror as a girl, I saw what the rest of the world saw," explains Ye.
The Chinese community is the fourth-largest foreign community in Spain, with 207,593 registered citizens
"Being the first meant we had to lead the way and normalize the fact that we didn't have Spanish faces," says David Wu Xu, who was born in Valencia to Chinese parents. The 32-year-old brand manager remembers wearily the infinite number of times he was asked if he ate cats, if he understood Spanish or if Chinese people are dirty. "The media and film industry have constantly made fun of the image of Chinese people and this doesn't help," says Xu. He points to, among others, the role of Yibing in the television program El Hormiguero (The Anthill) as an example of this. In this show, the young Chinese woman Yibing answers prejudiced questions from the host and audience. "The media presents a very simplistic vision of the Asian community," adds journalist Susana Ye.
One of the biggest misconceptions about the Chinese community is that they work longer than standard working hours and don't pay taxes. To put an end to these rumors, the association Andalucía Acoge launched a campaign in 2014 that put paid to these popular false beliefs. "They have pigeonholed us: it seems we can't do anything other than open a restaurant or a bazaar," says Yi Yi Zhang. "It's true we work a lot but it is because we have a very clear objective and I think we could all learn from this," adds David Xu.
Another one of the stereotypes of the Asian community is that Chinese women are submissive. "They continue to think that we are sweet and submissive," says Susana Ye. "In my case, this is not true because I have a strong character". The illustrator Quan Zhou is also surprised by this conception of Chinese women: "The women in my family are all very strong," she says.
With China's economic growth and the rise of the middle class with greater buying power, the European perception of Chinese people is changing. "I have noticed the change a lot: Now we are treated well in shops where before they would have eyeballed us," says Quan. Susana Ye argues the change in perception is due to economic interest in China. "People study Chinese, they are interested in learning how to set up a business in Beijing," she explains.
But despite this progress, Yi Yi believes racism will persist. "There are always going to be people who simply don't accept us for who we are." One has to get used to the insults: "It makes no difference to me if they call me Chinese piece of shit, I don't let it affect me."
The illustrator Quan is more optimistic: "We are not that different. It doesn't matter where you are from, if you are a good person, what matters and what's good is there." Susana Ye adds: "Now is the time for them to stop seeing us as a uniform mass and starting seeing us as individuals."
English version by Melissa Kitson.