The future of Spanish gastronomy
Spain's cuisine has received international recognition in the last few decades, with Michelin stars aplenty and rave reviews. So where to now? It seems that the way forward is a step back to traditional fare and unbeatable local produce
Food has never been better in Spain. At no other time has the country been home to such a wide range of restaurants, suited to such a cross-section of budgets. In 2017, the Michelin guide recommended as many as 412 restaurants where you can eat for less than €35. The choice is astounding, indicating not only a recovery from the economic crisis, but also a wealth of culinary expertise based on solid know-how, thriving tourism and a healthy gastronomic reputation.
"Alicante, Malaga, Galicia, Asturias, Girona, Mallorca, Madrid... there's a vibe," says José Carlos Capel, president of the Madrid Fusión food fair and EL PAÍS' food critic. "We are witnessing a fourth generation of very young chefs who are making a name for themselves with cuisine that focuses on the raw ingredients while giving traditional recipes a modern twist."
We have never eaten so well before. There has never been such quality and quantity of choice across the country
Fresh pieces of hake (merluza) are floured, given a gentle blow-dry then bathed in lightly beaten organic eggs. Fresh and fruity Arbequina olive oil is heated to 160ºC and the fish is fried until golden before being moved to a frying pan with milder olive oil heated to 120ºC, enabling it to glaze without the coating crumbling. After a few minutes, the fish is moved to sunflower oil heated to 80º to finish off the glaze. Finally, it is placed on an absorbent towel.
It is a classic recipe that Miguel Cobo has spent years perfecting. In 2007, his family reopened the El Valleés hotel in Briviesca, Burgos, and he was put in charge of the restaurant that has long been famous for its hake.
"The story goes that the owners stopped the lorries on their way to Madrid from the Basque town of Ondarroa and bought the fish directly from the drivers," says Cobo. "Some say they put it in milk. But Floren, one of the chefs from that golden era I hope to return to, gave me a blow-by-blow account of how they did it. That's where I got my obsession with hake from."
Available year-round and apparently simple to make, this is a signature dish of the Cantabrian chef, who opened his own restaurant, called Cobo Vintage, in Burgos in 2015 after appearing on the television show Top Chef. "We are returning to our roots. My cooking is a blend of traditional Burgos fare with a hint of the sea from Cantabria," he says amidst a delivery of bread, eggs and seaweed to his kitchens. Hyperactive and charged with ambition, Cobo is already looking for a bigger venue.
"I want a place with two separate spaces," he explains. "One where I can show off the traditional foundations ­– we make meatballs, bean stew, beef cheek [carrillera] and fish – and another that would be for the more experimental cuisine where classic recipes are elaborated upon. I don't want to say no to anything. I want to serve traditional bean stew and also offer my desserts."
The spirit of Ferran Adriá's avante-garde deconstructed cuisine is very much alive in restaurants such as Disfrutar in Barcelona run by three chefs from the famous now-closed, elBulli restaurant: Mateu Casañas, Oriol Castro and Eduard Xatruch, and also in Mugaritz, in the Basque Country, where Andoni Luis Aduriz wields his magic.
But, according to Capel, we are at a crossroads. "Before, technique was applied to the dish. 'Spherification' is an example of this [shaping liquids into spheres to resemble caviar]. Nowadays, technique is hidden and the ingredients are the protagonists."
Joxe Mari Aizega, director general of the Basque Culinary Center in San Sebastián, agrees. "In reality, the ingredients have always been the key, but the angle was different before," he says. "The emphasis was on technique but the ingredients have always been high quality. Chefs are the guardians of good produce. It's simply that tradition, culture and region are treated with more sensitivity than in the past. Respect and evolution need to exist side by side so that new chefs can carry out their interpretations [of traditional recipes] freely."
Giving a new twist to old recipes is precisely what Victor Membibre, 23, does in his family's restaurant in Argüelles, Madrid. When he was small, he loved to watch his father at the stove in his chef's apparel, though he himself only assumes the traditional look for photos, preferring to work instead in a black shirt and Ikea apron in a kitchen alive with reggaeton music and the songs of rock band Guns N' Roses.
Membibre respects the seasons and tradition. Switching on the lights in the restaurant, he says: "The food was always delicious here. It wasn't innovative cuisine – nothing like that. It was just delicious."
He has, however, given the menu that made this restaurant famous when it was opened by his grandparents in 1968, a slight makeover, though he insists it could hardly be called revolutionary. "My father cooked what was in season. Customers who used to come here when my father and grandfather were in charge are really pleased now because the change really hasn't been that hardcore. I'm not doing modern cuisine."
There's pigeon, Saint Peter's fish (tilapia) and Mont Royal hare, though he points out these dishes are not always available. "We change three dishes on the menu every day," he says. "We cook what we can get at the market. If there's no Saint Peter's but there is grouper fish, we change the recipe. You have to keep improvising," he explains.
Tradition, culture and region are treated with more sensitivity than in the past Joxe Mari Aizega, Basque Culinary Center
"This year, Spanish boletus [mushrooms] were only available for 15 days so that's how long we had it on the menu. I won't go looking for Romanian boletus because it has no smell," he adds.
In 2004, 12 chefs, led by the Danish duo Claus Meyer and René Redzepi, signed the "Manifesto For New Nordic Cuisine," based on the principle that dishes should be cooked according to tradition and fresh, local produce. Subsequently, some of the most radical Nordic chefs went as far as to banish olive oil, foie gras, lemons and tomatoes from their kitchens, keeping strictly to Scandinavian produce. This manifesto gave rise to two phenomena. First, Nordic restaurants became trendy but, more importantly, chefs everywhere began to build their cuisine using local ingredients.
According to Galician chef Lucía Freitas, focusing on local produce is just good sense. Her restaurant, A Tafona, is a mere stone's throw from the Mercado de Abastos food market in Santiago where she can be found at 9am every day. "I'm lucky to have such a delicious larder on hand," she says. "It's essential to have local producers close by." She also has a vegetable garden tended to by her retired father where she grows herbs, tomatoes and peas.
"I get excited when I serve up an eggplant that was in the ground just two hours earlier, or if I use a recently picked tomato that is still warm from the sun," she says.
This enthusiasm for local produce is a hallmark of the new generation of chefs. It is also, according to Joxe Mari Aizega, essential. "A chef should value the produce from their own country. The Scandinavians have been doing this for a while and Latin America is also getting to grips with it. Here, in Spain, we have a wide range of high-quality ingredients and increasingly important agricultural development. The challenge is to promote products that are authentically indigenous to the area, in order to maintain biodiversity. The industry is more focused on efficiency and profitability," Aizega says.
It was food critic Antonio Vergara who told María José Martínez, a Murcia-born chef, about brill after noting that her restaurant Lienzo – born with the help of her partner Juan José Soria in Valencia – had wild turbot on the menu. Brill is wild turbot's less famous but equally delightful cousin. "It has been forgotten because almost all fish nowadays come from fish farms," says Vergara. "Brill is not as expensive as wild turbot, but it is Mediterranean and more authentic," explains Martínez.
Cuisine is one of the deciding factors when tourists choose their destination. They are seeking new and authentic culinary experiences
Now, the restaurant serves brill with creamed spinach and Carril clams. "I'm a chef and I am aware that part of my job is to listen closely to the experts and producers," says the chef. "They know more about the wealth of our environment than me."
Spain is hoping to finish the year with a new record of 80 million international tourists. According to the World Tourism Organization, cuisine is one of the deciding factors when it comes to choosing a destination. In fact, the appetite for new and authentic culinary experiences is making foodies increasingly more adventurous.
Locals from the Faroe Islands have still not got over the numbers coming to their shores, including Scandinavians, British, Americans and Japanese. They are all landing at Vágar Airport with the singular aim of trying out steamed prawn, fermented lamb, sea urchins with parsley cooked up by 26-year-old chef Poul Andrias Ziska, who earned himself a Michelin star in February this year.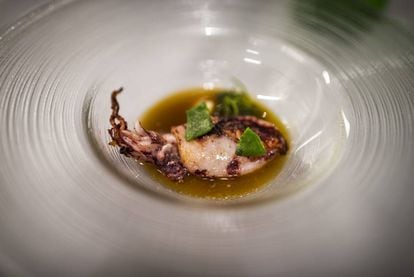 And if some are prepared to fly to this remote archipelago halfway between Iceland and Norway simply to eat, what's a few hundred kilometers to Bailén to feast on oyster with local pickles made by chef Jesús Moral at the Taberna de Miguel, or chickpeas with boletus lovingly put together by Elena Lucas in her mycological restaurant La Lobita in Navaleno, Soria?
Nagore Irazuegi talks about truth rather than authenticity. It is, she says, what defines the traditional Basque cuisine – pickles, Beasain black pudding with hot peppers, steak, squid in their own ink – at her restaurant Arima Basque Gastronomy. "I tried to bring the wonderful produce from the vegetable gardens I was surrounded by as a child to Madrid," she explains enthusiastically.
"I also make an effort to inform customers [about the food]. If I serve medium-sized asparagus because the big kind have too many strands and less flavor, I want the customer to know so that he or she can appreciate the raw ingredients I worship," she adds
English version by Heather Galloway.