Reactions to Spanish PM's day in court: "impertinent," "incompetent" and "a liar"
Spanish opposition unimpressed by Mariano Rajoy's claim he knew nothing about PP's financial affairs
Political reaction to Spanish Prime Minister Mariano Rajoy's court statements on Wednesday was swift and scathing. Soon after the Popular Party (PP) leader walked out of the courthouse where he had testified as a witness in the long-running Gürtel trial, involving widespread political graft, all the opposition parties issued their views on this unprecedented event.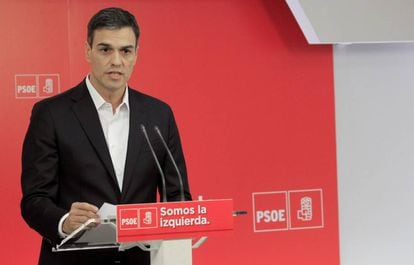 Rafael Hernando, the PP spokesman in Congress, was alone in his view that Rajoy's statements had been "impeccable." As for the opposition, everyone agreed that the PM had failed to provide satisfactory explanations.
Pedro Sánchez, secretary general of the Socialist Party (PSOE), the main opposition group in Congress, said that "it is a dark day for democracy" when a head of government has to testify in a corruption case. In a long statement that he read out at party headquarters, Sánchez concluded that Rajoy "has just one way out: to tend his resignation to the king."
Rajoy on Wednesday denied any knowledge of the existence of a secret slush fund at the Popular Party
"Mr Rajoy, out of democratic dignity, you must resign. I resigned to defend what I stand for. What do you stand for?" said Sánchez, alluding to when he quit as PSOE leader in early October of last year, when Spain was trapped in a political stalemate following two inconclusive general elections, and his party decided to let Rajoy be reinstated by abstaining at a congressional vote. Sánchez had opposed that move. He was later re-elected to the post of secretary general.
The image of the country's prime minister in the courts, he added, "is the summary of six years of excesses and plundering by the PP."
In a similar vein, the leader of the anti-austerity party Podemos, Pablo Iglesias, said he felt "embarrassed" by the "impertinent and cocky" tone employed by Rajoy to speak in court. "Either Rajoy is lying to protect the PP, or else he is a tremendously negligent man. He should not remain the head of government," he said.
"It's embarrassing to see the impertinence and cockiness with which Rajoy speaks to citizens."
Joan Baldoví, the congressional speaker for the Valencia coalition Compromís, agreed that a secretary general who is completely ignorant about the economic affairs of his own party is either "lying" or "incompetent."
On Wednesday, Rajoy had claimed that while he was party chief he had only dealt with political issues, not financial ones. "I was never in charge of anything to do with accounting," he told the court, after being asked about the alleged existence of a parallel accounting system used for opaque donations and illegal party financing.
Barcelona Mayor Ada Colau also criticized Rajoy's statements. "All his 'I don't remembers' are offensive," she tweeted.
"All [Rajoy's] 'I don't remembers' are offensive:" Barcelona mayor Ada Colau
José Manuel Villegas, secretary general of the protest party Ciudadanos, considered Rajoy's statement "not very credible" and said it is "deplorable" for a head of government to have to testify in court over corruption in his own party.
Josu Erkoreka, the Basque government spokesman, said at a press conference that the PP "owes society a credible, comprehensive and profound explanation about all the corruption cases that have emerged one after the other in recent years."
English version by Susana Urra.