JUAN GABRIEL INHERITANCE BATTLE
Florida judge asks to verify if will left by crooner Juan Gabriel is authentic
Beloved idol named just one heir, but two unrecognized children are mounting legal challenge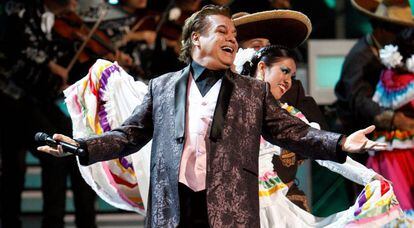 Three of the children of Mexican crooner Juan Gabriel, a national idol who died in late August at the age of 66, came together face-to-face for the first time on Wednesday inside a courthouse in Broward County, Florida. The artist's will, which has been made public, establishes that his son Iván Aguilera is his universal heir.
But Joao Gabriel and Luis Alberto Aguilera, who have proven through DNA tests that "El Divo of Juárez" was also their father, have filed a suit against being left out of an inheritance estimated at $30 million or more, including at least 30 properties in Mexico and the United States.
The death of the bigger-than-life showman has triggered a family feud over his inheritance. His eldest son Alberto Aguilera Jr., who is adopted, did not attend the hearing on Wednesday. He was also left out of the will.
Even the cleaning lady in Santa Fe has seen the will
Annelie Alvarez, lawyer
Judge Charles M. Greene, of Broward County, determined that the lawyers representing Joao and Luis Alberto may carry out an investigation of the singer's will, which appears to contain several irregularities, such as no signature. A passport was used for identification, but there appear to be two passports in existence, El Universal Agency reported.
If any irregularity is confirmed, there could be enough of a basis to mount a legal challenge against the will.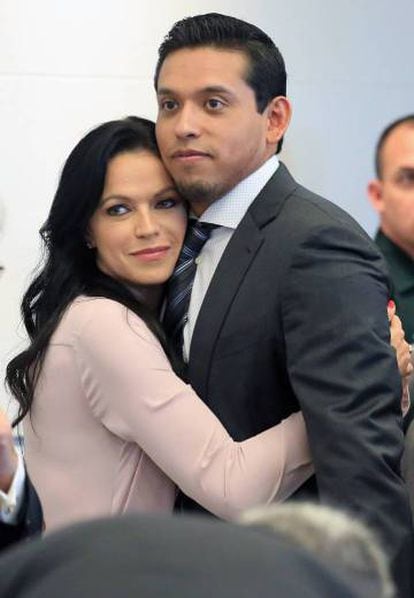 The 45-minute hearing had been scheduled since February, and it was the first time that all three brothers were present under the same roof. Just a day earlier, Joao had met his uncle Pablo for the first time; it was Pablo, the late singer's brother, who provided DNA samples that confirmed the relationship between the artist and his son Joao.
During the hearing, Judge Greene decided to make the will public, after learning that several media outlets had leaked the document on Monday, according to El Universal Agency.
"Even the cleaning lady in Santa Fe has seen the will," said Annelie Alvarez, the lawyer representing Luis Alberto and Joao, according to Univisión.
A daughter
A month ago, a 42-year-old woman named Claudia Gabriela Aguilera stepped into the limelight claiming to be Juan Gabriel's daughter. She showed the television network Telemundo the document proving her relationship with the crooner, but did not show up at the hearing, either.
In the meantime, Joao has filed around a dozen lawsuits against Iván Alguilera, the universal heir, in a Florida court. One of the motions, to which EL PAÍS has had access, even questions whether Iván is genuinely one of Juan Gabriel's children, and calls for a DNA test to be carried out to prove it.
Juan Gabriel and his wife Laura Salas had four children: Iván (28), Joan (27), Hans (26) and Jean Gabriel (25). He also adopted Alberto Aguilera Jr.
English version by Susana Urra.