Defiant Venezuelan opposition to push on with protests against president
Three dead in clashes throughout the country on Wednesday; 100,000 people marched in Caracas
After anti-government protests on Wednesday that rallied more than 100,000 people onto the streets of the Venezuelan capital, Caracas, the opposition says it intends to keep up the pressure on President Nicolás Maduro and is calling for another show of strength on Thursday.
The mood in the capital on Wednesday was tense as opponents and supporters of the government staged their own marches, clashing at different points in the capital.
Three people died: a man just three days short of his 18th birthday was shot in the head in Caracas, while a 23-year-old woman died from gunshot wounds in Táchira state, in the west of the country. An officer with the Bolivarian National Guard also died on the outskirts of Caracas.
Diosdado Cabello, a deputy for the ruling United Socialist Party of Venezuela, founded by former president Hugo Chávez, has accused opposition leader Henrique Capriles, who is governor of the state of Miranda, and his followers of being responsible for the death of the police officer.
Venezuela is in the grip of an unprecedented and worsening economic crisis
Capriles has described the government's response to the protests "repression," and called on Venezuelans to take to the streets of the capital again on Thursday.
The opposition has four main demands: new elections; the release of political prisoners such as Leopoldo López, the former mayor of Chacao, a district of Caracas, who has been in jail since 2014; the creation of a "humanitarian channel" to help meet food and medicine shortages; and finally, full recognition of the authority of the National Assembly, which is controlled by the opposition.
At the end of March, the government-controlled Supreme Court briefly stripped the National Assembly of its powers, returning them within a few days, but sparking new street protests over the last three weeks.
Venezuela is in the throes of an unprecedented crisis that is hitting it from all sides: it has one of the highest inflation rates in the world, violence and crime are rampant, people are unable to find necessary everyday items, and the social fabric is breaking down.
The opposition's tactic of street protests has so far failed to bring about any change in Venezuela. In 2014, a wave of unrest swept the country, leaving more than 40 dead, though now many opposed to the government say they feel protesting is pointless.
Vatican-backed talks to bridge the country's deep political crisis between Venezuela's opposition and the socialist government, and in which former Spanish prime minister José Luis Rodríguez Zapatero has played a mediating role, broke down in November.
Last year, the opposition pushed for recall referendum against Maduro, hoping to force a new presidential election, but authorities thwarted them and also postponed local electoral races that were supposed to have been held in 2016.
Maduro's term in office ends in January 2019.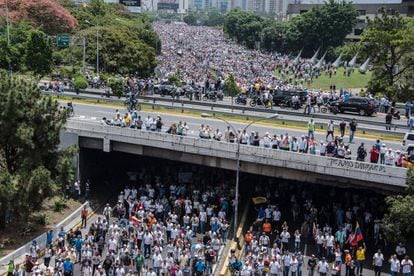 English version by Nick Lyne.