Power struggle following extradition of 'El Chapo' Guzmán erupts in Sinaloa
Mexican state is witnessing an upsurge in violence unseen for almost a decade
The Mexican state of Sinaloa has been gripped by escalating violence following the extradition of drug kingpin Joaquín El Chapo Guzmán in January. Between Sunday and Tuesday, 13 people died in five gun battles between criminal gangs in the capital of Culiacán.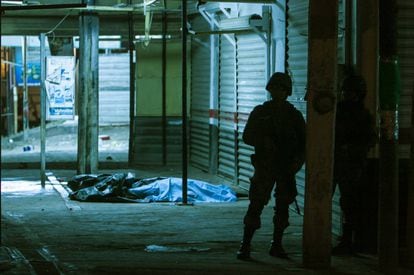 El Chapo's extradition has created a power vacuum within the Sinaloa cartel that former leaders and Guzmán's sons are fighting to fill. This has led to an increase in violence not seen since 2008 or 2011, during the worst years of the war against the drug cartels unleashed by former president Felipe Calderón.
On Sunday evening, two gangs fought a gun battle near the airport at Sinaloa's capital of Culiacán that left two people injured. Less than an hour later, two men died in a shootout in the city. On Monday, Mexican troops confronted a group of armed men, but no casualties were reported. The following day, a clash between security forces and armed men in Culiacán left six dead.
Key police officers have been replaced by members of the armed forces
On Tuesday afternoon, in the small community of Navolato, around 55 km from Culiacán, a shootout between two rival gangs left five dead, one of them a woman with no relation to the gangs who was hit by a stray bullet.
Videos and reports on the social networks warning of the presence of groups of armed men and gunfights in different areas of the city have prompted widespread panic. In response, state prosecutor Marco Antonio Higuera held a press conference on Wednesday morning explaining that the gunfights were between two rival gangs and that a strategy involving federal security forces was being worked out to prevent a return to the violence of nine years ago.
Following El Chapo's arrest and extradition to the United States on January 19, a power struggle is being waged within the Sinaloa cartel for control of the organization, says journalist Javier Valdez.
"The only person with any influence and power within the organization is Ismael Zambada [one of the founders of the cartel] but he has not shown the same level of violence as El Chapo's sons or his brother Aureliano Guzmán and this has led to misunderstandings between them," says Valdez.
El Chapo had reportedly reached an agreement with Zambada over roles and responsibilities within the Sinaloa Cartel, but following his extradition, El Chapo's sons have allegedly fallen out with Zambada. "They don't want to take his advice. They are much more violent and are more sympathetic toward weapons than toward words, and that is very dangerous," says Valdez.
Residents of the capital, Culiacán, are gripped by panic
The situation in Sinaloa has been exacerbated by the arrival of a new state governor, Quirino Ordaz, who replaced key people in local and regional positions with members of the armed forces, says Valdez.
"He got rid of everybody who was working with the drug traffickers in the state and put in new people with no connection. But if you replace the police chiefs you destabilize everything: who they have to work with, who to negotiate with, and who to see," he explains.
Martín Barrón agrees that the increase in violence began after Ordaz made the changes throughout the police force.
"Like it or not, some kind of agreement needs to be reached with these criminal gangs so that they can function," he argues.
English version by Nick Lyne.