The White House no longer speaks Spanish
Politicians, educators and activists say the move is detrimental in a country with 57 million Hispanics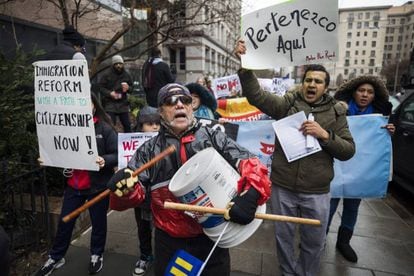 During Barack Obama's eight years in office, the website had offered translations of English-language information and original Spanish content on topics of interest to the Hispanic community.
On Monday, a White House spokesman said that the move is temporary but that it will "take a while" before Spanish is back. "We are continuing to build out the website, both in the issue areas and then that area," said Press Secretary Sean Spicer at a press briefing. "Trust me, it's just going to take a little bit more time, but we're working piece by piece to get that done."
But not everyone is convinced.
Let's speak Spanish on the streets and at school, at the mall, in public transportation, in the squares
Cristina Rivera Garza, writer
"Nobody should be surprised at the fact that [Donald Trump] has eliminated the Spanish-language site," says Ana Navarro, a Republican political commentator with family roots in Nicaragua and a vocal critic of the new president.
"As a candidate, save for making promises to the Cuban community, verbally attacking immigrants and promising to build a wall along the border paid for by Mexico, he paid no attention to the Spanish-speaking community in the US," she notes.
"And as a president he has failed to appoint a single Hispanic to his Cabinet, which is a first in decades," adds Navarro.
During the campaign, Trump's sole references to Spanish were his depictions of Hispanic criminals as "bad hombres" and his recommendations to Republican hopeful Jeb Bush – whose wife Columba was born in Mexico – "to lead by example and speak English."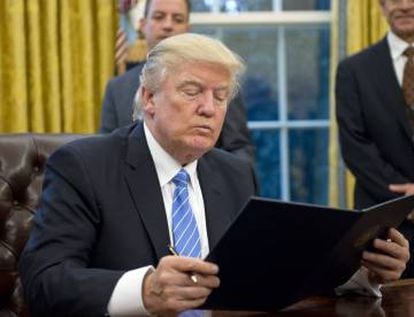 "The fact that we've been deleted from the website does not mean we've been deleted as Americans," says Nannete Díaz Barragán, a Democratic congresswoman born to Mexican parents who secured her seat as a representative of the state of California at the last election.
In Orlando, Florida, the Puerto Rican activist Jimmy Torres sees the move as "another step by Trump to win over the most reactionary sector among American racists. This man keeps feeding meat to the wolves. It is yet another show of contempt for the Latino community."
In California, the state with the strongest economy and the largest Spanish-speaking community, it is practically unthinkable not to have an institutional communication channel in Spanish. From the LA subway's public address system to election information, there is a Spanish version for nearly everything. LA Mayor Eric Garcetti's press conferences are offered in English and Spanish.
And in Florida, the population of Miami-Dade County is 65% Hispanic. In the city of Hialeah, the rate is upwards of 90%.
Steve Zimmer, head of the Los Angeles Unified School District (LAUSD) Board of Education, emphasizes the relevance of Spanish.
The fact that we've been deleted from the website does not mean we've been deleted as Americans
Nannette Díaz Barragán, Congresswoman
"It is of fundamental importance for our parents to have access to information about their children's education in their own language," he says in an email exchange. As a matter of fact, his office is preparing to offer translations into several languages.
Zimmer, whose school district is the second largest in the country, adds that the fact that the White House has dropped the Obama administration's commitment to providing adequate service to all communities "is part of a fundamental attack against our democracy, which is something that we should all be alarmed at."
The situation is similar across the American southwest. In Arizona, between Tucson and the Mexican border, the road signs are in kilometers rather than in miles. In Texas, 48% of students are Hispanic, according to the Pew Research Center. Government agencies in any big US city automatically offer information in Spanish.
But not so at the White House, not since last Friday.
"I hope this is something they hadn't prepared for, and is just temporary," says Ben Monterroso, director of Mi Familia Vota (My Family Votes), an organization that works to encourage Latino participation in politics. "If it is permanent, it is more serious. Still, it is an indication of how much of a priority we are to them. You don't need to speak English to be an American. You are American by the way you contribute to this country."
David Huerta is the LA president of the Services Employee International Union (SEIU), the largest services union in the US. Many members are Latino immigrants, and some of them do not speak English.
"This is discrimination," says Huerta. "How does a person who cannot speak English communicate with the government? Not just Hispanics, but Chinese, Arab people. English is not the only language in the US. It's obvious that this is a message that when this president says America First, he is not including Hispanics, who are the first minority in this country and a majority group in many parts of the southwest. This is the new reality: the president does not see us as part of this country."
Cristina Rivera Garza, a Mexican writer who teaches Hispanic studies and creative writing at Houston University, suggests a non-violent form of rebellion.
"The demographic changes that made Spanish a necessary, living language will not be reverted overnight. Let's speak Spanish on the streets and at school, at the mall, in public transportation, in the squares. Let's continue to write in Spanish from the United States. That will also be our own resistance against Trump."
English version by Susana Urra.
More information