HEALTHCARE
Spain retains its lead in organ transplants, reduces waiting times
Hospitals continue to improve interdepartmental coordination to identify possible donors
Spain, a world leader in organ donation and transplants for the last 25 years, has once again beaten its own record in 2016, with an average 43.4 donors per million inhabitants (a total of 2,018 donors) and 4,818 transplants. Waiting lists in just about every organ category have fallen, from 5,673 patients in 2015 to 5,477 in 2016, a drop of 196.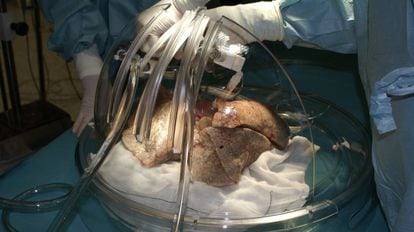 In total, last year 2,994 kidney transplants were carried out. For livers, the figure was 1,159; for hearts 281; and 307 for lungs. There were also 73 pancreas and four intestinal transplants.
The figures were presented at a press conference by Health Minister Dolors Montserrat during a visit to the headquarters of the National Transplant Organization (ONT) on Wednesday, which has been headed by Rafael Matesanz for the last 28 years. He will be standing down in the coming months.
The oldest donor in Spain last year was aged 94 and provided a liver
The ONT says the improved results come from the increased use of non-heart-beating donors – who make up one in four of people who donate an organ – along with better coordination with medics working in accident and emergency to identify possible donors.
At the same time, there was a fall in the number of kidney transplants from living donors: 341 compared to 2015's 388, probably as a result of more organs being available from deceased donors.
The ONT says that donors are becoming progressively older: 54.6% are now aged over 60, close to a third are 70 or older, and almost 10% are in their eighties; the oldest donor in Spain last year was aged 94 and provided a liver.
For the first time, every region in Spain has provided more than 35 donors per million inhabitants, with more than 60 per million in Cantabria, the Basque Country and Navarre, and more than 50 per million in Murcia and La Rioja.
English version by Nick Lyne.