Spain's pig aristocracy emigrates to Texas
Two Spanish entrepreneurs become the first to bring animals to the United States for breeding
During Barcelona's 2015 Mobile World Congress, Mark Zuckerberg was asked what made him a regular visitor to Spain. "Probably the ham," he replied. Now, thanks to the pioneering enterprise of a Spanish business duo, it won't be long before the Facebook founder will be able to satisfy his passion for the Iberian delicacy without having to leave the comfort of his own country.
In 2013, Barcelona-based marketing executive Sergio Marsal and agricultural engineer Manuel Murga, from Seville, attracted a $3 million investment from Spanish companies to blaze a trail to the US.
The following year, 145 sows and five lucky boars of the highly prized Ibérico breed boarded a transatlantic flight to be the first of their kind to set foot in the United States.
Jamón ibérico de bellota, one of Spain's top delicacies, is made from free-range Ibérico pigs that graze on dehesas and feed on acorns. Until now, these pigs had been raised exclusively in the Iberian Peninsula.
Our civil servants are scared to put their signature to anything new
Sergio Marsal, Acornseekers
According to Marsal, records in Seville's General Archives of the Indies testify to the fact that Christopher Columbus took eight Ibérico pigs with him on his second journey to the Americas in 1493, although they didn't get further than Cuba. "He is our inspiration," says Marsal.
Acornseekers, Murga and Marsal's US company, has a 75-acre ranch in Texas where acorns are plentiful. They also have two breeding agreements with local farmers who raise the pigs at their own expense in return for a share of the annual profit.
Now numbering 3,000, these expensive and time-consuming animals graze freely on acorns in the winter oak belt that stretches from Jacksonville, Florida, to California.
"Manolo, our technician, believes that the holm oaks were here before the Spanish came to America, but I prefer to think that we brought them with us," jokes Marsal.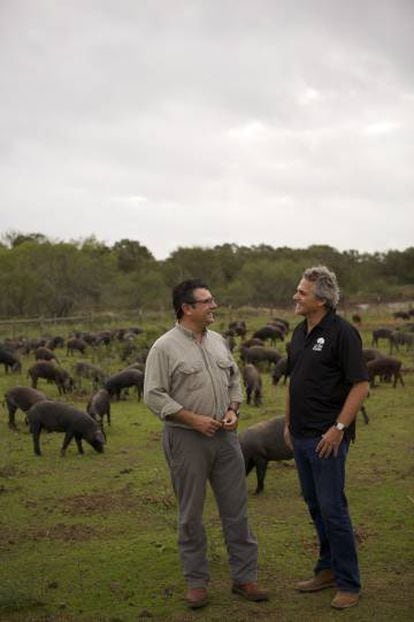 And apparently, the US acorn is in no way inferior to its Iberian cousin. "Its oleic acid content is perfect," says Marsal. "The difference between it and the Quercus Ilex – the Spanish holm oak – is minimal."
Getting Ibérico pigs to the US from Spain, alive or otherwise, has proved a long and complicated business. After years of struggling with red tape, ­Embutidos Fermín was the first company to manage the sale of cured bellota ham in the States in 2007.
Now Murga and Marsal have faced down Spanish bureaucracy – the main obstacle – to bring Americans the source of the product. "Our civil servants are scared to put their signature to anything new," says Marsal.
Marsal also believes that the Spanish Ibérico industry brought pressure to bear on the authorities to stop Ibérico pigs leaving Spain. "It seems that some people feel we are robbing the country of a national treasure when our philosophy is the opposite; we want to export the best of our gastronomy like the French did with their wine in California's Napa Valley," says Marsal, who remembers his parents desperately trying to find a restaurant with a wine list in 1979 Miami.
"Less than 40 years later, Americans consume more wine than any other country in the world, and more Spanish wine than anywhere outside of Spain."
Having raised the $2 million required to build a ham curing facility, Acornseekers hopes to be selling its first legs of ham in America by 2018 for an eye-watering $1,000 a piece – three times what they sell for in Spain.
However, Murga and Marsal are aware that they first have to educate the American palate and that profits may take some time to materialize. Meanwhile, they have been slaughtering Ibérico pigs to be sold as fresh cuts of pork, something Americans are more familiar with.
"It would be nice if one day they forgot about having turkey for Thanksgiving and put a leg of Ibérico in the oven instead," says Marsal. "It could be their own Ibérico – Made in America – just the way they like it."
English version by Heather Galloway.