Is Mexico about to ban dog fighting for good?
Raft of legislative proposals could put end to inhumane activity most Mexicans disapprove of
The cruel yet lucrative pastime of dog fighting could soon be a thing of the past in Mexico with legislators and animal rights groups working overtime to stamp it out for good. On Wednesday the Mexican Senate green-lighted draft legal reforms which would, if passed, see organization of events banned at the federal level.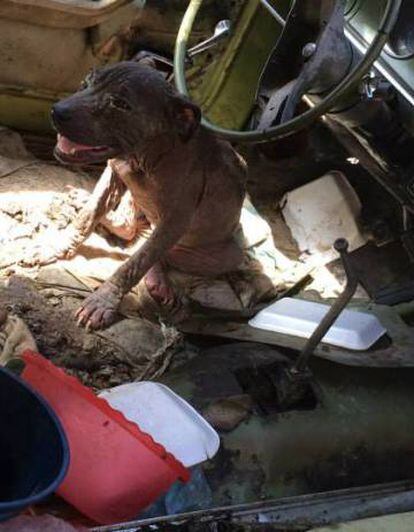 At the same time, animal rights groups have introduced two initiatives into the country's Congress. These aim to extend this prohibition to every aspect of the activity from the breeding and sale of the animals used to the brutal training regimes undergone by the dogs and even possible punishment for people who attend dog-fighting events.
Dog fights occupy a special place in the Mexican popular imagination but a recent study shows that only 1% of people are in favor of these events, while 80% would like to see a ban.
Many Mexican states are currently looking at restrictions for cruel spectacles involving animals, with the current legal framework insufficient in most cases, according to civil organizations who say competitions involving fighting dogs continue to openly take place during municipal celebrations around the country.
The new draft text of Mexico's environmental law makes provision for a ban on the "organizing, inducing or provoking of dog fights," and activists now hope the reform will see final approval within the next three months.
"It's good news in terms of getting rid of this practice. Organizers usually brutally kill dogs who lose. And the animals who emerge out as 'winners' often die because of hemorrhages, injuries or infections caused by the fight. These events also cause emotional damage and affect dogs' mental states, because no animal is aggressive by nature," says Antón Aguilar, executive director of the Humane Society International of Mexico, part of a US organization which operates on both sides of the border.
Organized crime mafias are often involved in dog fighting events Antón Aguilar, Humane Society International
Aguilar says there has been a spike in dog fights in Mexico and Central America after a ban was put in place in the US. "This activity has more wide-ranging consequences than animal abuse. The dogs are worth thousands of dollars and bets are very high. Organized crime mafias are often involved in these events," he explains.
Against this backdrop, more than 200 civil organizations – including groups working to fight human trafficking – have brought to Congress two legislative proposals aimed at changing the penal code to include punishment for those involved in activities in and around dog fighting.
"The most important thing is that every part of the business chain is classified as a crime: from breeding and commercialization of species to the store owners and betting slip sellers, and people who go to dog fights. The fights usually take place at night and in isolated locations. It is very difficult for police to catch organizers in flagrante delicto," says Aguilar.
English version by George Mills.