SPANISH POLITICS
Family feud highlights bitter divisions between Spain's newest parties
Public spat between uncle and nephew comes after rowdy scenes in Congress over views on ETA
The fallout from the fiery parliamentary session on Saturday that saw Mariano Rajoy of the Popular Party (PP) voted back in as the country's prime minister has taken a personal turn with two members of the same family now engaged in a war of words.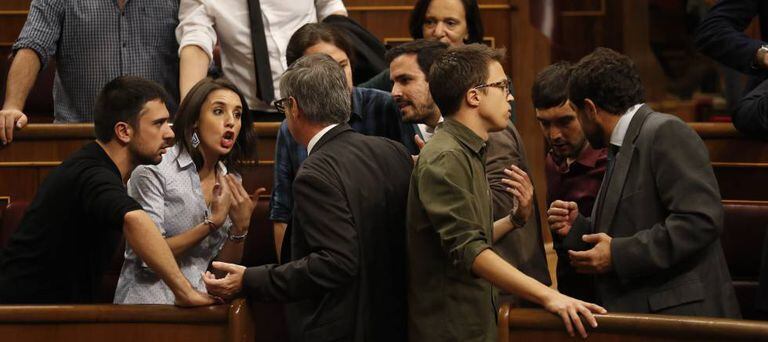 Fernando Maura Barandiarán and Eduardo Maura Zorita are uncle and nephew. Both come from Bilbao in Spain's Basque Country and both can trace their ancestry back to Antonio Maura, who was prime minister of Spain on five occasions between 1903 and 1922.
You are either with the victims or you are with the terrorists
Ciudadanos deputies in Congress
But that is where the similarities between the two end. After a long career that has included stints with a number of political parties, including the Socialist Party (PSOE), 61-year-old Fernando is now a deputy for Madrid with Spain's emerging center-right party Ciudadanos. His nephew Eduardo, on the other hand, is a deputy with the left-wing group Podemos.
Both parties have emerged as a response to Spain's economic crisis and in the wake of a series of corruption scandals that have battered the reputation of Spain's two largest parties, the conservative PP and the PSOE.
However, the two parties have regularly come to blows since their inception, especially on the issue of how to tackle the end of Basque terrorist group ETA, which killed 829 people over 43 years before announcing a "definitive end" to armed violence five years ago.
For Ciudadanos, the way forward lies in submitting ETA to legal pressure and social isolation, and the party has slammed Podemos for not signing a state-sponsored anti-terrorism pact. Podemos, for its part, has always condemned the crimes of the terrorist group but has stated that all victims and their families – including ETA members – should receive the same level of recognition by the state.
The question of ETA was the flashpoint again after Gabriel Rufián, the spokesperson for the Catalan independence party Republican Left of Catalonia (ERC), and Oskar Matute with the radical left-wing Basque party Bildu, slammed the PSOE as traitors for allowing Mariano Rajoy to be voted back in as prime minister by abstaining in the vote that led to his investiture.
Threatening people is not part of how I do politics or how I live Eduardo Maura Zorita
"It stills smells of quick lime," said Matute, a reference to the state-sponsored torture and murder of ETA members José Ignacio Zabala and José Antonio Lasa by the so-called GAL (Antiterrorist Liberation Groups) death squads in the 1980s under the Socialist government of Felipe González.
A furious Antonio Hernando, spokesman for the Socialists was quick to react, reminding the congress: "The Socialists have given blood, sweat and tears, only to listen to [Rufián] say today…"
His words were greeted with applause from both sides of the political fence, but Podemos deputies did not join in – a silence that saw members of Ciudadanos shouting: "You are either with the victims or you are with the terrorists."
"You have just applauded Bildu and you make fun of us when 254 deputies applaud in honor of the victims of ETA," tweeted Ciudadanos spokesperson Juan Carlos Girauta after the incident.
Eduardo Maura Zorita then tweeted back: "Girauta, be careful what you say. Some of us come from there [the Basque Country] and have more experience with that. Cheap insults do you a disservice."
It was then that the Podemos deputy's uncle Fernando stepped into the fray, describing Eduardo's message as a threat in an article in newspaper Diario 16, in which he contrasted the position of their forefather, who wanted a unified Spain, with the Podemos policy of promoting referendums on the issue of self-rule in Spain regions.
"What would Antonio Maura think if he could see what his great-great-grandson is doing and saying?" he told EL PAÍS.
"I don't know how much direct knowledge he has of the dark years of ETA. He has said that he has spoken to my bodyguards about my personal situation, or about their situation, but he has never spoken to me personally," he said.
A business partner of Fernando's father was killed by ETA while he himself was accompanied by bodyguards while a politician in the Basque Country.
Fernando said that some political groups acted as if ETA had never existed, describing this as a form of "collective amnesia" and decrying a situation where many people have had to give up "a great deal of their liberty" to stay alive.
But his nephew Eduardo told EL PAÍS he had never threatened anybody. "Threatening people is not part of how I do politics or how I live," said the 35-year-old, adding he had been threatened on social media on recent days, with people accusing him of "working with ETA."
Eduardo highlighted he had worked with the Gesto por la paz peace movement in school and had plenty of experience with working with victims of the terror group.
He said attempts to link both him and Podemos with terrorism overstepped "ethical boundaries in politics" and added the behavior of those who had accused him of threatening Girauta was "deplorable."
English version by George Mills.