A tour of 15 Spanish cities through their most typical dishes
From hearty stews to refreshing soups, here is what to look for and where to eat it
There are cities in Spain whose names are inextricably associated with a certain dish. Each culinary creation is made following centuries-old recipes, and some even have their own calendar day.
Migas in Teruel
Migas, a simple but hearty dish that literally means "crumbs," is the choice of reference in the Aragonese city of Teruel, where winters can be freezing cold. A loaf of bread is crumbled and left to soak overnight in water and salt. It is then fried with garlic in very hot olive oil, stirring constantly to prevent the mix from sticking to the bottom of the pan. Cubed ham, chorizo, bacon and grapes are added to the mix, with the latter ingredient contributing a touch of freshness to this satiating concoction. Some people hold that Teruel's migas go all the way back to the 16th-century hormigos, made with bread and wheat. For a tasty sampling of modern migas try La Barrica (c/ Abadía, 5), a classic stop in the local tapas scene.
Trigo in Almería
Salmorejo in Córdoba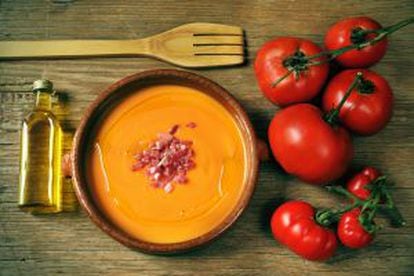 Txangurro in San Sebastián
Callos in Madrid
Paella in Valencia
Cocido maragato in Astorga (León)
This is a typical dish in the Maragatería, an area of León province that was once home to the Maragato people, a distinct social group with their own traditions. This stew is notable in that it is served "backwards" from other Spanish stews: first come the seven varieties of meat, then the vegetables (cabbage), and finally the soup and chickpeas.
Piquillo peppers in Lodosa (Navarre)
Fabada in Villaviciosa (Asturias)
Wrinkled potatoes in Tenerife
Most of the old varieties of Canary Island potato are to be found on Tenerife. Whether melonera or borralla, bonita or marrueca, they are all small and remarkably tasty. To wrinkle them, chefs cook them unpeeled in a pot of salty water, then dry them over a fire with extra salt. The hot sauce known as mojo picón (from the Portuguese word molho, for sauce) is made with a dry red pepper called pimienta palmera or picona. A good option for a sampling of papas is El Arcon Tapas (Plaza Concejil, 2), in Puerto de la Cruz.
Snails in Linares (Jaén)
Carcamusas in Toledo
One of the most emblematic dishes in Toledo – which is this year's Spanish Gastronomy Capital – is carcamusas: pork loin coooked in a slightly hot sauce with tomatoes and green peas. Some people believe that the word carcamusa comes from camush, which in Romance languages means "wrinkled," as in wrinkled meat. Another theory holds that a bar owner named José Ludeña created a dish that pleased both kinds of clients at his establishment: the carcas, or old geezers, and the young ladies whom the former saw as their musas (muses).
Escalivada in Barcelona
This salad owes its name to the Catalan verb escalivar, which means to roast in hot ashes. And that is what they do with the onion, tomato, pepper and eggplant that go into this dish. It is often offered on a toast of Catalan bread known as pan payés, which has a harder crust than the average bread. Anchovy fillets are served on the side. Escalivada is eaten at room temperature, ideally in the spring or summer. Good ones are made at the food stands inside Santa Caterina Market, and at L'Actiu, a restaurant run by Barcelona Activa, a municipal agency aimed at promoting entrepreneurship.
Pulpo a feira in O Carballiño (Ourense)
Suckling lamb in Aranda de Duero (Burgos)
English version by Susana Urra.