Missing: 1,270 people throughout Spain
The Diana Quer case has made headlines, but what can be done to improve searches?
Until last year, there was no centralized database in Spain for missing persons. Instead, the country's different regional police forces had their own figures, based on reports filed by relatives and spouses each year.
But in 2015, the Justice, Security and Social Affairs secretaries of state agreed to work together in conjunction with the newly created Fundación Europea por las Personas Desaparecidas QSD Global (European Foundation for Missing Persons QSD), fronted by journalist Paco Lobatón. The latest figures show that around 100 people go missing each year, never to be heard of again. QSD Global says that at present there are 84 people missing in Spain who are at risk.
The Interior Ministry's figures show that last year alone 24,995 missing persons reports were filed to the police (the figure so far for this year is 14,473). Of these, 24,088 have been found, reports the ministry, although very often people do not bother to withdraw a report when a loved one turns up.
Up until September 2, there were 1,270 police investigations into missing people, among them an 18-year-old girl called Diana Quer, whose disappearance since August 22 while on holiday in northwestern Spain has generated intense media scrutiny. Sadly, most other people who go missing fail to garner similar attention.
Three days after Quer went missing from the tiny community of A Pobra de Caramiñal in Galicia, Iván Durán, aged 30, disappeared from his home in Baiona, also in Galicia. So far there has been no sign of him, but then photographs of him have not filled Spain's television screens. His family are angry at the attention being given to the Quer case. "We pay our taxes and have the same right for the state to use all its resources," they complain.
The family of Manuela Chavero have not heard from the 42-year-old for two months since she disappeared from her home in the town of Monesterio, in the western province of Badajoz. The mother of two was last seen on the night of July 4 with a female friend. Police found the clothes she had been wearing the day before on her bed, while the lights and television in her house were on. Her phone and purse were also in the home; the last call she had made was a 1.55am on July 5. The case is being investigated by the local division of the Civil Guard.
David Gómez, a 39-year-old, was also last seen on July 4. He had been to the Madrid dormitory town of Tres Cantos for a job interview, but after drinking a Coke in a bar around 4pm, disappeared instead of returning to his home in nearby Colmenar Viejo.
In the northern province of Zamora, three people have disappeared over the last month: 54-year-old Carmen Carracedo, who was recovering from an operation to remove a brain tumor and was last seen seated outside her house in the village of Rozas on September 3.
In nearby Gallegos del Campo, 78-year-old Miguel Fernández went missing the day after taking his daily walk.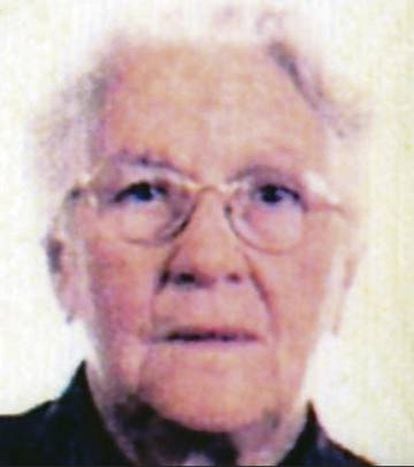 Felisa Ferrero, a 91-year-old resident of Robleda, has been missing for the last month. "There's no link between the three cases, even though they have all taken place within a short space of time," said a spokesman for the local Civil Guard. "These kinds of disappearances are common in summer, and they're not easy to solve, because we have to use dogs to help search thick woodland," he added.
Last week, a group of hunters found the body of Raquel Pérez, an octogenarian suffering from Alzheimer's disease who had been missing since August 25. She had wandered four kilometers from her care home in Pobra de Trives, in Orense province.
Such cases are reported each month throughout Spain, but few generate the media attention that Diana Quer's case has. "Teenagers – and particularly females – who go missing are much more shocking to the media," says one spokeswoman at a civil society association set up by families of missing people. "In the case of Diana Quer, the fact that her father, Juan Carlos Quer, a property developer, has friends in high places, is obviously part of the reason the media is paying so much attention," she adds.
English version by Nick Lyne.
Specialized search units required
A constant complaint made by the families of missing people is the absence in Spain of specialist police units to investigate disappearances. Paco Lobatón, president of the newly created Fundación Europea de las Personas Desaparecidas QSD Global (European Foundation for Missing People) says that he raises the need for such units at his meetings with the three ministries now coordinating their efforts at a national level to find missing people.
"At present, the police have to use existing resources, such as homicide units, but the number of people who go missing each year requires specific and specialized attention," he says, arguing that Spain needs to employ Large Area Searches. "This is a specially developed technique that has proved successful in many cases."
"We need to create these special units equipped with drones and dogs, as well as experienced police officers to deal with these kinds of situations," he says.