Socialist chief in Congress: "We cannot support what we want to change"
On day two of investiture debate, Pedro Sánchez reiterates that he will vote against interim PM Mariano Rajoy, increasing the likelihood of a third general election in Spain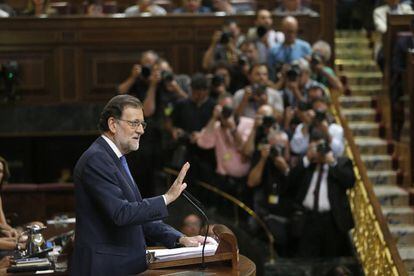 Spaniards on Wednesday morning tuned in to day two of a congressional debate that will determine whether they have to go to the polls again on Christmas Day for a record third general election.
Opposition leader Pedro Sánchez, of the Socialist Party (PSOE), took the podium at 9am to explain to the nation why his group will vote against acting prime minister Mariano Rajoy, who is trying to get himself reinstated despite lacking enough support for a congressional majority.
The phrase, 'Spain needs a government' has become a popular cry Acting PM Mariano Rajoy
"We cannot support what we want to change," said Sánchez, who tried for the post himself after the first inconclusive election, but was voted down by other forces, including Rajoy's Popular Party (PP).
"The lies you have told, now and in the past, and your refusal to accept your political responsibilities, support our lack of trust in you, and that is why we will vote against you," said Sánchez. "In our opinion, you are not to be trusted. Your administration can be summed up in one word: cuts. Cuts to civil liberties, to rights, to equality, to democracy."
Sánchez ended his 35-minute address by insisting on his "categorical no" to four more years of Rajoy.
The interim PM was given a chance to reply, and fell back on his trademark dry humor to comment on Sánchez's speech.
"I have understood every part of "no"...I got it, don't worry," he said. "But if I'm bad, how bad are you? Disastrous?"
A day earlier, Rajoy had addressed Congress as the first speaker of the investiture debate that will end in a vote requiring an absolute majority of 176 seats in order to win reinstatement. Failing that, there will be a run-off requiring only a simple majority of more yes votes than no votes.
While Rajoy has secured the support of emerging center-right group Ciudadanos and the Canaries Coalition, he is still six votes short of 176. He is likely to fail at the first round, and looks set to lose the second round as well, unless the PSOE reconsiders.
On Tuesday evening, Rajoy explained why he has chosen to give it a try anyway.
"The reasons that I have accepted the request from the king [to form a government] are threefold: Spain urgently needs a government, Spaniards have expressed their preference for the PP, and there is no reasonable alternative," he told his fellow deputies during a speech that began at just after 4pm and lasted nearly 90 minutes. "The phrase, 'Spain needs a government' has become a popular cry."
"When [Socialist leader Pedro] Sánchez appeared in the investiture debate he said, 'Spain urgently needs a government,' and three months have passed since then," said Rajoy on Tuesday afternoon, in reference to Sánchez's failed bid earlier this year to win a similar investiture vote – also with the support of Ciudadanos.
The speech was mediocre, full of blackmail. He knows he won't be chosen Íñigo Errejón, spokesperson for Podemos
"We are the European country where employment is growing the most," Rajoy continued. "We have received a lot of warnings from outside Spain [about the lack of government]… Things could take a turn for the worse."
"Spain recently negotiated with the EU an important level of flexibility for complying with its public deficit. We cannot put off taking the measures needed to achieve this before October 15," he continued. "Spain urgently needs a government that is able to act and to respond."
Elections on Christmas Day?
Spain finds itself in this unprecedented situation after two inconclusive general elections, in December 2015 and June 2016. At both polls the PP emerged with most votes, but fell well short of the 176 seats in Congress needed to form a government. Since then the main parties – the PP, the PSOE, Ciudadanos and left-wing anti-austerity group Podemos – have failed to reach an agreement on a coalition or a minority government.
If Rajoy is unsuccessful in this investiture vote the strict timetables laid out by electoral law could see a third general election scheduled for Christmas Day.
"Unless someone during this debate expresses the opposite, I suppose that all of us want Spain to avoid new elections. Is anyone thinking about that?" Rajoy asked the assembled deputies, and was met with jeers. "I have to believe that we are all in agreement, and that we respond with the values that we all share with Spaniards."
He concluded his speech by stating: "There must be an opposition. I don't want to be there. But for there to be one there must be a government. Otherwise it's not possible.
"The circumstances call for us to put ourselves at the service of consensus. I hope that at the end of this debate we will put the general interest first."
Other opposition parties will have the chance to respond to Rajoy before the first round of voting takes place.
Full of blackmail
However, reaction to Rajoy's speech was swift in the halls of Congress. "We have just witnessed a speech from a tired candidate, and a political project that is worn out and contains nothing new," PSOE spokesperson Antonio Hernando told reporters. "It was more like a bureaucrat who came to give us a summary of the state of the nation debate.
Us Socialists don't have a single reason to give him our confidence, neither tomorrow nor Friday PSOE spokesperson Antonio Hernando
"Us Socialists don't have a single reason to give him our confidence, neither tomorrow nor Friday. This was a speech from a bureaucrat who came to read a paper, a bureaucrat who knows that he has no role in 21st-century Spain."
Meanwhile, Íñigo Errejón, the spokesperson for Podemos, called the speech "mediocre, full of blackmail. He knows he won't be chosen. He spent too long saying there was no alternative. [Podemos leader] Pablo Iglesias will express tomorrow the reasons why we are going to say no and we are going to argue that there is another alternative."
Ciudadanos, of course, was supportive of Rajoy's speech. "The intervention was correct," said Juan Carlos Girauta, the party's parliamentary spokesperson. "He laid out the fact that there is no reasonable alternative to his government. In terms of the content, the prime minister laid out some of the demands. Some of them. And then he called for stability, a stable and lasting government."
English version by Simon Hunter and Susana Urra.