Spain's regional parties call on Socialists to lead a coalition government
"The possibility of Rajoy winning a vote in Congress is very remote" says Catalan Democratic Party spokesman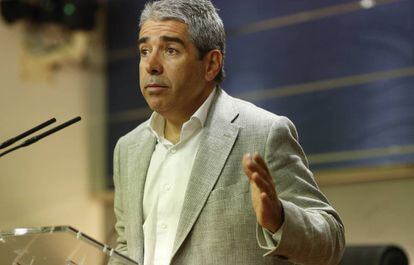 The spokesman for the Catalan Democratic Party (PDC), formerly Convergència, one of the leading forces in the pro-independence Junts pel Sí bloc in the regional parliament, dismisses the ongoing talks in Madrid aimed at garnering support in Congress to allow interim Prime Minister Mariano Rajoy to form a government with the support of the minority center-right Ciudadanos party, describing the possibility of Rajoy winning a vote by deputies as "very remote."
Francesc Homs, who represents eight Catalan deputies in Congress, says that the efforts of Ciudadanos to help Rajoy form a government will change nothing, because, he believes, the Socialists will not abstain should Rajoy ask Congress to vote on his investiture as prime minister later this month. "That would be suicide for the Socialists," he says.
"Everybody knows this, apart from the leaders of Ciudadanos. The only thing that has changed in recent days is that Groucho Marx has appeared on the scene," says Homs, who believes that if Spain wants to avoid a third election in a year, the opposition parties will have to sit down and form a coalition administration made up of the Socialists, Podemos, and pro-independence Catalan parties. "Being Prime Minister requires the ability to build a majority," he says, referring to Rajoy's failure so far to garner support from the opposition.
We don't support the PP's policies, and this union with Ciudadanos doesn't suggest any kind of change of attitudes, which is what we requested, but instead seems the exact opposite Aitor Esteban, Basque National Party
Rivera and Rajoy met on Wednesday to discuss Ciudadanos' demands: Rajoy must set a date for his investiture debate in Congress, expel party officials targeted in corruption investigations, end judicial privileges for elected officials, change the electoral law, end amnesties and pardons in corruption cases, limit the prime minister's mandate, and create a parliamentary commission to look into the so-called Barcenas case involving illegal cash payments to PP officials.
The PP's executive committee meets on Wednesday to discuss the proposals.
Rajoy, whose Popular Party (PP) obtained 137 seats at the repeat election of June 26, needs 176 for a congressional majority. Even with Ciudadanos' 32 seats, Rajoy would require either the Socialists to abstain in a vote, or for Catalan and Basque nationalist parties to support him, which they have shown no indication of doing.
The Socialists and Podemos took 85 and 71 seats respectively, but the Socialists have ruled out trying to form a coalition in large part because of Podemos' insistence that Catalonia be allowed to hold an independence referendum. Both parties appear to have lost the political initiative.
"Nobody is rejecting out of hand an alternative to the PP. But it would be difficult, and there would be a lot of conditions. But nobody has begun to explore the possibility. In any event, Rajoy and Rivera are heading toward a dead-end. Their sums don't add up," said Homs on Thursday following the first meeting since the June 26 elections of the 19 members of the so-called Mixed Group, made up of deputies whose parties garnered less than 5% of the national vote, and that includes Basque and Catalan nationalist representatives.
Sign up for our newsletter
EL PAÍS English Edition has launched a weekly newsletter. Sign up today to receive a selection of our best stories in your inbox every Saturday morning. For full details about how to subscribe, click here
But Homs doubts that the political will exists to form a broad coalition, concluding that the current impasse will continue and that Spaniards will have to return to the polls before the end of the year: "I see it as more likely that we'll have another election than a new government."
Aitor Esteban, spokesman for the Basque Nationalist Party (PNV), was similarly bleak about the likelihood of Ciudadanos and the PP garnering the support of other parties in Congress that would allow Rajoy to form a government: "We don't support the PP's policies, and this union with Ciudadanos doesn't suggest any kind of change of attitudes, which is what we requested, but instead seems the exact opposite."
Esteban also accuses Socialist leader Pedro Sánchez of eluding his responsibilities, as head of the second-most voted party in the June elections, to try to form a government, charging that the PSOE has tried to shift the pressure it is under from Rajoy to abstain and allow him to form a government onto the regional, nationalist parties. "The PNV governs in coalition with the PSOE in the Basque Country and in three capitals there. We have always been able to reach agreement with the Socialists," he says.